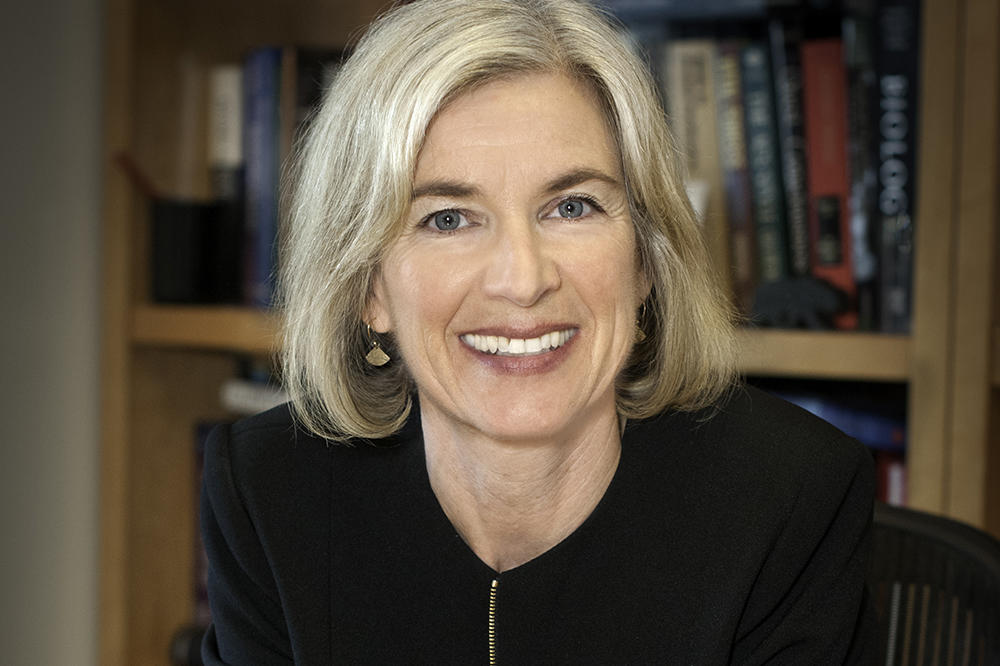 Jennifer Doudna, 2020 Nobel Laureate in Chemistry. photo: Keegan Houser
For immediate release
The College of Chemistry is delighted to announce that biochemist Jennifer Doudna was awarded the Nobel Prize in Chemistry today, sharing it with colleague Emmanuelle Charpentier for the co-development of CRISPR-Cas9, a genome editing breakthrough that has revolutionized biomedicine.
Their discovery of CRISPR-Cas9 allows scientists to rewrite DNA — the code of life — in any organism with unprecedented efficiency and precision. The groundbreaking power and versatility of CRISPR-Cas9 have opened up new and wide-ranging possibilities across biology, agriculture, and medicine, including the treatment of thousands of intractable diseases.
"This great honor recognizes the history of CRISPR and the collaborative story of harnessing it into a profoundly powerful engineering technology that gives new hope and possibility to our society," said Doudna. "What started as a curiosity‐driven, fundamental discovery project has now become the breakthrough strategy used by countless researchers working to help improve the human condition. I encourage continued support of fundamental science as well as public discourse about the ethical uses and responsible regulation of CRISPR technology."
Prof. Doudna is the first female member of the UC Berkeley faculty to receive the coveted award, and the fifth member of the College of Chemistry to be recognized with the Nobel Prize.
Today's honor also brings another first: Doudna and Charpentier are the first women to win a Nobel Prize in Chemistry together, which sends the message, Doudna said, that "women rock."
Dean Douglas Clark of the College of Chemistry said of the announcement, "Jennifer's work, spirit, and leadership embody what is best about the scientific tradition and collegial culture of the College of Chemistry and UC Berkeley. Few discoveries, even at the Nobel level, have had such a great impact in such a short time as the work of Jennifer Doudna and Emmanuelle Charpentier."
Dean Michael Botchan of Biological Sciences commented, "Through the many decades of deep focus and basic research on RNA structure and the enzymes that contain both RNA and proteins, Jennifer has laid the groundwork for one of the most significant inventions of the 21st Century with the discovery of genome editing through the CRISPR-Cas9 system. At this greatest of public universities, we are all very proud of her work."
Doudna said she is "really, really proud to be representing Berkeley, … a public university that supports great science and great education, … a place that welcomes everyone, people from all over the world." She added, "It's a great feeling to have such incredible colleagues who are part of this."
Doudna and Charpentier were recognized by the Nobel Foundation for their discovery that a gene-cutting molecule, Cas9, used by bacteria to kill viruses, can be re-engineered as a precise and easy-to-use gene-editing tool. The CRISPR-Cas9 system is guided by an RNA molecule to bind a specific region in the DNA, and the Cas9 protein then acts like a pair of molecular scissors to cut the DNA, allowing it to be altered in a precise fashion. This work has "ushered in a revolutionary new era in genomics," said UC President Michael V. Drake, M.D, in a statement commending Doudna.
Matthew Francis, Chair of the Department of Chemistry, said "When I teach our Chemical Biology (Chem 135) course, one of my favorite series of lectures describes the Nobel prizes that have enabled the key biotechnologies of the modern era. After covering the structure of the DNA double helix, DNA sequencing, restriction enzymes for recombinant DNA technology, and the Polymerase Chain Reaction, it is fantastic to know that Jennifer's work on CRISPR-Cas9 will be the next chapter in all of the textbooks."
About Jennifer Doudna
Doudna, is the Li Ka Shing Chancellor's Chair in Biomedical and Health Sciences, a Howard Hughes Medical Institute investigator at UC Berkeley, a Professor of Molecular and Cell Biology, and a Professor of Chemistry. She is president and chair of the board of the Innovative Genomics Institute (IGI), a faculty scientist at Lawrence Berkeley National Laboratory (Berkeley Lab), a senior investigator at the Gladstone Institutes, and an adjunct Professor of Cellular and Molecular Pharmacology at UC San Francisco. Charpentier, who in 2012 was affiliated with the University of Vienna and Umeå University in Sweden, was appointed director of the Max Planck Institute for Infection Biology in Berlin in 2015.
A press conference was held by UC Berkeley this morning. The video replay is available here. https://www.youtube.com/watch?v=NPpj4pc062g
For further information about Professor Doudna, and for press questions, please contact Roqua Montez, Executive Director, Communications & Media Relations, rmontez@berkeley.edu