The College of Chemistry at UC Berkeley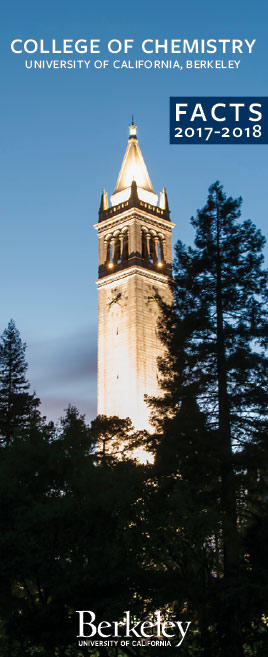 The central mission of the College of Chemistry is advancing society through education and research, and we have made it our business to fulfill this mission, year in and year out, for more than 140 years.
Our two departments, the Department of Chemistry and the Department of Chemical & Biomolecular Engineering (CBE), provide fundamental and applied studies of an outstanding caliber. In addition, faculty members and students from both departments regularly participate in multidisciplinary collaborations with researchers from other campus units, as well as with private industry, national laboratories and other universities.
The remarkable breadth and depth of resources available to Berkeley College of Chemistry students readies them as chemists and chemical engineers to address some of society's most urgent 21st-century issues — resource scarcity, climate change and global health. Equipped with intellectual mastery of the latest scientific and engineering tools, our graduates enter the work arena with unmatched preparation, supported by a world-class faculty, innovative pedagogy, first-rate research, outstanding peers, and the rich educational milieu of UC Berkeley and its environs.
The Department of Chemical & Biomolecular Engineering (CBE) houses premier research programs in thermodynamics, surface catalysis, electrochemical modeling and separation processes. CBE faculty conduct pioneering research in the growing fields of biochemical engineering, synthetic biology, nanotechnology and the development of polymer, optical and semiconductor materials.
The Department of Chemistry, which has consistently produced leaders in analytical, inorganic, organic, physical and theoretical chemistry since 1872, now leads exploration at the frontiers of knowledge in such areas as biophysical, nuclear, materials and atmospheric chemistry, as well as in the burgeoning new fields of chemical biology and nanoscience.
Rankings
UC Berkeley is rated the best university in the world in both Science and Chemistry by the 2016 Academic Ranking of World Universities (ARWU). US News & World Report ranked our chemistry and chemical engineering graduate programs at #1 and #2 nation-wide.
| CHEMISTRY | CHEMICAL ENGINEERING |
| --- | --- |
| 1. Berkeley | 1. MIT |
| 1. Caltech | 2. Berkeley |
| 1. MIT | 2. Caltech |
| 4. Harvard | 2. U. of Minnesota |
| 4. Stanford | 5. Stanford |
The College's Nobel Laureates
FACULTY
1949 William F. Giauque (B.S. '20, Ph.D. '22)
1951 Glenn T. Seaborg (Ph.D. '37)
1961 Melvin Calvin
1986 Yuan T. Lee (Ph.D. '65)
ALUMNI
1934 Harold C. Urey (Ph.D. '23)
1960 Willard F. Libby (B.S. '31, Ph.D. '33)
1973 Geoffrey Wilkinson (Postdoc '50)
1983 Henry Taube (B.S. '35, Ph.D. '40)
1989 Thomas Cech (Ph.D. '75)
1995 Mario Molina (Ph.D. '72)
1996 Robert F. Curl, Jr. (Ph.D. '57)
1999 Ahmed Zewail (Postdoc '74)
2002 Kurt Wüthrich (Postdoc '67)

Plaques honoring the college's Nobel Laureates are on display in the lobby of Latimer Hall.
Faculty
Chemical & Biomolecular Engineering
Full Professors: 15*
Associate Professors: 0
Assistant Professors: 5
Adjunct Professors: 3
Lecturers: 8
Chemistry
Full Professors: 46*
Associate Professors: 2
Assistant Professors: 8
Adjunct Professors: 2
Lecturers: 4
Honors Held by Current Faculty**
National Medals of Science: 6
National Academy of Engineering: 11
National Academy of Sciences: 33
American Academy of Arts & Sciences: 37
Distinguished Teaching Awards: 9
*includes Professors of the Graduate School
**includes emeriti professors
These do not include deceased faculty members.

College Life
The college complex is a small city unto itself — six buildings that operate 24 hours a day. Undergraduates hurry between teaching labs and classrooms. Grad students and postdocs drop in at the NMR, spectroscopy and crystallography facilities. Skilled glassblowers, machinists and electricians re ne equipment for labs. Faculty members consult with their lab groups and monitor experiments. Nearby, college researchers have access to numerous specialized labs on campus and at the Lawrence Berkeley National Laboratory (LBNL). Particle accelerators, high-energy X-ray light sources and a nanoscale research and fabrication center are a short distance away.
Together with LBNL, the U.S. Department of Energy and private sector partners, the college has helped create the world's most advanced cluster of research centers on biofuels and artificial photosynthesis, providing even more research and employment opportunities for our students.

Students
Majors, Academic Year 2016-17
| | | | |
| --- | --- | --- | --- |
| | CHEMISTRY | CHEM E. | CHEM BIO |
| Undergraduates | 211 | 353 | 196 |
| Graduates | 355 | 102 | — |
| Postdocs | 141 | 34 | — |
Degrees Awarded, Calendar Year 2015
| | | | |
| --- | --- | --- | --- |
| | CHEMISTRY | CHEM E. | CHEM BIO |
| Bachelor of Science | 62 | 82 | 55 |
| Bachelor of Arts | 10 | — | — |
| Master of Science | 6 | 40 | — |
| Doctor of Philosophy | 73 | 23 | — |

UNDERGRADUATE DEGREES
Bachelor of Science in Chemical Engineering with an optional concentration in biotechnology, chemical processing, environmental technology, materials science and technology, or applied physical science.
Bachelor of Science in Chemistry with an optional concentration in materials chemistry or Bachelor of Arts in Chemistry (through the College of Letters and Science).
Bachelor of Science in Chemical Biology.
Double majors in Chemical Engineering and Materials Science and Engineering; Chemical Engineering and Nuclear Engineering.
GRADUATE DEGREES
Master of Science and Doctor of Philosophy in Chemical Engineering, and Doctor of Philosophy in Chemistry. Ph.D. students interested in interdisciplinary work may join the Chemical Biology Graduate Program or the Designated Emphasis in Nanoscale Science and Engineering.
Master of Science in Chemical Engineering in Product Development (Product Development Program, or PDP).
A Focus on Students
ENHANCING THE UNDERGRADUATE EXPERIENCE
The college is enhancing the capacity, quality, diversity and social responsibility of our chemical sciences instruction, while revitalizing our students' educational environment. In tandem with renovating our undergraduate teaching labs, we have transformed our undergraduate curriculum to reflect 21st-century challenges and opportunities. Our new curriculum highlights safety, sustainability and modern laboratory practices, using innovative evidence-based methods. We are currently expanding undergraduate opportunities for hands-on research in faculty labs.
BUILDING COMMUNITY
We are also strengthening community at the undergraduate and graduate levels. Advisors in our beautiful new advising center provide expert and confidential academic guidance to our undergraduate majors.
Our Teacher-Scholars program, which partners undergraduates with Graduate Student Instructor mentors in the labs, has received an enthusiastic reception. Several student committees in Chemistry and CBE promote community, as do our renovated common areas and numerous annual activities and social events.
PREPARING FOR LIFE AND CAREER
The College of Chemistry at UC Berkeley is proud to offer an expanding scope of education in chemistry, chemical biology, and chemical & biomolecular engineering, including a suite of courses related to energy, as well as a degree program in product development. We seek to fundamentally engage our students in the chemical sciences. By providing up-to-date laboratory and instruction experiences in a supportive environment, we prepare our students to pursue fulfilling, successful STEM careers and become scientifically literate, contributing members of our society.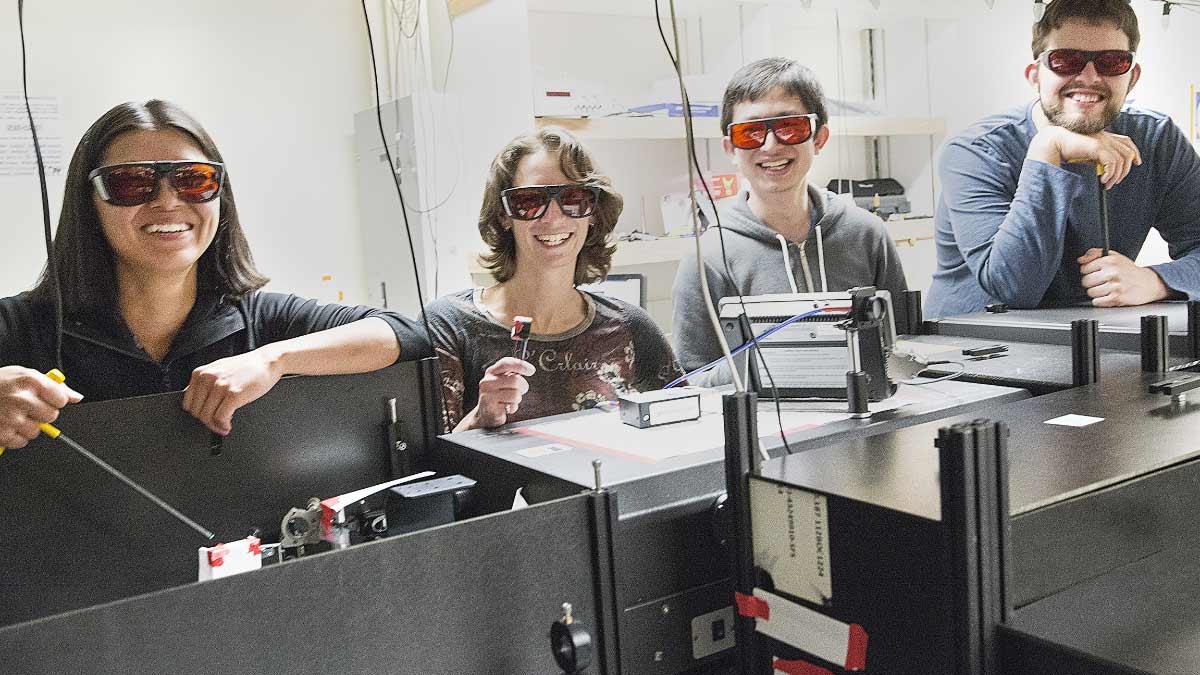 Into the World
WHERE DO OUR GRADUATES GO?
Our alumni go everywhere! The college's 14,450 alumni can be found in 57 different countries throughout the world. They work in academia (23.4%), corporations (64.4%), government agencies (5.4%), and in non-profit foundations and other areas, including innovative startups (6.2%). They carry with them the deep scientific understanding and advanced technical skills they need to be leaders in their communities at the forefront of change. As emeritus professor of chemistry and Nobel Laureate Yuan Tseh Lee has emphasized, "We are citizens of the world. We need to bridge national and cultural boundaries to accelerate the deployment of solutions to a broad range of social challenges." The College of Chemistry at UC Berkeley is proud to provide a world-class education!
Partnering with Industry
The College of Chemistry welcomes opportunities to partner with industry. Today's forward-thinking companies invest in public education to ensure that our society continues to produce the talent of tomorrow. We greatly value collaborative relationships with corporate and organization funders. Corporate partners support us through unrestricted gifts, fellowships, scholarships, named lectures and programs. In addition, corporate ties are reinforced through contract/grant and gift sponsorship of our faculty's research groups and through student recruiting.
Private Support
In today's world, private support is crucial to enabling Berkeley to fulfill its public mission. We are deeply grateful to our donors for their ongoing philanthropy. Thanks to the generous support of our friends, we continue to be able to fund vital college projects.
COLLEGE FUNDING PRIORITIES
Capital improvements
Unrestricted support for students and faculty
Undergraduate summer research scholarships
Graduate fellowships