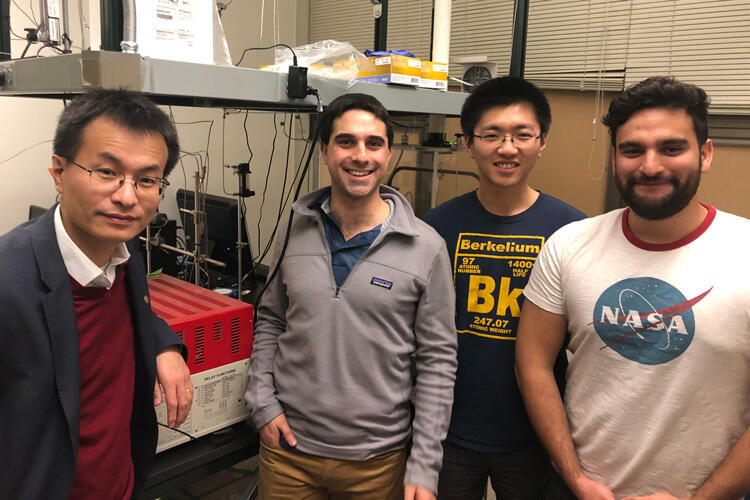 Team SSwEET was one of three finalists in NASA's CO2 Conversion Challenge. The UC Berkeley team will receive more than $240,000 to improve its electrochemical process for making sugar in space using only carbon dioxide. From left to right, chemistry professor Peidong Yang, former postdoc Michael Ross, former graduate student Yifan Li and graduate student Stefano Cestellos-Blanco. (UC Berkeley photo by Michael Ross)

When Stefano Cestellos-Blanco entered graduate school at the University of California, Berkeley, in 2016, he never dreamed he'd be trying to manufacture sugar in space.
But what turned out to be an after-hours research project, stimulated by a NASA competition to spin sugar directly from carbon dioxide, is now a winner.
The sugar-making process developed by Cestellos-Blanco and his UC Berkeley team, led by chemist and professor Peidong Yang, shared the top prize — $650,000 — with two other teams competing in the CO2 Conversion Challenge.
The UC Berkeley team's share of the prize — about $217,000 plus a $25,000 bonus, totaling about $242,000 — will be used to further refine their process. Far from making junk food as cheap throughout the solar system as it is on Earth, the team aims to feed the sugar to microbes that will make more complex stuff, like food or drugs, for astronauts or settlers on Mars, where CO2 is abundant.
The results were announced today during a virtual awards ceremony, where Cestellos-Blanco answered questions about the project on behalf of UC Berkeley's SSwEET team — Space-Sugar with Electrochemical Energy Technology. They shared the prize with Teams Air Company of Brooklyn, New York, and Hago Energetics Inc. of Thousand Oaks, California.
"We are pretty proud of the fact that we're the only academic lab left in the competition," he said. "The other competitors are industrial-scale companies."