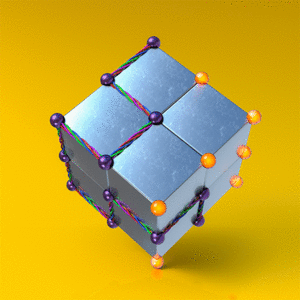 Image: courtesy
ACS Central Science
In a new virtual collection from ACS Central Science, recently published articles about new research into reticular chemistry are highlighted.  Omar Yaghi, the James and Neeltje Tretter Professor of Chemistry, pens the introduction.
From the introduction: "Reticular chemistry is linking molecular building blocks by strong bonds into crystalline, extended structures as exemplified by porous metal-organic frameworks (MOFs) and covalent organic frameworks (COFs). It has also inspired amorphous materials such as porous aromatic frameworks (PAFs) and porous organic polymers (POPs). This chemistry is now practiced with a level of precision leading to synthesis of structures and addressing their pores in all dimensions (0D, 1D, 2D and 3D)."
Some of the topics covered in the issue include: electric field response of MOFs; PolyCOFs; porous aromatic frameworks; improving the mechanical stability of MOFS using chemical caryatids; computational design of functionalized MOF nodes for catalysis; porous molecular solids and liquids; and rapid, elective heavy metal removal from water by MOFs/polydopamine composite.
ACS Central Science is a multidisciplinary journal that publishes articles of exceptional quality and interest to the broad chemistry and scientific community. The journal addresses important advances in fundamental areas of chemistry, as well as applied and interdisciplinary research highlighting the seminal role of chemistry in a wide range of other scientific disciplines.