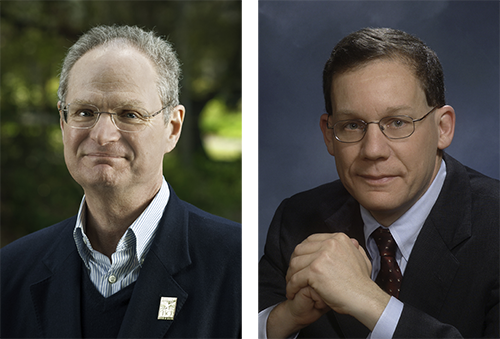 Photo: Drs. Paul Alivisatos and Charles Lieber
The Welch Foundation, one of the nation's largest sources of private funding for basic chemical research, has announced that Drs. Armand Paul Alivisatos and Charles M. Lieber are the 2019 recipients of the prestigious Robert A. Welch Award in Chemistry. Highly-respected and influential leaders in the fields of nanoscience and nanotechnology, Drs. Alivisatos and Lieber are being recognized for their important research contributions which have had a significant, positive impact on humankind. 
"The mission of The Welch Foundation is to improve the lives of others through the advancement of chemical research, and both Drs. Alivisatos and Lieber do just that," said Carin Barth, Chair and Director, The Welch Foundation Board of Directors. "They are undoubtedly leaders in their field and serve as mentors to many in the scientific community, helping to usher in future generations of scientists."
"Drs. Alivisatos and Lieber both show extraordinary scientific breadth in their work," said Peter B. Dervan, Chair, The Welch Foundation Scientific Advisory Board.  "We are proud to honor them for their remarkable accomplishments and leadership."
About Dr. A. Paul Alivisatos
As the Executive Vice Chancellor and Provost of the University of California Berkeley and Samsung Distinguished Professor of Nanoscience and Nanotechnology, Dr. Alivisatos is credited with making groundbreaking contributions to the fundamental physical chemistry of nanocrystals. He helped lay a foundation for understanding their distinctive properties and created a framework for making them at scale. His work has led to the widespread use of nanocrystals in medical diagnostics, and in a new generation of television displays. Today he is devoted to developing new renewable energy applications of nanocrystals. Dr. Alivisatos played a critical role in the establishment of the Molecular Foundry, a U.S. Department of Energy's Nanoscale Science Research Center; and was the facility's founding director. He is the founding editor of Nano Letters, a leading scientific publication of the American Chemical Society in nanoscience.
Dr. Alivisatos received his undergraduate degree in Chemistry from the University of Chicago and went on to earn his Ph.D. in Chemistry from UC Berkeley.  He began his career with UC Berkeley in 1988 and with Berkeley Lab in 1991.  His scientific advances have yielded more than 50 patents and his 341 refereed publications and papers have been cited more than 104,000 times.  In 2003, Science Magazine named Dr. Alivisatos' quantum dot technology one of the Top 10 "Breakthroughs of the Year" and the Forbes/Wolfe Nanotech Report named them the top nanotech breakthrough of 2003.  Dr. Alivisatos has been recognized for his accomplishments with numerous awards, including the Dan David Prize, the National Medal of Science and the Wolf Prize.
About the Welch Foundation
The Welch Foundation, based in Houston, is one of the nation's largest private funding sources for basic chemical research.  Since 1954, the foundation has contributed nearly $930 million to the advancement of chemistry through research grants, departmental grants, endowed chairs, and support for other chemistry-related programs in Texas.  The purpose of the Welch Award is to foster and encourage basic chemical research and to recognize, in a substantial manner, the value of chemical research contributions for the benefit of mankind as set forth in the will of Robert Alonzo Welch.
For more information on the Foundation and a list of previous Welch Award recipients, please visit www.welch1.org.