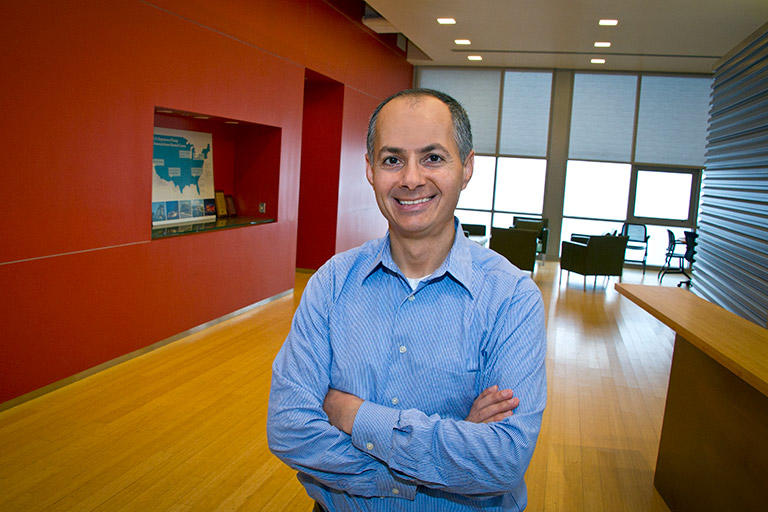 Omar Yaghi, Neeltje Tretter Chair Professor of Chemistry, was announced today as one of a 100 new members, and 25 foreign members, of the National Academy of Sciences. The election is in recognition of distinguished and continuing achievements in original research.
The National Academy of Sciences (NAS) was established by an Act of Congress, signed by President Abraham Lincoln in 1863. The NAS is charged with providing independent, objective advice to the nation on matters related to science and technology. Scientists are elected by their peers to membership in the NAS for outstanding contributions to research. 
The NAS is committed to furthering science in America, and its members are active contributors to the international scientific community. Nearly 500 members of the NAS have won Nobel Prizes, and the Proceedings of the National Academy of Sciences, founded in 1914, is today one of the premier international journals publishing the results of original research.
About Professor Yaghi
Omar Yaghi is the Neeltje Tretter Chair Professor of Chemistry at UC Berkeley and a Senior Faculty Scientist at Lawrence Berkeley National Laboratory.  He is the Founding Director of the Berkeley Global Science Institute, the Co-Director of the Kavli Energy NanoScience Institute, and the California Research Alliance by BASF.
His work encompasses the synthesis, structure and properties of inorganic and organic compounds and the design and construction of new crystalline materials. He is widely known for inventing several extensive classes of new materials termed metal-organic frameworks (MOFs), covalent organic frameworks (COFs), and zeolitic imidazolate frameworks (ZIFs). These materials have the highest surface areas known to date, making them useful in clean energy storage and generation. Specifically, applications of his materials are found in the storage and separation of hydrogen, methane, and carbon dioxide, and in clean water production and delivery, supercapacitor devices, proton and electron conductive systems.