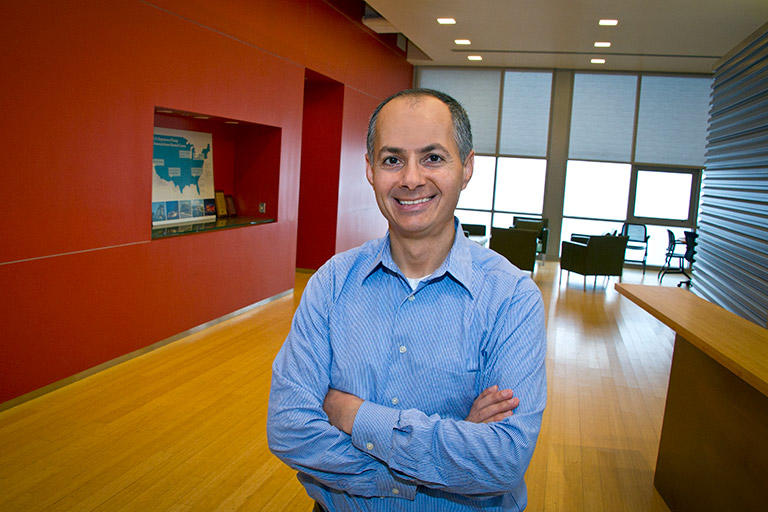 The College of Chemistry is pleased to announce that Omar M. Yaghi, UC Berkeley James and Neeltje Tretter Chair Professor of Chemistry, has been elected a member of the American Academy of Arts and Sciences. Prof. Yaghi joins actor Glenn Close, novelist Salman Rushdie, and mathematician Claire Voisin among other artists, scholars, scientists, and leaders in the public, non-profit, and private sectors elected in this year's cohort of 261 members. 
For more than 240 years, the Academy has been electing and engaging exceptional individuals. This year continues a tradition of recognizing accomplishments and leadership in academia, the arts, industry, public policy, and research. Founded in 1780, the American Academy of Arts and Sciences honors excellence and convenes leaders to examine new ideas, address issues of importance to the nation and the world and advance the public good.
"We are celebrating a depth of achievements in a breadth of areas," said David Oxtoby (Ph.D. Chem, '75), President of the American Academy. "These individuals excel in ways that excite us and inspire us at a time when recognizing excellence, commending expertise, and working toward the common good is absolutely essential to realizing a better future."
"The Academy was founded on the belief that the new republic should honor truly accomplished individuals and engage them in meaningful work," said Nancy C. Andrews, Chair of the Academy's Board of Directors. "The Academy's dual mission continues to this day. Membership is an honor, and also an opportunity to shape ideas and influence policy."
The new members join the company of Academy members elected before them, including Benjamin Franklin and Alexander Hamilton in the eighteenth century; Ralph Waldo Emerson and Maria Mitchell in the nineteenth; Robert Frost, Martha Graham, Margaret Mead, Milton Friedman, and Martin Luther King, Jr. in the twentieth; and – in the past two decades – Antonin Scalia, Michael Bloomberg, John Lithgow, Judy Woodruff, and Bryan Stevenson.
International Honorary Members have included Charles Darwin, Albert Einstein, Winston Churchill, Laurence Olivier, Mary Leakey, John Maynard Keynes, Akira Kurosawa, and Nelson Mandela.
In addition, Prof. Yaghi has also been elected a member of the German National Academy of Sciences Leopoldina. Founded in 1652, Leopoldina is the oldest continuously existing scientific academy in the world, and among the most prestigious. The election to the membership of Leopoldina is the highest academic honor awarded by an institution in Germany, and it is the first and foremost academic society to advise the German government on all scientific matters.
Prof. Yaghi commented: "The election to the American Academy is a very special honor as I join my distinguished colleagues whom I respect and admire. The election to the Leopoldina is a testament to German scientists' openness and thoughtfulness. It is a demonstration that science has no borders. I value and appreciate my colleagues in the US and Germany who nominated me for these honors. I would like to remark that the scientific contributions leading to these distinctions go back to my group members who have over the years broken new grounds in reticular chemistry and with their persistence and love for discovery have inspired me and the world. The College of Chemistry at UC Berkeley is a place of intellectual freedoms, great ideas and great people, for which I am most grateful."
About Omar M. Yaghi
Omar M. Yaghi received his Ph.D. in Chemistry from University of Illinois at Urbana-Champaign, and was an NSF Postdoctoral Fellow at Harvard University. He is the James and Neeltje Tretter Chair Professor of Chemistry at University of California, Berkeley. He is also the Founding Director of the Berkeley Global Science Institute whose mission is to build centers of research in developing countries and provide opportunities for young scholars to discover and learn, and the Co-Director of the Kavli Energy NanoSciences Institute focusing on the basic science of energy transformation on the molecular level, as well as the California Research Alliance by BASF supporting joint academia-industry innovations.
Prof. Yaghi is widely known for pioneering several extensive classes of new porous materials: Metal-Organic Frameworks (MOFs), Covalent Organic Frameworks (COFs), and Zeolitic Imidazolate Frameworks (ZIFs). He has been leading the effort in applying these materials in clean energy technologies including hydrogen and methane storage, carbon dioxide capture, as well as harvesting water from desert air. The building block approach he developed has led to an exponential growth in the creation of new materials having a diversity and multiplicity previously unknown in chemistry. He termed this field 'Reticular Chemistry' and defines it as 'stitching molecular building blocks into extended structures by strong bonds'.
Prof. Yaghi is a member of the US National Academy of Sciences, and has been honored with many awards for his scientific accomplishments, including the King Faisal International Prize in Science (2015), Albert Einstein World Award of Science (2017), BBVA Foundation Frontiers of Knowledge Award in Basic Sciences (2017), Wolf Prize in Chemistry (2018), ENI Award for Excellence in Energy (2018), Gregori Aminoff Prize by the Royal Swedish Academy of Sciences (2019), August-Wilhelm-von-Hofmann-Denkmünze of the German Chemical Society (2020), and the inaugural VinFuture Special Prize for Emerging Science and Technology (2021).