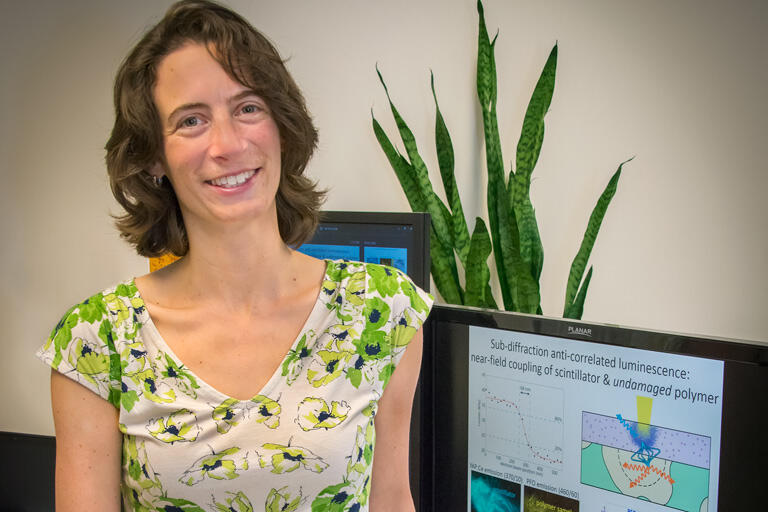 The College of Chemistry is pleased to announce that the American Physical Society (APS) has elected Naomi Ginsberg, Associate Professor of Chemistry and Physics, as a Fellow for 2021. Prof. Ginsberg has been elected for the "innovative development of spatiotemporally resolved imaging and spectroscopy methods, and for their use in elucidating energy transport in hierarchical and heterogeneous materials, as well as in the formation and transformation of said materials." 

The APS Fellowship Program was created to recognize members who have made advances in physics through original research and publication, or made significant innovative contributions in the application of physics to science and technology. They may also have made significant contributions to the teaching of physics or service and participation in the activities of the Society.
In addition to her appointment as an Associate Professor of Chemistry and Physics at UC Berkeley, Naomi is also a Faculty Scientist in the Materials Sciences and Molecular Biophysics and Integrated Imaging Divisions at Lawrence Berkeley National Laboratory, where she has been since 2010. She currently focuses on elucidating the electronic and molecular dynamics in a wide variety of soft electronic and biological materials by devising new electron and optical imaging modalities that enable characterization of fast and ultrafast processes at the nanoscale and as a function of their heterogeneities.
Naomi received a B.A.Sc. degree in Engineering Science from the University of Toronto in 2000 and a Ph.D. in Physics from Harvard University in 2007, after which she held a Glenn T. Seaborg Postdoctoral Fellowship at Lawrence Berkeley National Lab. Her background in chemistry, physics, and engineering has previously led her to observe initiating events of photosynthesis that take place in a millionth billionth of a second and to slow, stop, and store light pulses in some of the coldest atom clouds on Earth.
She is the Berkeley lead of STROBE, a multi-university NSF Science and Technology Center devoted to imaging science, a member of the Kavli Energy Nanoscience Institute at Berkeley, and the recipient of a David and Lucile Packard Fellowship in Science and Engineering (2011), a DARPA Young Faculty Award (2012), an Alfred P. Sloan Foundation Fellowship (2015), and a Camille Dreyfus Teacher-Scholar Award (2016) in addition to a series of teaching awards in the physical sciences. In 2017-18 she was a Miller Professor for Basic Research in Science at UC Berkeley and was designated a Kavli Fellow. In 2019 she was the Kroto Lecturer in Chemical Physics at Florida State University. She is the recipient of the 2020 ACS Early-Career Award in Experimental Physical Chemistry.
About the American Physical Society
The American Physical Society (APS) is a nonprofit membership organization working to advance and diffuse the knowledge of physics through its outstanding research journals, scientific meetings, and education, outreach, advocacy, and international activities. APS represents over 55,000 members, including physicists in academia, national laboratories, and industry in the United States and throughout the world. Society offices are located in College Park, MD (Headquarters), Ridge, NY, and Washington, DC.