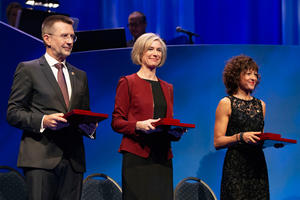 Image: (l to r)  Virginijus Šikšnys, Jennifer Doudna and Emmanuelle Charpentier accepting the 2018 Kavli Prize in nanoscience on September 4th. (photo: courtesy Kavli Prize Foundation)
CRISPR-Cas9 inventor Jennifer Doudna, a UC Berkeley professor of chemistry and of molecular and cell biology, was awarded the 2018 Kavli Prize in Nanoscience today in Norway during a gala ceremony hosted by King Harald V.
She shared the prestigious honor with her colleague Emmanuelle Charpentier, now at the Max Planck Institute for Infection Biology in Berlin, Germany, and another early CRISPR researcher, Virginijus Šikšnys of Vilnius University in Lithuania.
Doudna and her two colleagues received gold medals and shared a cash prize of $1 million. The Norwegian Academy of Science and Letters selected the laureates.