FOR IMMEDIATE RELEASE
Washington, DC, January 07, 2020 —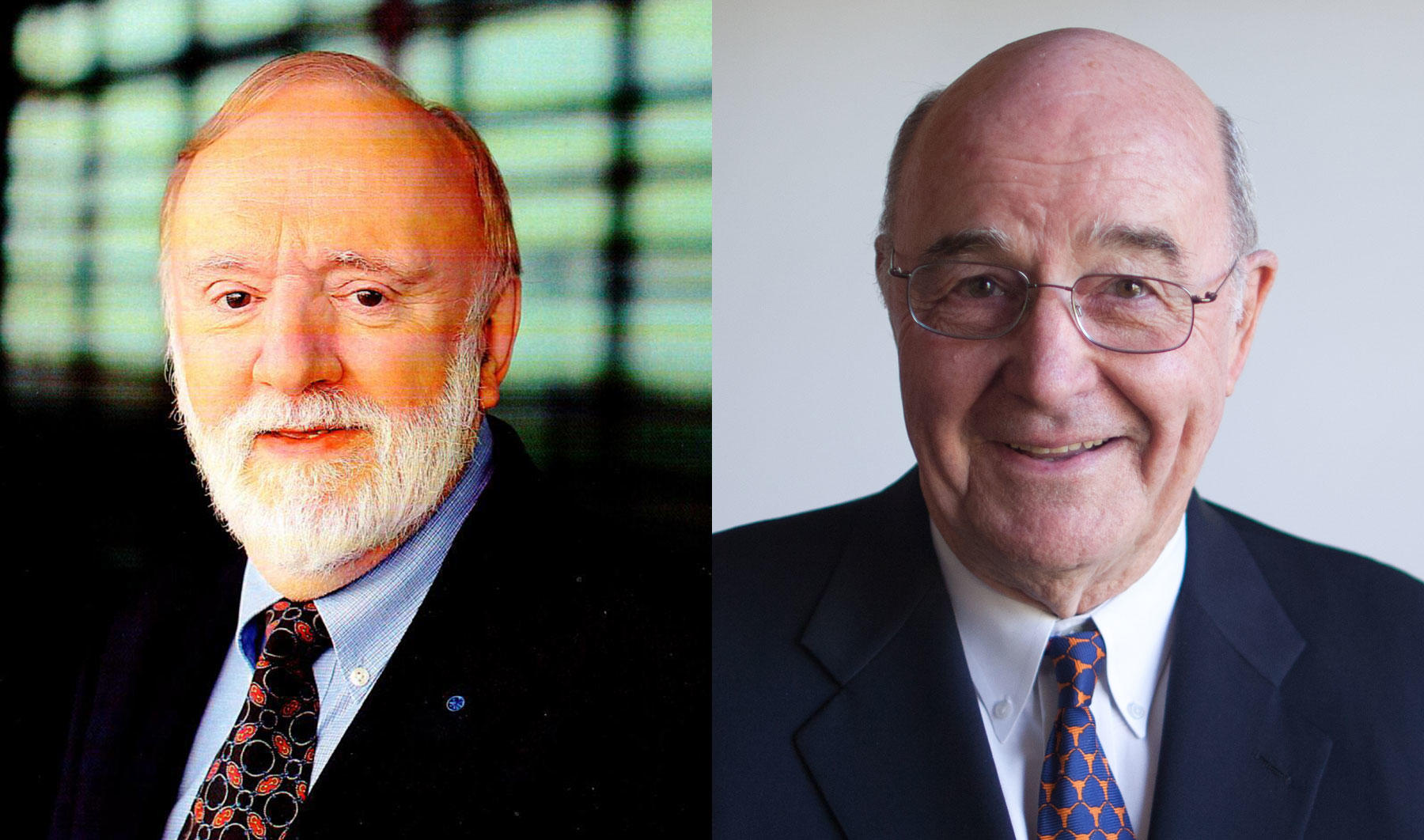 Photos: UC Berkeley Emeritus Professor Jean Fréchet and UT Austin Emeritus Professor Grant Willson. (File photos King Abdullah University of Science and Technology and National Academy of Engineering)
The National Academy of Engineering announced today that the 2020 Charles Stark Draper Prize for Engineering will be awarded to Jean Fréchet, Professor Emeritus of Chemistry at UC Berkeley and alumnus C. Grant Willson (Ph.D. '74, Chem), Professor Emeritus of Chemical Engineering at UT Austin, "for the invention, development, and commercialization of chemically amplified materials for micro- and nanofabrication, enabling the extreme miniaturization of microelectronic devices." The $500,000 biennial award is given to engineers whose accomplishments have significantly benefited society.
The Draper Prize will be presented at a gala dinner event in Washington, D.C., on Wednesday, Feb. 19, 2020.
"I will be honored to present this year's Charles Stark Draper Prize for Engineering to Jean Fréchet and C. Grant Willson for their groundbreaking invention," said NAE President John L. Anderson. "You can see the tangible impact of their work just by looking at your phone, computer, or many other digital devices made possible by the creation of this photoresist material."
The chemically amplified resist (CAR) materials created by Fréchet and Willson are used in lithography to form the minute structures that make up today's semiconductor devices. These materials are now used to manufacture nearly all of the microprocessors and memory chips that enable electronic devices such as personal computers, mobile phones, and motor vehicles.
At the time of the invention of CAR materials, the semiconductor industry was approaching a limit. The existing lithography process and the available resist materials being used in the fabrication process could not form the smaller images required to continue improving devices. Use of light with shorter wavelengths were preferred to achieve higher resolution, but such light sources were very weak in output in those days. The method of chemically amplifying resist materials developed by Willson and Fréchet provided higher sensitivity, which improved production efficiency by reducing photo irradiation time required for image formation, and enabled the production of much smaller structures.
Jean Fréchet is an expert in polymers, well known for his work on dendrimers, separation media, polymer therapeutics, and other technologies. His work has garnered over 120,000 citations (Google Scholar). After retiring from the University of California, Berkeley, Fréchet joined the newly created King Abdullah University of Science and Technology (KAUST) in 2010 as its first vice president for research. He retired in January 2019 as senior vice president for research, innovation, and economic development. A member of the National Academy of Engineering and National Academy of Sciences, Fréchet has been selected for numerous international honors, including the American Chemical Society (ACS) Arthur C. Cope Award, Erasmus Medal, French Grand Prix de la Maison de la Chimie, Japan Prize (shared with Willson), and King Faisal International Prize in Chemistry. He received his B.S. in chemical engineering from the Institut de Chimie et Physique Industrielles, and his M.S. and Ph.D. in polymer chemistry from both the State University of New York College of Environmental Science and Forestry and Syracuse University.
C. Grant Willson is a professor of chemical engineering and chemistry at the University of Texas at Austin, where he holds the Rashid Engineering Regent's Chair. He received his Ph.D. in organic chemistry (Porphyrin peptide studies) from UC Berkeley in 1973 the lab of Henry Rapoport. His research, supported by grants from both government and industry, focuses on the design and synthesis of functional organic materials with emphasis on organic materials for microelectronics. He joined the faculty of UT Austin in 1993 after working at IBM for 17 years; when he left he was an IBM Fellow and manager of Polymer Science and Technology at the IBM Almaden Research Center in San Jose. Willson's research has been recognized with numerous honors. He was presented with the National Medal for Technology and Innovation (2008) by the president of the United States and in 2013 shared the Japan Prize (with Fréchet). He was the recipient of the NAS Award for Chemistry in Service to Society and from ACS he has received the Polymer Science, Applied Polymer Science, Chemistry of Materials, and Heroes in Chemistry awards, among others. Willson is a fellow of ACS, Materials Research Society, Society of Photo-Optical Instrumentation Engineers, and a member of the National Academy of Engineering, American Society for Engineering Education, and Society of Petroleum Engineers. He received both his B.S. and Ph.D. from the University of California, Berkeley, and his M.S. from San Diego State University, all in organic chemistry.
The Draper Prize was established and endowed in 1988 at the request of the Charles Stark Draper Laboratory Inc., Cambridge, Mass., to honor the memory of "Doc" Draper, the "father of inertial navigation," and to increase public understanding of the contributions of engineering and technology. The prize is awarded biennially.
The mission of the NAE is to advance the well-being of the nation by promoting a vibrant engineering profession and by marshalling the expertise and insights of eminent engineers to provide independent advice to the federal government on matters involving engineering and technology. The NAE is part of the National Academies of Sciences, Engineering, and Medicine, an independent, nonprofit organization chartered by Congress to provide objective analysis and advice to the nation on matters of science, technology, and health.