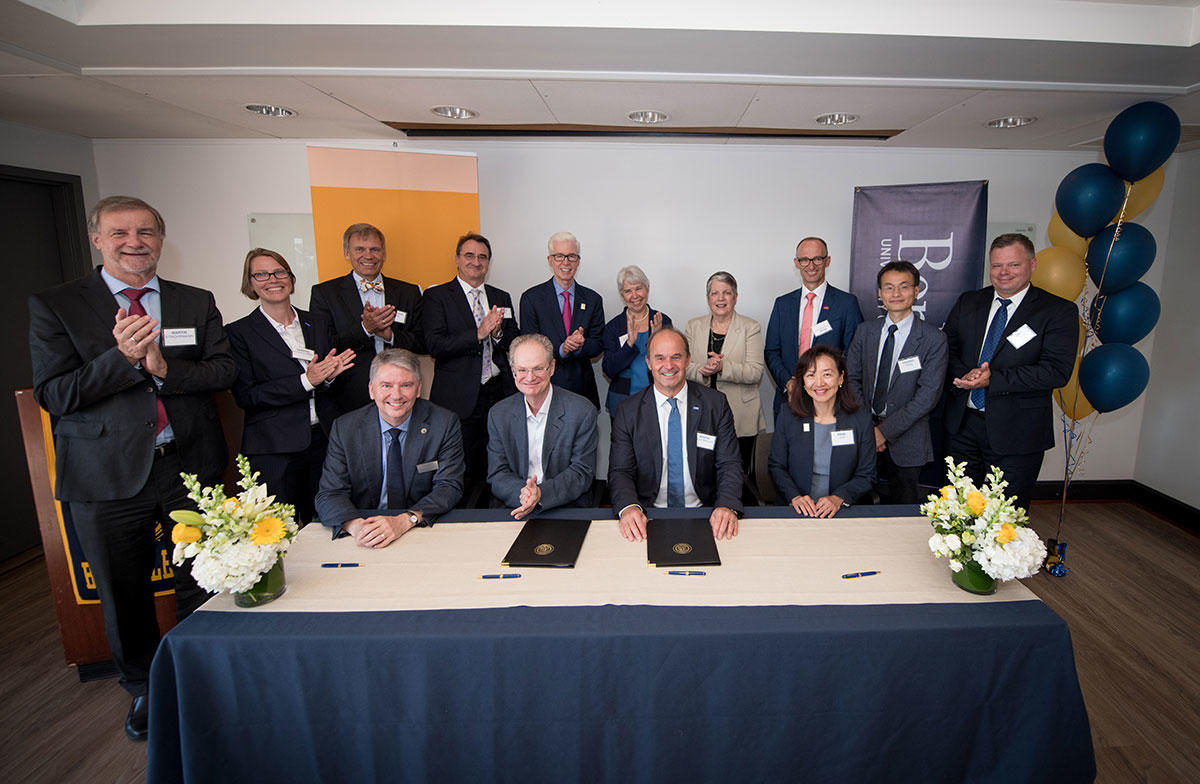 Signing ceremony participants: front row seated (l to r) Douglas Clark, UCB, Paul Alivisatos, UCB, Martin Brudermüller, BASF, Irene Kim, UCB; back row standing (l to r) Martin Strohrmann, BASF, Kerstin Schierle-Arndt, BASF, Hartmann Leube, BASF, Harald Lauke, BASF, Gray Davis, former Governor California, Carol Christ, Chancellor UCB, Janet Napolitano, President UCOP, Peter Schuhmacher, BASF, Peidong Yang, UCB, and Benjamin Knudsen, BASF; photo: Keegan Houser, UC Berkeley
For immediate release
Berkeley, CA
Martin Brudermüller, Chairman of the Board of Executive Directors and Chief Technology Officer, BASF SE has announced a donation of $7 million to UC Berkeley at the California Research Alliance (CARA) 2018 Summer Symposium. 
BASF's donation of $7 million will go toward the construction of a new state-of-the-art, interdisciplinary research science facility at UC Berkeley. Fund raising is ongoing for the building and is co-sponsored by the Colleges of Chemistry, Engineering and Natural Sciences. Dubbed the Berkeley Science and Engineering Hub, research conducted in the new center will converge the expertise of chemists, biologists, engineers, computer scientists, ecologists, social scientists, policy experts, economists, entrepreneurs and industry and civic leaders.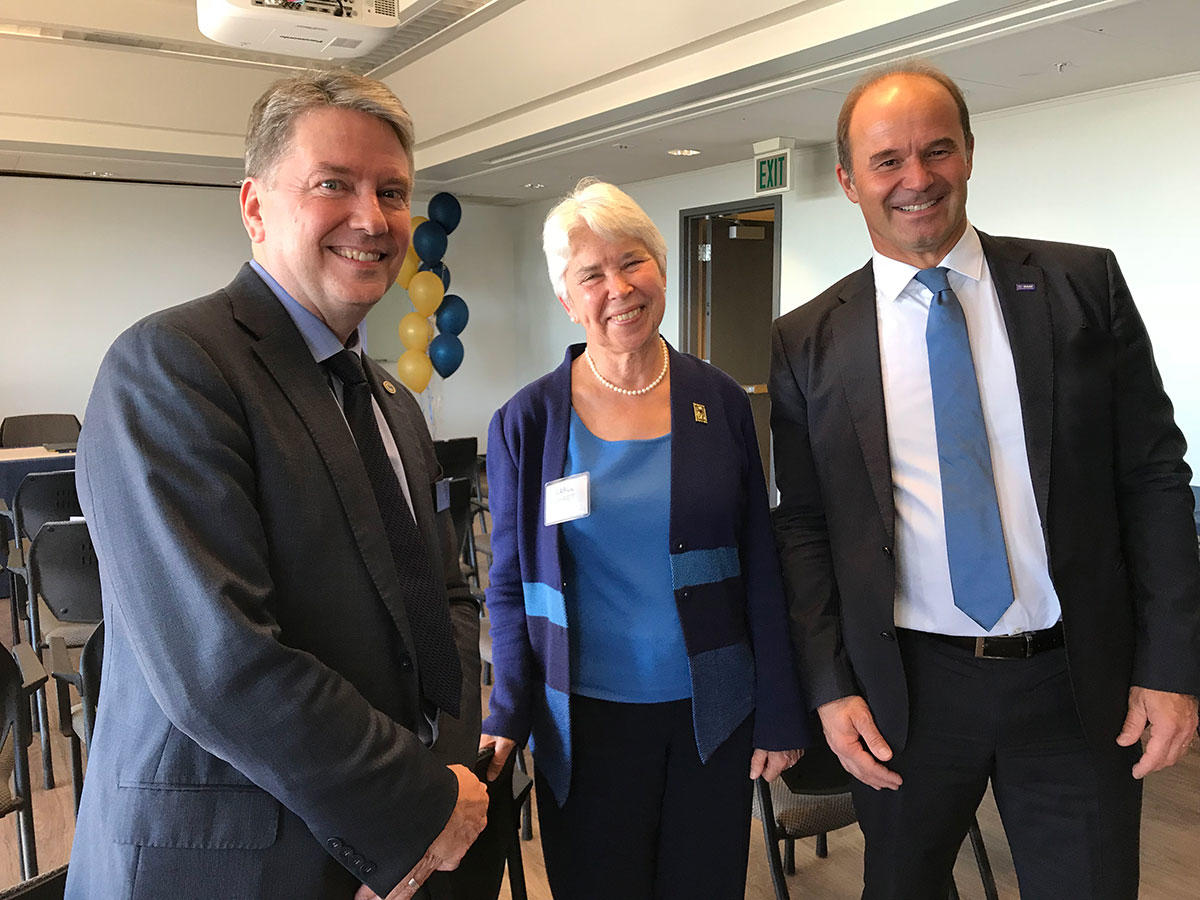 (l to r) CoC Dean Douglas Clark, UCB Chancellor Carol Chist and BASF Chairman Martin Brudermüller at the signing ceremony; photo: College of Chemistry
Brudermüller announced the donation as part of his keynote lecture at the California Research Alliance (CARA) 2018 Summer Symposium, held July 11 at the Chabot Space & Science Center in Oakland, California. A signing ceremony confirming BASF's corporate donation was held the prior evening on the UC Berkeley campus at the College of Chemistry. In attendance were members of BASF along with UC President Janet Napolitano, UC Berkeley Chancelor Carol Christ, former Governor of California Gray Davis, UC Berkeley Executive Vice Chancellor and Provost Paul Alivasatos, Dean of the College of Chemistry Douglas Clark and CARA co-director, Professor of Chemistry Peidong Yang.
"BASF, as part of CARA, is connected to one of the leading global science research hubs for innovation," Brudermüller stated. "With this donation, we our demonstrating our continuing commitment to research in collaboration with our academic partners at CARA that will lead to innovations to improve people's daily lives."
"This collaboration represents the perfect intersection of industry and academic research," said Douglas Clark. "BASF's commitment to UC Berkeley and the larger CARA effort, and their support of vital infrastructure needs on the Berkeley campus, shows that it is increasingly possible to merge our combined goals for even greater scientific impact." 
"BASF's partnership with the universities of CARA has fostered a relationship built on innovation, cooperation and trust," says Kerstin Schierle-Arndt, Vice President of Research Inorganic Materials and Synthesis, BASF, and Associate Director, CARA. "Since its inception in 2014, our research teams have worked on 45 projects together, and we look forward to collaborating on future ideas and projects."
About the BASF/CARA research alliance
CARA is one of four BASF scientific clusters that collaborate with research groups on a regional level, maintaining a network between BASF, the campuses of the University of California system, Stanford and Caltech. The CARA researchers work in a variety of scientific disciplines including new materials, biosciences, formulations, and catalysis, as well as computational and engineering disciplines. 
Currently, there are five BASF researchers based at UC Berkeley and UC San Diego collaborating on research projects with university scientists. The collaboration was initiated in 2014 with10 postdoctoral positions and has been extended to approximately 25 postdoctoral positions today. To date, CARA's researchers have filed 10 patents, and more than 20 peer-reviewed papers have been accepted or published. In addition, research from the first completed projects have already been transferred to BASF R&D for further development.
For further information about this project contact: Mindy Rex, Senior Director, College Relations and Development, College of Chemistry  rex@berkeley.edu
Learn more about BASF.