Berkeley, CA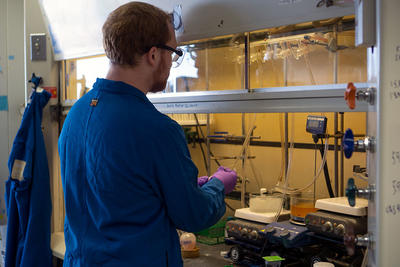 (image: graduate student Ian Bakanas in the lab of Richmond Sarpong)
Elsevier, the global information analytics company specializing in science and health, today announced the 45 finalists for the 2019 Reaxys PhD Prize. The Prize recognizes accomplished young chemists for innovative and rigorous research. This global competition is open to anyone who is doing or has recently completed a PhD in any discipline of chemistry.
The finalists from UC Berkeley include:
Gavin Kiel, Tilley Lab

Douglas Reed, Long Lab

Jose Roque, Sarpong Lab

Yumeng Xi, Hartwig Lab 

Alex Fawcett, Hartwig Lab
Launched in 2010, the Reaxys PhD Prize celebrates innovative and rigorous research by ambitious young chemists. This year's competition maintained the high standards of previous years. The Review Committee examined over 360 entries from around the globe to arrive at the 45 finalists.
"We are extremely happy to see the Reaxys PhD Prize established again" said Dr. Friedrich Kroll, co-organizer of the competition. "It is so important that young innovative researchers of different disciplines are gathering to celebrate their achievements, are supported in establishing networks to address current scientific challenges—often solvable by working across disciplines."
The 45 finalists are invited to the Reaxys PhD Prize Symposium that will be held on October 3 and 4, 2019, in Amsterdam, the Netherlands. This celebratory gathering includes special events, poster sessions for finalists to showcase their research, keynote presentations and a gala dinner. It is also a great opportunity to network with fellow finalists and international leaders in chemistry.
The prize is awarded by Elsevier, a global information analytics business that helps scientists and clinicians find new answers, reshape human knowledge, and tackle the most urgent human crises. For 140 years, we have partnered with the research world to curate and verify scientific knowledge. 
###