Current Recipient
About the CAP Prize
Previous Recipients
---
Current Recipient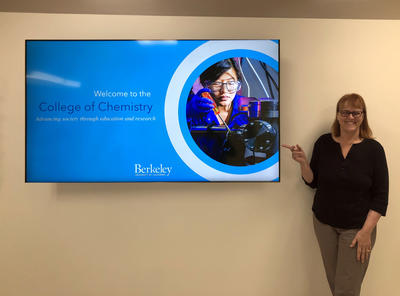 Marge d'Wylde, M.F.A.
Director Marketing and Communications
College of Chemistry
Please join us in congratulating Marge d'Wlyde, the January 2020 recipient of the Chemistry Achievement Prize.
Marge started her career at UC Berkeley in the College of Environmental Design (CED) where she served for 5 years as their Digital Communications Manager. She began working in the College of Chemistry as the Director of Marketing and Communications in September 2017.
As the Director of Marketing and Communications, Marge tells our college's story through internal and external communication.  She writes and shares stories about the faculty, students, and the college in general. She wants everyone to know about the wonderful research and education programs that go on in the College of Chemistry. Externally, she works with public affairs and outside news agencies. Internally, Marge publishes our Catalyst magazine and College Philanthropic Impact Report, and sends out our monthly electronic newsletter entitled Periodic News to share the very exciting and innovative research comming out of the college.
 
Marge also oversees our social media channels, including our Instagram page, and she comanages the lobby displays in Latimer Hall with Leigh Moyer. This year UC Berkeley is celebrating the 150th anniversary of women students at the University. Marge is currently working on several projects to celebrate this at the college.  She will be featuring women faculty in social media and on posters around the college. She's also focusing on a story about women alumnae (past, current, and future) in our upcoming spring Catalyst magazine in May.  If anyone has good ideas for celebrating 150 years of women at the College, please contact Marge.
Marge was nominated by Lo de Janvry. He praised how Marge exemplifies the Berkeley Operating Principle of focusing on service. He wrote, "Despite being a predominantly one-person team, over the past 2+ years Marge has elevated our College's marketing and communications to a new level of professionalism that further supports the engagement of our entire community ‐‐ students, faculty, staff, alumni, parents, and donors ‐‐ and has helped us achieve new heights in fundraising for the College. Marge's meticulous attention to promoting and adequately representing our College's excellence throughout her marketing and communications pieces has been an exemplary service to the College and our entire community."
 
In her (rare) free time, Marge likes to hike, kayak, travel internationally, and she's a big movie buff (especially esoteric movies). She has a sweet family which includes her husband and dog.  Her last international trip was to Costa Rica in January, and she had a lot of fun.  She even drank the tap water and saw over 150 species of birds. The most interesting thing she saw was a sleeping toucan in a rainstorm under a leaf umbrella.
---
About The Chemistry Achievement Prize (CAP)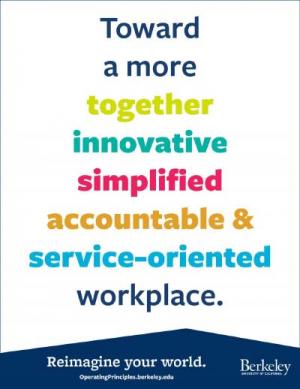 The Chemistry Achievement Prize (CAP) is a peer-oriented program designed to recognize outstanding and noteworthy service of staff members in the College of Chemistry. The intent is to recognize individuals who have made exceptional contributions that are above and beyond the normal expectations of their role and who are living the Berkeley Operating Principles in their everyday work.
Program Information
All staff members (full and part-time) are eligible for nomination. A committee comprised of employees from various CoC units will serve a one-year term to review award nominations and select one award recipient per quarter.
How to Nominate
Nominate a colleague by submitting this online submission form.
Recognition
Award recipients will receive a certificate of recognition, a $75 gift card, and a spotlight on the College's CAP website and in the lobbies of Latimer and Gilman Hall.
2019-20 CAP Committee
Iris Acosta (chair)
Christine Balolong
Shamaya Pellum
Anneke Runtupalit


---
Previous CAP Recipients
Below are previous recipients of the Chemistry Achievement Prize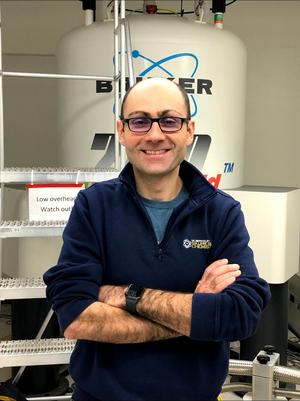 Dr. Hasan Celik
Director of the NMR Facility
College of Chemistry
Please join us in congratulating Dr. Hasan Celik, the November 2019 recipient of the Chemistry Achievement Prize!
Hasan began working as the Director of the NMR Facility in December 2015 right after he finished his postdoctoral program at the National Institutes of Health (NIH). He describes being part of the College of Chemistry (CoC) family as any chemist's dream, and finds it very exciting to contribute to the world-class research we produce on a daily basis. More importantly, he thinks that the CoC staff and the UC community in general plays a very important role by providing invaluable opportunities to young people at a scale that is very hard to replicate anywhere else.
Being a UC alumnus (Ph.D., 2011), Hasan believes in the mission of the University of California, which is to serve the public through teaching and research. It was important for him when he got the job at UC Berkeley because he sees this position as his opportunity to pay it forward. The facility serves over 500 users annually including undergraduate and graduate students, postdoctoral scholars, and researchers; making it one of the largest user bases in the nation in a university setting. Hasan is also currently co-teaching Chem 265 Nuclear Magnetic Resonance Theory and Applications with Prof. John Hartwig.
Under Hasan's leadership and management, our NMR Facility has been expanding and adding state-of-the-art instruments supported via instrumentation grants and CoC funds: two NMR spectrometers and a cutting edge cryo-probe. He is always willing to go the extra mile to improve resources available to the UC Berkeley community. Steve Williams wrote on how Hasan exemplifies the Berkeley Operating Principle: "Hasan asked some questions about the Liquid Air plant operations and then took the lead doing all the hard work to get a $250,000 grant to upgrade the Liquid Air plant. Without his inquisitiveness and willingness to do the extra work we would not have been able to improve our operation." Indeed, Hasan's hard work paid off. Those funds allowed the CoC to replace the purifier for the central helium recovery system in the Liquid Air plant. Helium is a crucial but limited research commodity, and this purifier upgrade will enable the Liquid Air plant to recycle more helium and to maintain a sustainable supply.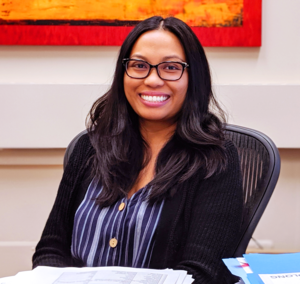 Christine Balolong
Executive Assistant to the Dean
Executive Assistant to the Associate Dean
Faculty Support Assistant (Doug Clark, Matt Francis)
Please join us in congratulating Christine Balolong, the July 2019 recipient of the Chemistry Achievement Prize!
Christine, one of the few people who works in the College of Chemistry, the Department of Chemistry, and the Department of Chemical and Biomolecular Engineering simultaneously, is not only the Executive Assistant to the Dean and the Executive Associate Dean, but also the Faculty Support Assistant to Doug Clark and Matt Francis.
Christine, a Cal alum, has spent the entirety of her career on campus. While she was working on her Psychology degree, she was also a work-study student in the Economics department. In her senior year (and a couple of months past graduation in spring of 2008), she worked as a research assistant/associate at the UCB Early Childhood Math Project at the Institute of Human Development. The purpose of the project was to study and develop math curricula for young children from low-income backgrounds to help develop their math skills.
In June 2009, she joined the Department of Chemical and Biomolecular Engineering as the FSA to Professors Iglesia and Reimer, and at the end of the year was assigned to several professors, including Doug Clark. Christine moved to her current role in 2014, and prior to that was the Chair's Assistant and Academic Personnel Analyst from 2012-2014.
Several nominators praised Christine as a team player, which she demonstrated recently by stepping up in the weeks before Geralyn Unterberg's retirement, not only by taking on the College of Chemistry Staff Appreciation event, but also in organizing Geralyn's retirement party.
Christine's ability to flawlessly execute a multitude of responsibilities, juggle multiple roles with ease, and maintain high standards and strong service orientation demonstrates her commitment to the Berkeley Operating Principles.
Christine is married with two young sons. In her (rare) spare time, she enjoys baking, crafting, and working out. Her favorite vacation spot is Hawaii, where she was married.
---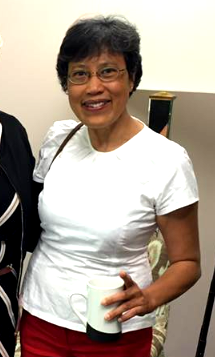 Anneke Runtupalit
Faculty Support Administrator

Department of Chemistry
Please join us in congratulating Anneke Runtupalit, the April 2019 recipient of the Chemistry Achievement Prize!
Did you know that the first time Anneke, a Cal alumna and Faculty Support Administrator (FSA) for the Chemistry department, saw one of her PI's, Professor Robert Bergman, was when she was a student assistant for the College? That's right-Anneke was required to deliver a package to him and little did she know that she would soon be working for him years later. In fact, this past May, Anneke has officially been an FSA for 18 years and her impact on the College can truly be felt by the 7 outstanding nominations she received!
Known for always having a positive attitude and great communication, Anneke has been described as an incredible role model who sets a wonderful example for staff. Never selfish with her time or knowledge, Anneke makes herself available to help out the Department whenever she can and this includes training new FSA's, helping out with last-minute grant proposals, serving on multiple committees, volunteering at numerous events, and more. Not only that but many of her nominators also mentioned how Anneke truly understands and appreciates the mission of the University. To sum up her many contributions, here is a telling statement from Dr. Maio Zhang of the Catalysis Center: "Anneke is a bond between group members and the PI's. She's also a bridge between the researchers and the administration team. She is professional, highly efficient, responsive and reliable on her job. At the same time, she is also warm, kind‐hearted and always ready to help. She always brings in happiness and creates a good atmosphere in the group. Her contribution to the research group is distinguished, even though she's not doing the research work."
Anneke's caring personality and dedication can also be seen in what she does in her spare time. She is an active member of her church and for the past 13 years, Anneke has volunteered as a summer camp counselor for disadvantaged foster kids in the Contra Costa County. Additionally, last December, Anneke received her Master's degree in Christian Apologetics from Biola University which taught her how "to articulate a Christian worldview reverently, with intelligence, confidence, and compassion." Anneke is happy to be fulfilled in both her personal and professional life.
Thank you, Anneke, for being such an indispensable employee of the College of Chemistry! We appreciate you!
---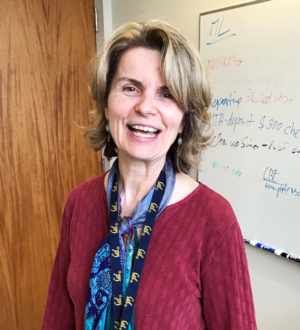 Sigrid Allen 
Lead Faculty Support Administrator
Department of Chemical and Biomolecular Engineering
Please join us in congratulating Sigrid Allen, the January 2019 recipient of the Chemistry Achievement Prize! Sigrid works in the Department of Chemical and Biomolecular Engineering (CBE) as the Lead Faculty Support Administrator (FSA). She currently supports Professors Enrique Iglesia and Markita Landry while leading a team of 4 FSA's. Sigrid has been with the department for a little over 3 years and considers herself to be the "Financial Wizard" for her professors by helping them with proposals and projections. However, many people in the department would agree that she is so much more than that and it shows by the 5 nominations she received this past quarter.
Sigrid is the department's first ever Lead FSA and her new role has been a huge success. With a position that is so unique and broad in its duties, Sigrid works closely with other departments to stay on top of the ever changing policies and systems that FSA's use and distributes this information in a way that promotes inclusion and teamwork while keeping the workflow running smoothly. For example, Sigrid recently implemented a cloud-based file-sharing system for her and her team and has taken on the task of training new FSA's to ensure that everyone is always on the same page- A perfect example of her efforts to "include and excel, together."
However, this is not the first time that Sigrid has made such a positive impact at UC Berkeley. Before joining CBE, Sigrid was the Associate Director of the Loan Repayment Assistance Program at the Berkeley Law school where she used her strong financial background to mentor JD student and graduates on how to successfully repay their student loans while pursuing a career in public service.
Above all, Sigrid's love for mentoring can truly be seen in her passion outside of work – being a life coach. She experiences challenges as opportunities and loves to help her clients dive below their perceived challenges to find different ways of looking at their life circumstances. By helping them realize how powerful our thoughts are and how the way we think actually shapes our outer world, Sigrid is able to help bring out the best in people.
Thank you, Sigrid, for everything that you do – The department (and College) is lucky to have you!
---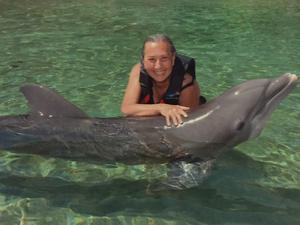 Geralyn Unterberg
Dean's Analyst, Academic Personnel
Geralyn was nominated by three colleagues. The common themes in the nominations were Geralyn's caring manner, extensive knowledge and willingness to help faculty and staff. More than one nominee alluded to Geralyn's talent for "...(making) sure that we are all included‐ be it the college picnic, the seminars, or just a friendly hello, by name, and makes sure that we as individuals are doing well and as a whole, we continue to function and thrive."
It's clear that Geralyn's "can-do" attitude towards work started early on. During college in Guam she worked nearly full-time at a radio station. At first she primarily worked in an administrative jack-of-all-trades capacity, but was eventually encouraged to obtain her license and become a DJ. Geralyn would plan her show ahead of time and frequently brought her own music from home. "You have to be prepared," she says, "You don't want to be caught with dead air."
Geralyn began her career at UC Berkeley in January 1985 as secretary to the Head Librarian of the Moffitt Undergraduate Library. Although her position was technically administrative support for the librarians, she was frequently called upon to act as building coordinator, microfiche maintainer and microfiche trainer for students, among other roles. Eventually, the librarians also had her staff the information desk, where she got to know the reference materials well.
At the College of Agricultural and Resource Economics she supported three cooperative extension specialists. Their work necessitated a large number of presentations and workshops, which is where Geralyn started picking up event planning experience.
She subsequently worked in the College of Natural Resources Dean's Office as an administrative specialist, then at the UCOP Division of Agriculture and Natural Resources. In that role she traveled around the state filling academic positions. Although she enjoyed the travel, she missed being on campus, and took a position as Executive Assistant to the Dean in the College of Chemistry, which eventually transitioned into her current position.
Geralyn has two sons - Paul, 37 and Clark, 35. She enjoys artistic pursuits like drawing and creating stained glass works. Geralyn also loves to travel; Egypt is one of her favorite, if not her absolute favorite, destinations, because it was a "totally different experience - you never knew what was going to happen every day."
---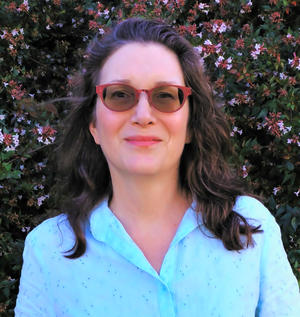 Deborah Gray
Seminar Coordinator
Department of Chemistry
Deborah Gray is the latest recipient of the Chemistry Achievement Prize (CAP). The prize is awarded quarterly to a College of Chemistry staff member for outstanding work, collaborative efforts, and exemplary service to the College.
Deborah is the seminar coordinator in the Department of Chemistry and has also recently taken on Industrial Recruiting. Deborah has been with the department for two years and with UCB since 2006. She worked for six years at the Office of the Registrar in the Classroom Scheduling Unit where she coordinated about 40,000 special events annually. She moved on to the Department of Geography as the Department Assistant where she coordinated department colloquia and then took on the additional responsibility of academic scheduling.
Deborah was nominated by three of her colleagues. Some of their comments include: "she is thorough, prompt in responding to inquiries, maintains a positive and friendly attitude, goes above and beyond what is expected, has patiently trained staff in the use of the Travel System, provides guidance about reimbursement policies, is a great team player, is amazingly strong in her belief that we are accountable to one another, has gone above and beyond to streamline the seminar scheduling process, and implemented a quick turnaround for processing paperwork." Her nominators note that she is focused on service and accountability.
Deborah is an English Literature major and studied at a college in Boston. She grew up in Sarasota, Florida and used to watch the space launches as a child. She lived in Connecticut for many years and has been a software trainer, a webmaster, and an administrative assistant.
She and her husband, George, have a 15-year old son, Lawrence. Deborah likes to keep busy and when not at work, she enjoys spending time with her family. Her hobbies include soap making, knitting--especially baby sweaters, booties, and hats—sewing—everything from curtains to clothes, and beading.
Deborah is organized, knows UC policies on travel and entertainment, selects a variety of great caterers, and is an excellent communicator. Congratulations to Deborah!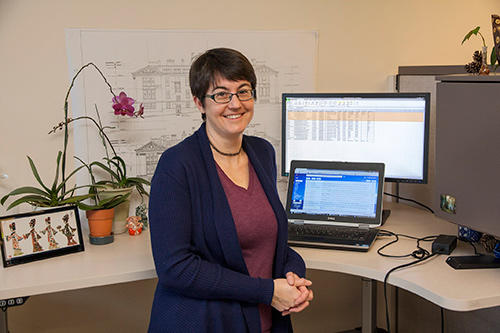 Kristin Stangl
Faculty Support Adminstrator
Center for Gas Separations (CGS)

Please join us in congratulating Kristin Stangl as the April 2018 Chemistry Achievement Prize (CAP) recipient!
Kristin works in the Department of Chemistry and is being recognized for her outstanding dedication and focus on service over the last several months. Kristin is the faculty support administrator for the Center for Gas Separations (CGS), a group composed of over 90 researchers across several institutions. She has been instrumental in the administrative oversight in this role, in addition to stepping in to fulfill a vacant staff position in Professor Long's group. Kristin quickly learned the multiple aspects of this role and handled the complexities with ease. Professor Long stated that "it is truly rare to encounter an employee of Kristin's extraordinary caliber and dedication". As a previous CAP winner in 2015 Kristin has continued to embody the principles of the CAP in her daily work. Leslie Silvers stated that "beyond her commitment to service for her PI, she has now shown her commitment to her co-workers by volunteering and becoming a very active member of the Chemistry Enrichment Committee". Her contributions to the department are unparalleled.
---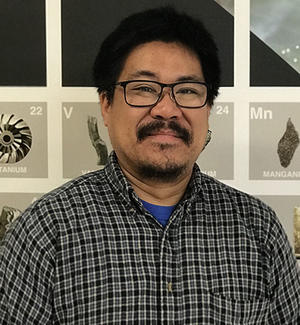 Dante Valdez
Supervisor, Phys Chem Lab
Instructional Support Operations
Dante Valdez is the January 2018 recipient of the Chemistry Achievement Prize.
Dante works in the Department of Chemistry's Instructional Support Unit and has been an integral part of the laboratory staff for over 15 years. As a student in the chemistry department he worked as a student assistant in the lower division stockroom. After graduating and a short break from UC Berkeley, he returned as a stockroom supervisor. Dante currently manages the stockroom for the upper division labs where he is responsible for ordering materials for labs, verifying experiments are running as expected, ensuring EH&S compliance and enforcement, and managing instrumentation maintenance and repair. Dante really enjoys working with undergraduate students, which is evident by the comments in his nominations; "He was always very helpful, going beyond his required duties, and helped to ensure that technical issues during classes were quickly resolved"; "He not only taught me how to use all of the instrumentation for Chem 108, but would willingly assist students with their own characterization and experiments if I was preoccupied with other students"; "He provides a high level of service to everyone who shows up at his door with a question or need for help". Dante also likes that he gets to learn new things all the time. This may not seem possible for someone who has been in a role for 15 years, but when an experimental set up goes down, a new experiment is developed, or new equipment is purchased that is when Dante gets to learn something new. That becomes very apparent when you read the four nominations that were received for him. "He is the glue that holds together the advanced laboratories, troubleshooting many different setups, and advising, instructing, and servicing all the challenging experiments for students, teaching assistants, and faculty, alike. Time and again an experimental setup goes down, and Dante resurrects it with efficiency and skill. "and "He advises me when we should replace ancient instruments, finds the suppliers, and develops expertise for their use and maintenance."
Dante's commitment to the students, faculty, and the college has truly demonstrated the ideals of the CAP and the Berkeley Operating Principles.
In his spare time Dante enjoys brewing his own beer and traveling. He has traveled to Canada, Mexico, the Philippines, throughout the U.S. and multiple countries in Europe including Italy, Germany, Switzerland, France and the UK. In the future, he hopes to travel to Spain, Ireland, and Italy (again!).
---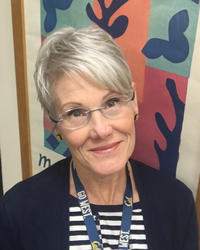 Leslie Dietterick
Faculty Support Administrator, Department of Chemistry
Leslie Dietterick is the October 2017 recipient of the Chemistry Achievement Prize.
Leslie has worked in the Department of Chemistry for over two years and is a Faculty Support Administrator (FSA) supporting Professors Phillip Geissler and Eran Rabani. Both of her professors nominated Leslie for her innovation, determination, and positive attitude especially when handling obstacles. Earlier this year while setting up for a big event, Leslie was stuck in an elevator. Rather than panic, or become stressed, she was able to stay calm and continue to guide her colleagues about the logistics from inside the elevator. Additionally, one of her biggest feats is coordinating the annual Berkeley Statistical Mechanics meeting which draws over 100 attendees from all over the world. Leslie has readily taken the responsibilities of budgeting, scheduling, catering, reimbursement, and more to ensure the success of this event. Professor Geissler stated, "I have never worked with someone who combines such determination with an abundance of friendly energy".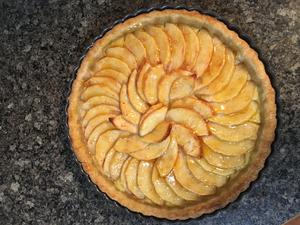 Leslie is also known for her delicious baking which she brings into the office to share with everyone. She says that baking is a relaxing hobby that she enjoys very much. All those around her are appreciative not only of her baked goods but also for the enthusiasm she brings to the department. Leslie Silvers added, "All this is done (and done well) with enthusiasm and a spirit of fun which is infectious and makes the department a wonderful place to work". She is also co-chair of the Chemistry Enrichment Committee and writes the department newsletter.
Outside of her busy work schedule, and in between baking, Leslie still manages to find time to support her community. She volunteers for a non-profit organization called East Bay Conversation Project which is dedicated to promoting understanding and engagement in advanced care planning. Leslie is passionate about being involved and went back to school graduating in 2013 with a degree in Social Welfare and Anthropology. She is compassionate, helpful, and supportive in many ways and it clearly shows in all that she does.
Congratulations to Leslie on a well-deserved award!
---
Emanuel "Manny" Druga
Electrician, College of Chemistry R&D Engineering Support Services
Emanuel "Manny" Druga is the July 2017 recipient of the Chemistry Achievement Prize.
Manny has been working at the College of Chemistry R&D shops as an electrician for the last 15 years. He has grown to love the close knit community and atmosphere at the College. Manny clearly demonstrates the ideals of the CAP in his daily work, especially as an expert in his field. A common value that his nominators have expressed is that Manny is innovative. "He is resourceful and imaginative, he innovates creatively when no easy solutions present themselves". They have also stated that he is a "force of nature and helps form a whole that is bigger than the sum of the parts together with other staff colleagues". It's clear that Manny enjoys his work. He is most passionate about collaborating on prototype projects and learning from faculty. He finds pride in helping with projects and aims at finding the most efficient and cost effective way to get the work done.
Before arriving at the College of Chemistry Manny worked at Pixar, a company known for creativity and innovation, which has transpired to his skillset. He then landed a position as a contractor for UC Berkeley as part of the Seismic Renovation project for the College of Chemistry. While working on this project, he realized he wanted to be a part of the academic community and when a position opened, he reached out and applied. We are fortunate that Manny has been with the College for 15 years, continuing to innovate and imagine every day.
In his spare time, Manny loves working on electronics and working on his CNC machine where he designs and repurposes furniture. He also loves teaching his daughters coding and working on projects with them. Manny and his wife are also a part of Rooms of Hope, a non-profit organization which offers dream bedroom makeovers for children with life-threatening illnesses.
---
Karen Chan
Instructional Support Operations, Department of Chemistry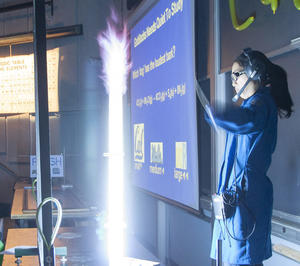 The CAP selection committee is pleased to announce that Karen Chan is the April 2017 Chemistry Achievement Prize recipient!
Karen works in the Department of Chemistry's Instructional Support Unit and has been an integral part of the laboratory support staff for many years.  She worked in the General Chemistry stock room as a student and continued after graduation. She currently manages the Instructional Lab Demonstration Facility where she is responsible for setting up, running, and taking down experiments for Chemistry classes in Pimental Hall. For a portion of this academic year, Karen spent extra time filling in when the unit became unexpectedly short-staffed while continuing to perform her regular job duties. She has taken over the day to day operations of a busy undergraduate laboratory stockroom which serves between 1,000 and 1,500 students each semester, all while working overtime and weekends assisting instructors to ensure that both jobs are done accurately and with minimum disruptions to students. Karen even had the time to pioneer a new method of purchasing gases which made the College greener.
One of Karen's favorite parts of her job is Cal Day where she'll be working with Dr. Michelle Douskey for the 9th year in a row.  Karen takes pride in seeing children amazed at all the demonstrations on Cal Day and their overall enthusiasm to learn more about science.  Karen also finds tremendous joy working with her students who she refers to as "her kids".  She spends a great deal of time mentoring them and finds it very rewarding to make a difference in their lives.
Karen's willingness to step in and help along with her commitment to the students and the college has truly demonstrated the ideals of the CAP and the Berkeley Operating Principles.
In Karen's spare time, she enjoys cake decorating and taking part in bake offs where she has previously won the inaugural Chemistry bakeoff.  She also bakes for her friends, and family.  She has baked science themed cakes that involve beakers and has also baked a Pokémon cake with Pokeballs for her twin nieces' birthday.  What an amazing auntie!
---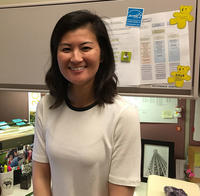 Lauren Nakashima
Academic Personnel Coordinator, Department of Chemistry
Lauren is the Academic Personnel Coordinator in the Department of Chemistry and handles all of the academic cases including the very detailed tasks of coordinating the recruitment of new faculty. We received an overwhelming five nominations for Lauren, not to mention the multiple times she was nominated in the past. Her colleagues clearly think highly of her work and dedication to the success of the department. She is knowledgeable, dependable, and organized and those that work with her consider her a "hidden gem" in the department. Department Chair David Wemmer stated that Lauren is "extremely well organized and conscientious in her work, and deals with the many (often last minute) demands with a great attitude and a smile" and "gets everything in place without fail". Lauren definitely goes well above the call of duty and represents the ideals of the CAP and the Berkeley Operating Principles.
Lauren has been with the Department of Chemistry for six years. After graduating from UC Davis in 2007 with a BS in Managerial Economics, Lauren took a position in the Geology Department at Davis, working in HR, payroll, and academic personnel.  She made lasting friendships with colleagues there and though she enjoyed living in Davis, by summer of 2011, she felt it was time to venture out of Aggie-land and explore new possibilities.  She wanted to stay in the UC system, so she applied and interviewed for a position in MCB, in RES, and in Chemistry at UC Berkeley. As she was offered each position, lucky for us, the MSO in Chemistry reached out to Lauren quickly offering her the Academic Personnel position. It was an instant and perfect match for all parties. Lauren says there are many rewarding aspects of her job but most of all, she enjoys the interaction with faculty and staff and is thrilled to be a part of the UC community and a world-class department. She is very appreciative of her time here.

Outside of the office Lauren enjoys running and has participated in the Disneyland Half-Marathon run five times, meeting her goal of under two hours the last two runs. She loves to cook and bake and has brought in to share with us the most wonderful cakes, cookies, and cupcakes. She also likes to knit and crochet.
Lauren grew up in Fresno, where her family still resides. She looks forward to going home for visits as often as she can. Last spring she and her family went to Japan for two weeks, meeting up with distant relatives, exploring the sites, and eating the best tonkatsu in the world. She said it was a most fascinating time.
Many of you may not know this, but Lauren has a true love in her life.  His name is Herman. He's a stuffed bear about 10 inches tall and has been her companion for about 30 years. Herman often travels with her, and he even went to Japan with her last spring. Feel free to stop by Lauren's office to see a photo of Herman in front of the Tokyo Skytree.
---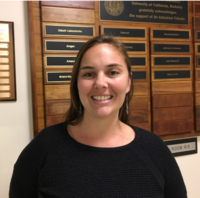 Meggie Zimmerman
Administrative Assistant, Chemistry Instructional Support Operations
Meggie works in the Chemistry Instructional Support Operations unit and is the person responsible for the arduous task of scheduling and classroom management. With the implementation of the new Campus SIS system many issues arose and Meggie stepped up and came to the aide of many students and colleagues by providing quick and accurate service fixing many of the scheduling problems. She received multiple nominations and praises for her calmness, professionalism, and courteous service during this time. Even with very little training Meggie was able to use the new system to get everyone on board, making it seem effortless on her part. Without her quick and thoughtful judgement and problem solving abilities this fall semester would have been disastrous for many. She is considered an "unsung hero" among her colleagues in the instructional unit and has proven to exemplify the Berkeley Operating Principles of  "We simplify" and "We focus on service" to the greatest degree. 
Meggie, a Berkeley native, is back after spending several years away from the area. She's very pleased to be on campus surrounded by all the exciting research and innovative work occurring here. Please join us in congratulating Meggie on a job well done!
---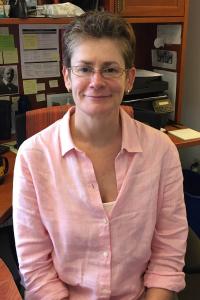 Maura Daly
Undergraduate Adviser, College of Chemistry
As the lead student adviser in the College's Que Undergraduate Advising Center, Maura Daly is someone who embodies the importance of teamwork in her day to day life. It's clear from the multiple nominations she received that her positive attitude influences those around her. She is being recognized for demonstrating the principles of "we include and excel, together" and "we focus on service" in her work with students, colleagues, and others on campus.
Maura is also actively involved in projects on campus that celebrate the diversity in our community which "helps improve the campus climate for all constituencies". Her contributions have been invaluable to the College of Chemistry students and to the entire advising community on campus. She actively includes and shares her wealth of knowledge with everyone around her. This was especially apparent during the challenging transition to the new student information system and navigating the new transfer admissions process. She ensured that the transition was seamless and that the students would only be affected in the most positive way.
Maura is a true team player who exhibits compassion and patience. She attributes her calm demeanor from her 35 years of practicing the Japanese martial art, Aikido. Recently Maura was featured on the Staff Appreciation Week "Staff Spotlight" where she shared how her skills in the practice of Aikido have helped her in her daily work at Cal. She is one of only a few women around the world who have achieved a high degree black belt in the practice, yet she remains humble and understands the importance of continuing self-development. Please help us in congratulating and thanking Maura for her service and dedication to the College of Chemistry!
---
Lynn Keithlin
Graduate Student Affairs Manager, Chemistry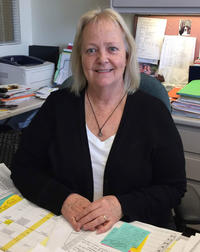 Over the years Lynn Keithlin is someone who has quietly worked behind the scenes in the Graduate Student Office in the Department of Chemistry. Lynn has been with the College of Chemistry since 2001 where she started out working in the Dean's Office. She then became a Graduate Student Advisor in the Department of Chemistry where she has been since 2002. She has stated that she truly enjoys working with the students and it clearly shows in her cheerful and pleasant demeanor and in the excellent service that she provides.
Now at the forefront as the Graduate Student Affairs Manager she certainly stands out as someone who represents the principle of "We focus on service" to the greatest degree. Over the last few months in a time of transition Lynn has gracefully stepped into her complex role and has gone out of her way to ensure that any changes were seamless to the students, faculty, and staff that she interacts with. She is knowledgeable about campus resources and without her dedication to the students there would be serious fallout of student appointments. Her guidance and helpful and calm attitude have kept things in the office running smoothly.
Other than keeping busy in the office Lynn enjoys spending time with her two granddaughters. She looks forward to the weekends where they often have "sleepovers at grandma's". The joy and enthusiasm that she has talking about her granddaughters also carries in the way she talks about her students. She cares deeply and goes the extra mile for them. We would like to congratulate and thank Lynn for her commitment and hard work to the College!
---
Elena Lunt
Faculty Support Administrator, Chemical & Biomolecular Engineering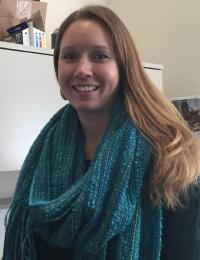 Elena Lunt, Faculty Support Administrator (FSA) in the Department of Chemical & Biomolecular Engineering (CBE), is the January 2016 CAP recipient. Although her time in the department has been brief Elena is being recognized for her positive contributions to the department supporting four faculty members while stepping in to take the lead in administering the transition of a new faculty member. Additionally, she volunteered to take over the responsibilities of coordinating the weekly colloquium when the department was short-handed. With no prior experience she had quickly learned the process and was able to work through all the meticulous details and make things run smoothly. She has definitely proven to exemplify the Berkeley Operating Principle of "we include and excel, together" and her "positive and patient personality" has been invaluable to the department.
Outside of her busy schedule in the office, Elena enjoys the outdoors – fly fishing, backpacking, and gardening – and has recently undertaken an exciting new hobby of dying natural fibers, spinning and knitting them into beautiful scarves and other pieces. Prior to coming to UC Berkeley she worked in the non-profit industry and also attended graduate school at the University of Connecticut where she studied History and Human Rights.
---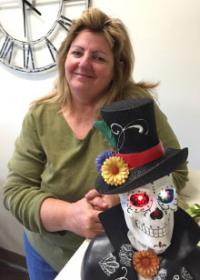 Leslie Silvers
Interim Department Manager for the Department of Chemistry
Faculty Support Administrator (FSA) for Professors Martin Head-Gordon and David Wemmer (Dept. Chair)
Leslie has proven over the years that multi-tasking is her comfort zone. Speaking to her current role, Prof. Wemmer writes, "...Leslie stepped in and took over the much larger job of keeping the Department Office functioning. This included planning the transition of staff required with retirement of others in the office, picking up management of all of the FSAs, and taking on the formidable task of getting the department's budget for the 2015-16 year into place, with many changes relative to past years including budget cuts. This required learning many new aspects of how the department operates.
At the same time she continues to provide M. Head-Gordon with FSA services. This has meant many extra hours of work for Leslie, she has been flexible in work time to be able to meet both internal and external deadlines." So we know what she brings to her job, but when asked what her job brings to her, she answers, "The opportunity to work with intelligent and logical people." Well, you know what they say: chemists have all the solutions!
---

Joel Adlen
Faculty Support Administrator in Chemical and Biomolecular Engineering
A returning member of UC Berkeley's staff, Joel was nominated by Elena Lunt, a fellow FSA in CBE. Elena cited Joel's knowledge and resourcefulness as being a valuable asset in the construction, testing and implementation of the college-wide Chemistry Complex Building Access project. "He took initiative to collaborate with the creator of the system to make sure that all the glitches were addressed and staff had proper training. Joel also took on the role of liaison, collecting feedback that he could synthesize for easy transfer to the key system programmer."  Read more about Joel!
---

Doris Kaeo
Receptionist for the College of Chemistry
Doris was nominated for the CAP award by Geralyn Unterberg, the Dean's Analyst for Academic Personnel. Geralyn cited Doris' outstanding work ethic, her ability to establish professional relationships with on-and off-campus entities and her unique and welcoming style. Reacting to a serious water leak that flooded the dean's office, Geralyn wrote that "Doris was able to quickly order the furniture that the dean needed for his renovated office by setting up arrangements with the vendors for payment and delivery within two days." Geralyn's nomination also noted Doris' assistance to Esayas Kelkile in ordering the chairs needed for the PDP move to the 4th floor of Latimer, working with Mike Brateng on processing a rush order for the renovation of a professor's lab and ably serving as the dean's decision-maker on constant requests for use of 775 Tan Hall. Read more about Doris!
---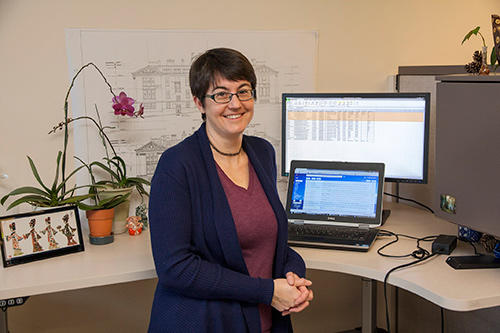 Kristin StanglFaculty Support Administrator for Professors Bell, Prausnitz, and Maboudian (January 2015)
The CAP Committee is pleased to announce that Kristin Stangl is the January 2015 CAP Recipient. Kristin is being recognized for her excellent work in the Department of Chemical and Biomolecular Engineering (CBE) as faculty support administrator for Professors Bell, Prausnitz, and Maboudian. She exemplifies the Berkeley Operating Principle of "We focus on service" by clearly making a positive impact to all who cross her path. Her nominator says she "generously provides whatever is needed, always with a friendly face". As a faculty support administrator she has been instrumental in keeping things running smoothly for the faculty, students, and visitors, ensuring that their needs are met and going above the call of duty to do so. Read the news article.


---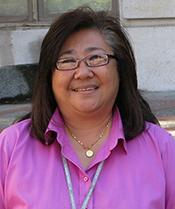 Karen Wong
Operations Manager, Yaghi Research Group (October 2014)
Karen Wong, operations manager in the research group of chemistry professor Omar Yaghi, is the newest recipient of the Chemistry Achievement Prize. A long time College of Chemistry staff member, Karen's exemplary role in establishing the Yaghi lab at Berkeley was what spurred Professor Yaghi to make the nomination.
Professor Yaghi wrote "When I moved down from the Molecular Foundry a year and a half ago, my research accounts were still in transition from UCLA, my students were also mixed between those who joined at Berkeley and those who are still at UCLA, my laboratory space was tight and required careful planning to make everything fit, and on top of all this, the number of lab researchers was growing rapidly. Karen went to work on all these important issues and within a short period of time (approximately three months) she was able to transfer the accounts to Berkeley, establish the new students and postdoctoral fellows at Berkeley, and help organize our lab space to accommodate the new lab members while at the same time configure the space for all the equipment. She managed to do all this without having us stop our research work, and more importantly without any researchers missing a day of work or a day of pay."
Yaghi added that Karen provided invaluable help in bringing about the establishment of the California Research Alliance – CARA by BASF – to the College, an initiative that Yaghi co-directs with Professor Peidong Yang.
Karen says she enjoys working with the Yaghi group because "Professor Yaghi is so inclusive. He brings in external experts to visit his research group, runs a global mentoring program and shares knowledge and discoveries with other researchers."
In her spare time, Karen enjoys gardening and aspires to grow a garden that will sustain the vegetable, fruit and herb needs for her family.
---
Roy Washington
Storekeeper / College of Chemistry (July 2014)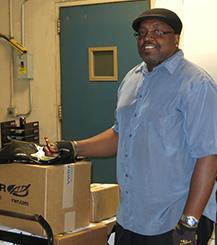 If you ordered a package in the College of Chemistry, chances are it was delivered by CAP award winner Roy Washington. Roy is a Storekeeper in Shipping and Receiving and was nominated for the award by his supervisor, Carl Lamey.
Carl writes "Roy has been with the Shipping/Receiving Unit since 2007, and was hired during a period when we were contending with a high staff turnover rate. His presence has helped to smooth out the operation tremendously, and it performs efficiently to this very day due to Roy's continued diligence.
The UC Operating Principle he demonstrates most clearly is his focus on service. The impact Roy makes on our unit is noticeable throughout the College, especially his willingness to exceed what is expected of him. He continually looks for ways to perform above and beyond the call of duty."
Roy says that the award "means that people do notice what I do – and that it is appreciated." He is especially honored to have the support of his supervisor.
Before coming to UC Berkeley, Roy managed paint stores for 26 years, and maintains a "tinkering" business where he repairs and maintains spray painting equipment. He is the father of a son and a daughter and has three grandsons.
---
Jason Huynh
HR Assistant / Receptionist, College of Chemistry (April 2014)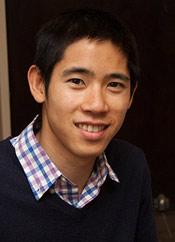 Jason Huynh started working the College of Chemistry when he was a student as an HR assistant. After graduating he continued to work in the HR office and then helped in at the front desk as the part time receptionist. With every assignment he was given Jason took the time to think of how things could be done more efficiently. He has gone above and beyond expectations and has contributed significantly to various projects that would leave a lasting positive impact to the workflow. His colleagues refer to him as "bright and innovative". He provides excellent service to students, staff, faculty and other visitors and has shown that he "goes the extra mile to lend a helping hand."
Jason recently graduated from Cal where he studied Nutrition and Public Health. He is always seeking opportunities to learn and hopes to do so during his upcoming trip around the world. He aspires to one day help people in the community in the field of family medicine. It is apparent from Jason's focus on service to the College community that he will be successful in his field.
---
Jessica Chapman
Faculty Support Administrator, Department of Chemical & Biomolecular Engineering (January 2014)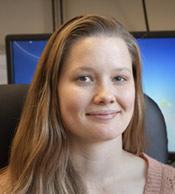 Jessica is one of the College's newest staff members and in the eight months that she has been with the Department of CBE she has proven herself as a highly exceptional employee. As a Cal graduate with a double major in Russian Language and Literature and Native American Studies, Jessica has carried her enthusiasm for learning to her job. She has quickly absorbed and understood the intricacies of her job and has helped advance the work of the faculty that she supports. She is valued by her peers and the faculty for her tenacity to resolve problems and accomplish time-sensitive projects with accuracy and attention to detail.
Additionally, Jessica co-founded a book club with some of her fellow colleagues and graduate students. Her positive attitude and friendliness is infectious to those around her, and her willingness to learn has inspired innovative ideas that contribute to the successes of the College.
---
Angelique Tolliver
Accounts Payable Coordinator, Business Administration & Financial Services (October 2013)
Angelique joined the College of Chemistry in 2010 as the Accounts Payable and Gas Cylinder Coordinator. She is a recent graduate of Holy Names University where she obtained her B.A. in Business Management and has demonstrated a strong knowledge of the University's complex accounting procedures. Angelique has been a helpful resource to many and those who have worked with her have said that Angelique "not only shows the highest customer service when dealing with us but always finds the solution to the problem".
Angelique is being recognized for playing a key role in resolving an invoicing problem with one of the College's biggest vendors. She worked with various units on Campus to ensure that critical research in the College did not come to a halt. Because of her strong relationships with vendors and Campus colleagues the day-to-day operations in the College have run smoothly. It has been said that "we need more people like Angelique on Campus".
---
Kim Strasburg
Administrative Officer, Iglesia Group (July 2013)
Kim Strasburg has been with the Department of Chemical & Biomolecular Engineering since 2011 and has been with the University for almost 20 years in various departments. Throughout her experience at the University Kim has been recognized for her strong analytical and problem solving skills. She takes the initiative to identify ways to improve processes among the faculty, staff, and other campus units. Her colleagues state that she "is always finding ways to establish informal but essential communication lines between CBE staff members so that we can share resources and solutions to tricky and unusual problems." Her resourcefulness and attention to detail have resulted in efficient practices and improved processes within the department.