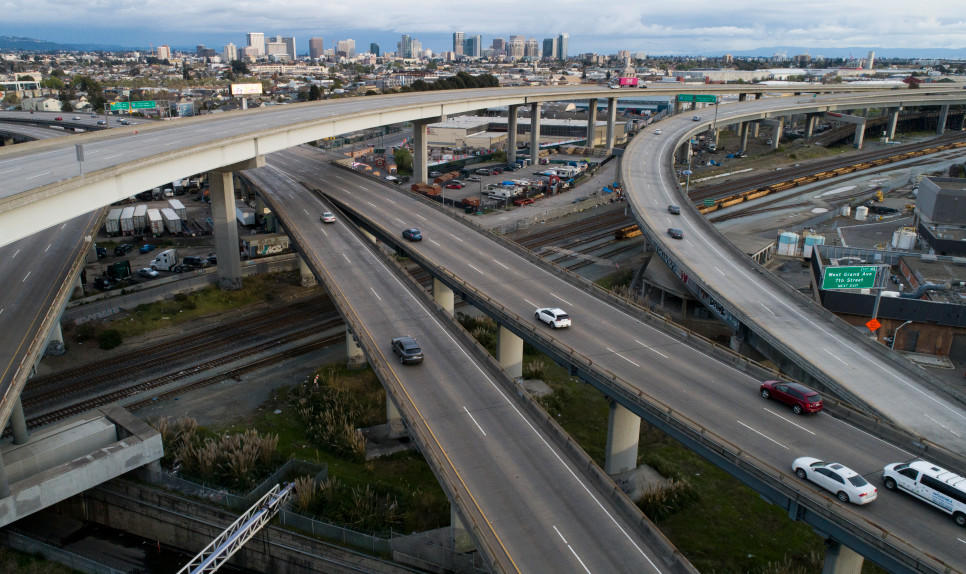 OAKLAND, CA – MARCH 17: Light traffic and blue skies are seen in this aerial view of the maze in Oakland, Calif., on Tuesday, March 17, 2020. (Jane Tyska/Bay Area News Group)
Fewer vehicles on the road and the slowing world economy has lead to blue skies over the world including the Bay Area, China, and Italy.
Locally, every day since March 14, the EPA Air Quality Index has reported all nine Bay Area counties bathed in green on its color scale, for good quality air. It's rare to have so many consecutive clean-air days.
And last week, air-quality sensors that measure particulate matter showed the lowest average readings of any week so far in 2020 — down 21% in Oakland, 36% in San Jose and 41% in San Francisco from the week before.
Blue skies this month show what the future might look like when more of California's vehicles are electric, said Ronald Cohen, a chemistry professor at UC Berkeley who studies Bay Area air trends. But for now, they symbolize lost jobs and lost economic activity.
"As wonderful as it is to breathe clean air, in the short term we want all that pollution to come back because we want the economic activity to come back," Cohen said.
Most months, Bay Area air quality is generally cleaner than in many parts of the world, including in Los Angeles and the Central Valley.
That's because 50 years of air pollution laws have required everything from unleaded gasoline to vehicle smog checks to scrubbers on factory smokestacks. The region's high-income population also tends to drive more electric vehicles and newer vehicles than people in other areas, and there is only a modest amount of heavy industry like oil refineries, and a mostly mild climate.