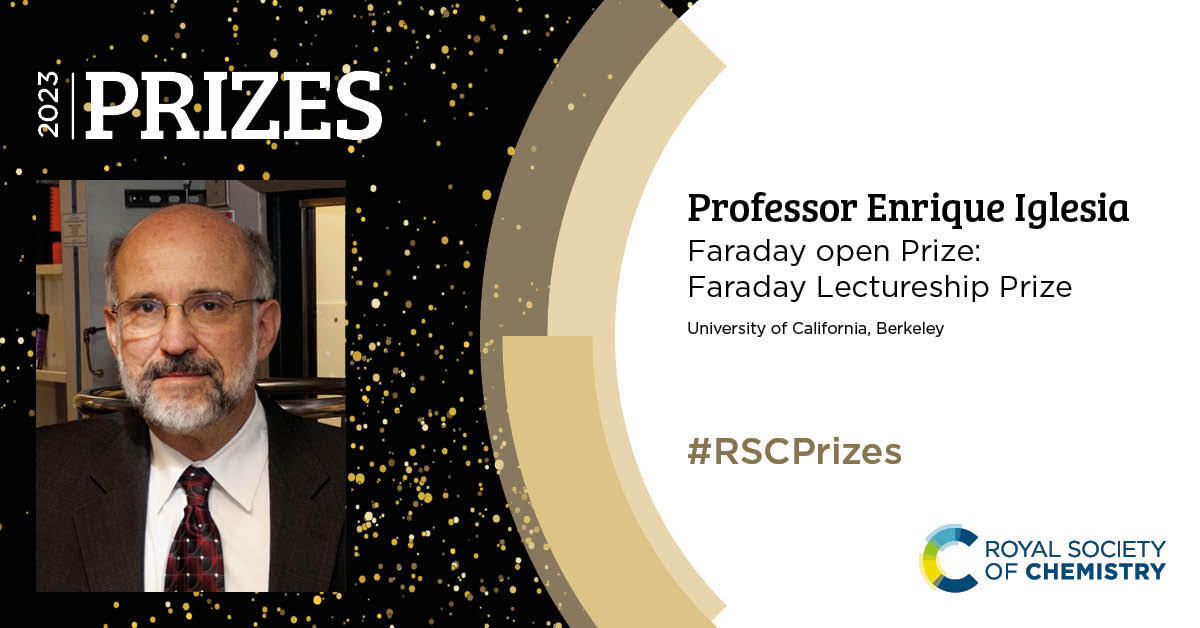 Enrique Iglesia, Theodore Vermeulen Chair in Chemical Engineering emeritus and Professor of the Graduate School,  has been named winner of the Royal Society of Chemistry's Faraday Lectureship Prize in recognition of brilliance in research and innovation. Professor Iglesia has won the prize for outstanding contributions to the mechanistic understanding of catalysis, leading scientific innovation for environmental protection, and the production of energy carriers, fuels, and chemicals.
This year's winners join a prestigious list of past winners in the RSC's prize portfolio, 60 of whom have gone on to win Nobel Prizes for their work, including 2022 Nobel laureate Carolyn Bertozzi and 2019 Nobel laureate John B Goodenough.    
After receiving the prize, Professor Iglesia said: "Awe, surprise ... to be recognised among those whose work and examples I have admired over decades of research in chemistry and catalysis. Delight at the chance to present the work of our research group to new and more diverse audiences. Guilt that one individual gets to be recognised for the work that so many others contributed. Pride that the chemistry in my chemical engineering profession is recognised by a prize named after a scientist who, in achievement and avocation, even if not in profession, was arguably one of the first to practice chemical (and electrical) engineering."
Professor Iglesia's research group has developed and analysed inorganic solids that have practical applications as catalysts in various chemical reactions. These reactions are significant in the creation, conversation and utilisation of energy carriers, as well as in the development of eco-friendly petrochemical syntheses and the protection of the environment. The team's efforts include designing, synthesising, and characterising the structure and mechanisms of the inorganic solids.  The team exploit novel synthetic protocols to design and synthesise these materials, and employ a variety of experimental and computational methods to explore their structure and catalytic reaction mechanisms.   
Dr Helen Pain, Chief Executive of the Royal Society of Chemistry, said:   "The chemical sciences are at the forefront of tackling a range of challenges facing our world. From fundamental chemistry to cutting-edge innovations, the work that chemical scientists do has an important role to play in building our future. 
"The RSC's prizes programme enables us to reflect on and celebrate the incredible individuals and teams whose brilliance enriches our knowledge, advances our understanding, and brings new ideas and technologies that benefit society as a whole. We're very proud to recognise the contributions of our winners today."  
The Royal Society of Chemistry's prizes have recognised excellence in the chemical sciences for more than 150 years. In 2019, the organisation announced the biggest overhaul of this portfolio in its history, designed to better reflect modern scientific work and culture.  The Research and Innovation Prizes celebrate brilliant individuals across industry and academia. They include prizes for those at different career stages in general chemistry and for those working in specific fields, as well as interdisciplinary prizes and prizes for those in specific roles. 
For more information about the 2023 RSC's revised prizes portfolio, visit www.rsc.org.