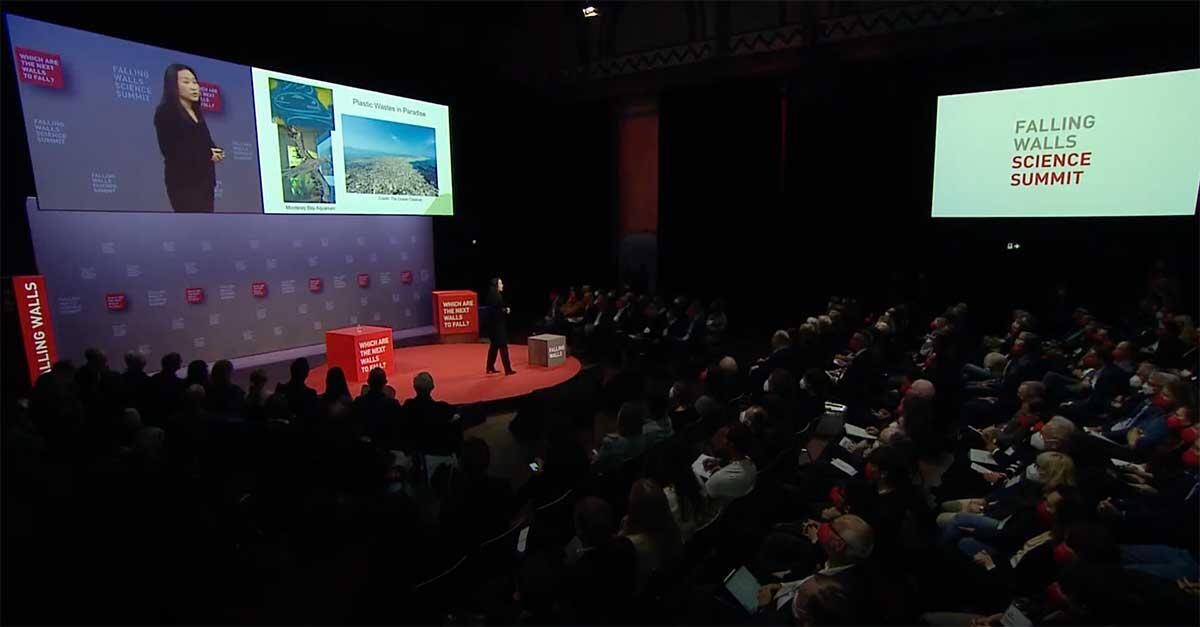 Professor Ting Xu was honored at the Falling Walls Science Summit on November 9th. Prof. Xu discussed her reearch in a talk entitled: 'Breaking the Wall to Programmable Plastic Degradation through Enzymes'. She outlined the crisis of plastic pollution and what she and her research team are doing to help break the barriers to true recycling. 
The Falling Walls Science Summit brings together some of the most important researchers and thinkers of our time to discuss breakthroughs with global leaders in science, politics, business, and the media.  Prof. Xu was announced as a laureate for work in programmable plastic degradation through Enzymes.
Prof. Xu has developed enzyme-embedded polymers that afford on-demand modification and/or programmable plastic degradation during manufacture, utilization, and disposal. Learn more about her recent work here. 
"The Falling Walls Science Breakthroughs of the Year 2022 series provides answers to urgent questions such as climate justice and the current global energy crisis. All the nominated projects are of outstanding scientific excellence! I thank all participants and awardees for breaking the walls towards crucial scientific achievements with their outstanding work", says Jürgen Mlynek, Chairman of the Falling Walls Foundation.
Professor Xu's presentation is available as a video below.
About the Falling Walls Science Summit
Falling Walls Science Summit is a leading international, interdisciplinary and intersectoral forum for scientific breakthroughs and science dialogue between global science leaders and society. The event takes place every year from 7–9 November in Berlin, commemorating the fall of the Berlin Wall. With formats Falling Walls Pitches (7 November), Falling Walls Circle (8 November) and Falling Walls Science Breakthroughs of the Year (9 November), the Falling Walls Science Summit is the leading forum for global science leaders from academia, business, politics, the media, and civil society to debate the potential of scientific breakthroughs to solve grand challenges and shape a sustainable future. The Falling Walls Science Summit is organised by the non-profit Falling Walls Foundation.