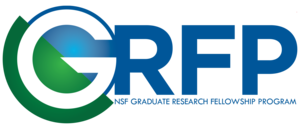 The National Science Foundation Graduate Research Fellowship Program is a prestigious grant awarded annually by the National Science Foundation to approximately 2,000 students pursuing research-based Master's and doctoral degrees in the natural, social, and engineering sciences at US institutions. This year, we are delighted to announce that 17 current graduate students and four undergraduate students from the College of Chemistry have received 2020 fellowships:
Department of Chemistry
Lydia Boike, Nomura Lab
Patricia De La Torre, Chang Lab
Kristen Gardner, Sarpong Lab
Scott Garner, Neuscamman Lab
Jamie Gleason, Francis Lab
Rebecca Hanscam, Neuscamman Lab
Mira Liu, Chang Lab
Magan Powell, Rattle Lab
Adam Rettig, Head-Gordon lab
Department of Chemical and Biomolecular Engineering (CBE)
Helen Bergstrom, McCloskey
Ashley Bird, 

Kusoglu Group (LBL Energy Conversion Lab) and the Balsara Lab

Ana Carneiro, Schaffer Lab
Matthew Dods, Long Lab
Alec Ho, Balsara Lab
Alison Lui, Landry Lab
Morgan Seidler, Schaffer Lab
Jeffrey Wang, Landry Lab

Senior undergraduate recipients in CBE:
Bhavish Dinakar
Gaurav Kamat
Farshud Sorouifar
John Shin
The Graduate Research Fellowship was first awarded in 1952, with the goal of encouraging basic scientific research and ensuring comprehensive, competitive research programs for U.S. students. Since 1952, the NSF has funded over 46,500 Graduate Research Fellowships out of over 500,000 applicants. Many former graduate fellows have gone on to become Nobel laureates and members of the National Academy of Sciences.