Extreme photonics and nonlinear optics in the lab. Photo courtesy Michael Zuerch
The College of Chemistry is pleased to announce that Assistant Professor of Chemistry Michael Zuerch has received an award in support of his research from the Society of Hellman Fellows Fund for his research entitled: "Coherent manipulation and ultrafast control of exciton-magnon-phonon interaction in quasi-two-dimensional antiferromagnets".
The Society of Hellman Fellows Fund was created in 1995 by a generous gift from the late Mr. F. Warren Hellman, a distinguished alumnus and friend of Cal, and his late wife Chris Hellman to support early career faculty in the University of California campuses who have shown evidence of their promise for distinction in research. In recent years, their children have expanded the program at Berkeley by creating an endowment.
"We will be forever grateful to the Hellman family for this enduring, impactful program," former UC President Janet Napolitano said of the gift. "With dwindling federal funding and a critical need for UC research, especially during the coronavirus era, this generous gift could not come at a better time."
About Michael Zuerch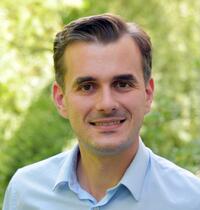 Prof. Zuerch joined the College of Chemistry in 2020 from an appointment in the Department of Chemistry at the Fritz Haber Institute as an independent Max Planck Research Group leader. Researchers in his lab are exploring structural, carrier, and spin dynamics in novel quantum materials, heterostructures and on surfaces and at interfaces to answer important questions in materials science and physical chemistry. His research program pursues a multidisciplinary approach that combines the exquisite possibilities that ultrafast X-ray spectroscopy and nanoimaging offer while working closely at the interface between material synthesis and theory groups. Researchers are developing novel nonlinear X-ray spectroscopies to study material properties on time scales down to the sub-femtosecond regime and on nanometer length scales to tackle challenging problems in quantum electronics, information storage, and solar energy conversion.