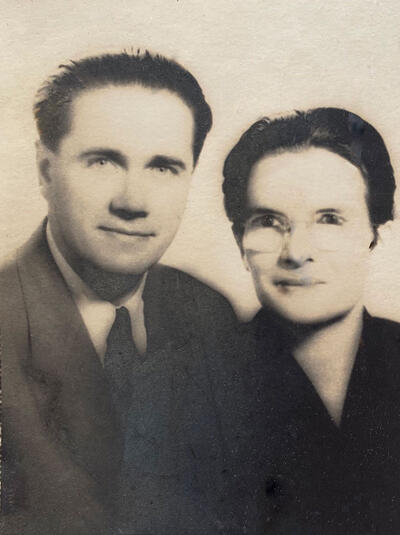 Alumni Robert Vold (Ph.D. '35, Chem) and Marjorie Vold née Young (Ph.D. '36, Chem). Unknown photographer and date. Photo courtesy Tom Aiken.
Marjorie Jean Young (1913 – 1991) was born in Ottawa, Ontario. She moved to the United States in 1918 and became a U.S. citizen in 1921. She came from a family of scientists dating back to 1895. Her father and grandfather both worked at the Lick Observatory in Oakland as astronomers.
Marjorie was a Berkeley Medalist, colloid chemist, distinguished professor, author, and researcher. Her time at Berkeley was marked by an exceptional educational career. She earned her B.S. in 1934 graduating Phi Beta Kappa. She was the first woman chemistry student to receive the University Medal and was valedictorian that year. Marjorie, along with Maxine Young (Ph.D. '36, Chem), were the first two women to earn Ph.D.s in the College of Chemistry. She was 23 at the time and focused her research on thermodynamic chemistry. Her thesis entitled "The Kinetics and Mechanism of the Reactions between Phenyl-Halogen-Acetic Acids and Halide Ions" was written under the mentorship of Axel Ragnar Olsen.
The year she graduated she married fellow student Robert Vold (Ph.D. '35, Chem). They had three children, Mary, Robert and Wylda, all born during World War II. Marjorie and Robert did a four-year postdoc at Stanford University in the lab of James William McBain who spearheaded major advances in colloid chemistry, introducing thermodynamic descriptions to the previously small and qualitative field. During World War II, she worked as an industrial chemist for the Union Oil Company. (When World War II broke out, Union Oil boosted its crude production in response to increased demand for petroleum products. The production of aviation fuels was increased to seven times prewar levels. The company was well located to keep U.S. Navy ships operating in the Pacific Ocean supplied with fuel.) 
During her time at the Union Oil Company, Marjorie was listed as co-author on a patent with Richard Mertes. The patent was for a sulfonation method to prepare metal sulfates to be dissolved in a lubricating oil. (2,514,733 published March, 1945.)
Her career was largely devoted to research in collaboration with Robert. Internationally recognized in the chemistry community for their contributions to colloid science, the Volds established the renowned Center for Surface and Colloid Chemistry at the University of Southern California where they both taught and researched.  In 1964, Marjorie and Robert published Colloidal Chemistry, a popular reference textbook.
She received a Guggenheim Fellowship to teach in the Netherlands in 1953, the only woman chemist to earn that honor between 1940 and 1970. In 1957, she was the first woman to address the Indian Institute of Science in Bangalore, India. She was named one of the Los Angeles Times "Women of the Year" in 1966 and was awarded the Garvan Medal by the American Chemical Society in 1967 for her pioneering work in computer models of colloids.
Marjorie overcame many personal setbacks during her career. She was diagnosed with multiple sclerosis in 1958 and became confined to a wheelchair. She wrote her final scientific paper, "Micellization Process with Emphasis on Premicelles," at the age of 78. The paper was published posthumously in 1992.
Learn more about early women alumni at the College>
*Quote from article in the Los Angeles Times about Marjorie winning the Gavin Medal.
More information
Los Angeles Times, "Woman of the Year. Homemaker's Chemist" Jan 2, 1967
Los Angeles Times, "Another Laurel on the Family Tree", September 27, 1966