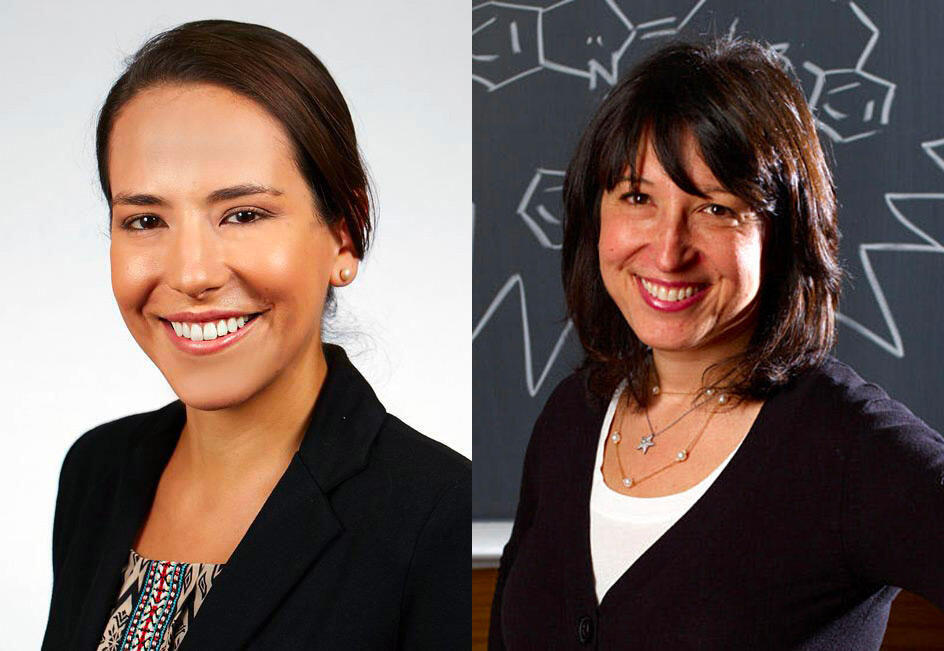 (l to r) Markita Landry and Alanna Schepartz (photos courtesy of the scientists.)
The College of Chemistry is delighted to announce that professors Markita Landry (Chemical and Biomolecular Engineering) and Alanna Schepartz (Chemistry) have been named 2022 Chan Zuckerberg Biohub (CZ Biohub) Investigators. The Investigator Program, open to faculty members at Stanford University, UC San Francisco, and UC Berkeley, awards $1 million in unrestricted funds over five years to each Investigator, with the goal of building engaged, collaborative communities of Bay Area scientists to undertake creative and innovative research that will help solve the biggest challenges in biomedicine.
Currently in its second round, the program awarded 86 scientists project funding. They proposals represent a diverse range of disciplines, including basic biological sciences, clinical biomedical sciences, physics, chemistry, engineering, computer and data sciences, statistics, and public health.
"These new Investigators will pursue the ideas that excite them most and address scientific questions they consider fundamental," said Joe DeRisi, Ph.D., president of CZ Biohub. 
While some of the awardees are members of the first cohort of CZ Biohub Investigators, most are brand-new to the Investigator Program. Given that a fundamental goal of the program is to build and sustain a community for fostering collaboration and inspiring visionary, innovative ideas, all former Investigators and current Investigators, whose awards are ending soon, will remain integral members of the CZ Biohub community as alumni.
UC Berkeley Chancellor Carol T. Christ, said, "We are both proud of, and humbled by, the extraordinary work of our faculty members—changemakers from a diverse array of departments across our campus who have been chosen to receive this generous and essential funding. Now, more than ever, CZ Biohub's mission to combat and prevent disease is perfectly aligned with our university's commitment to advancing the greater good through research, public service, and education."
About the College of Chemistry proposals
Markita Landry: 50 years ago, the throughput and ease with which we now manipulate mammalian cell cultures was unfathomable. My vision is to enable manipulation of plants with similar ease and scale. This concept is uniquely possible by combining my lab's nanotube-based DNA and RNA delivery technologies with advances in plant bioengineering. Our CZ Biohub research aims to establish a new paradigm to generate orally-bioavailable antibody-based biologics for expression in plant hosts. These concepts could bring to fruition the concept of plant-based edible vaccines.
Alanna Schepartz:  My proposal is for a multi-disciplinary program to understand and improve endosomal escape of macromolecule therapeutics. This program will build on the discovery of ZF5.3, a miniature protein that efficiently escapes endosomes (>50%). The plan is to interrogate endosomal escape biology using CRISPR and proximity labeling, and improve and broaden ZF5.3 activity using protein engineering and LC/MS. Ultimately my lab will seek to establish design rules for intracellular protein and nucleic acid therapeutics and develop a detailed understanding of the foundational biology that governs trafficking of non-natural cargo.
About the CZ Biohub
Currently the Investiagor program is in its second round of funding. The CZ Biohub is an independent, nonprofit medical research organization that was established in 2016 with the goals of understanding the mechanisms underlying disease and developing new technologies that will enable fresh avenues of scientific discovery and lead to actionable diagnostics and effective therapies. CZ Biohub was conceived and launched in partnership with Stanford University, UC San Francisco, and UC Berkeley to promote close collaboration across the three campuses in pursuit of this mission. CZ Biohub has an intramural research program focused on technology development, cell biology, and infectious disease, and an extramural research program – anchored by the Chan Zuckerberg Biohub Investigator Program – that provides unrestricted funds to faculty members at all three campuses to pursue their most exciting, risky, and innovative ideas.