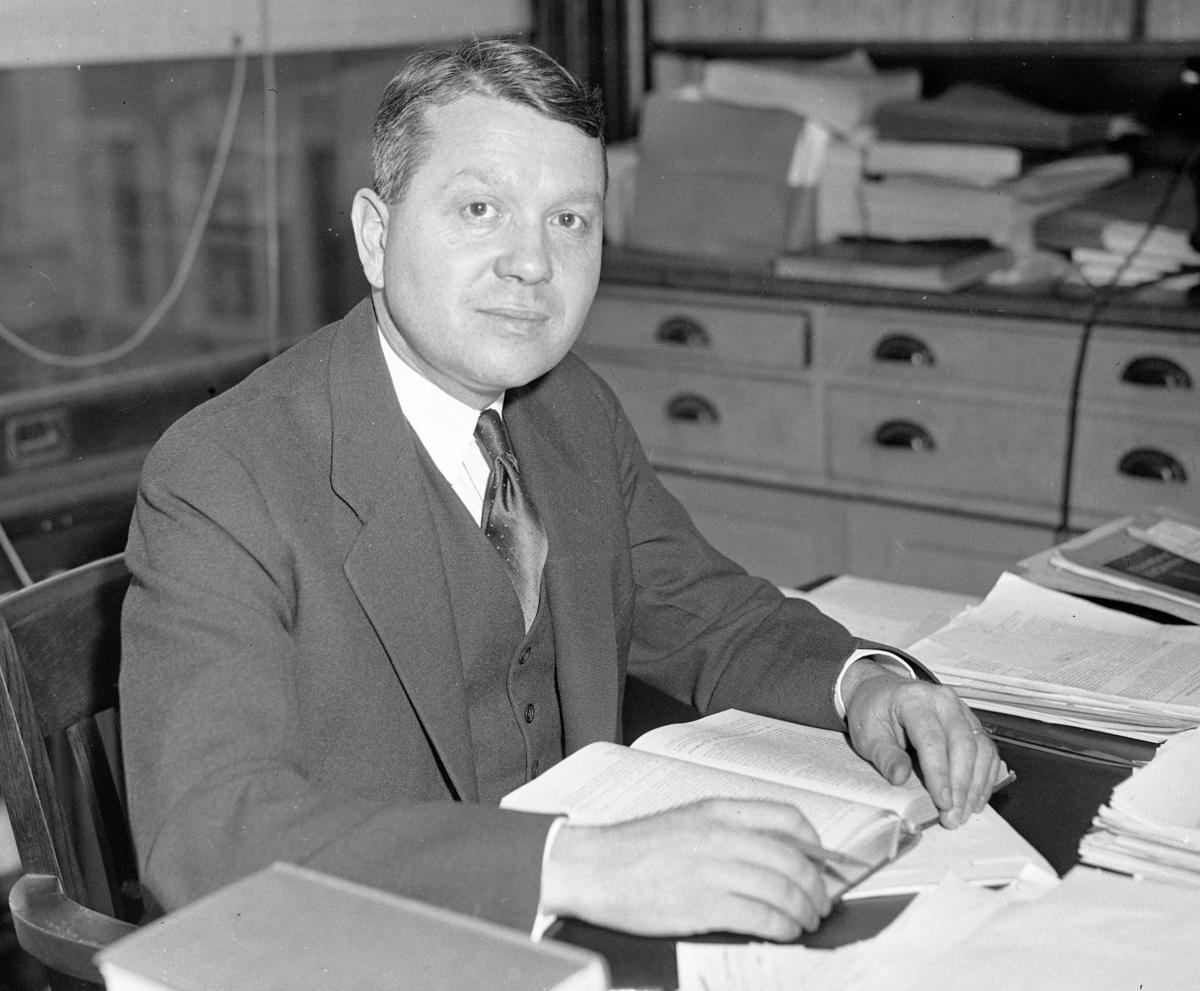 Urey at his desk, photograph, circa late 1940s (Northwest Indiana Times)
Missoula first noticed Harold Urey in May of 1915, when the University of Montana announced the winners of the annual C.A. Duniway Scholarship Books.
Urey, a 22-year-old freshman from Indiana by way of a mining camp in the Gallatin Mountains, received the biology award. 
There came a different kind of recognition 30 years later. Days after the U.S. bomber Enola Gay unleashed the most destructive weapon known to mankind over Hiroshima, Japan, on Aug. 6, 1945, Urey was acknowledged in the Missoulian as "one of the scientists who played an important part in development of the atomic bomb."
It was true that Urey, a chemist whose name adorns an underground lecture hall on the University of Montana campus, had played a key role on the Manhattan Project. But even though the bombing 75 years ago of Hiroshima and, four days later, Nagasaki brought an end to World War II, he never wished it to be his legacy.
"It was evil," Richard Field said this week. "That was his opinion."
Field arrived at UM in 1975 and taught for 33 years at Urey's alma mater, serving as chemistry department chairman from 1990 to 1996. He still has an office as a professor emeritus. He said he became interested in Urey's story while helping organize a memorial to the man in Missoula after Urey's death in January 1981.
"I met him several times, but I don't know that I met him here on campus,"Field said. "He had some problems with the university moving into PhD-level programs and research because he didn't think we had resources to do it well, and for the most part he was right. He was not very popular for awhile with the central administration."
Field crossed paths with Urey while doing post-doctorate research at the University of Oregon. His mentor, Richard Noyes, was a highly respected physical chemist who had been a colleague of Urey's at Columbia University, and the two were personal friends.
"That would have been in the late '60s or early '70s," Field said. "One of the things that really impressed me at the time, he seemed to be more interested in knowing what I was doing than talking about himself. That really pleased me that he took that interest."
Urey, he said, should best be remembered for his work in the origins of life, space science and analysis of moon rocks from Apollo 11 or 12 in 1969.
Certainly Urey's discovery of deuterium, or "heavy water," figures in.
"You may think there is only one kind of hydrogen, but there are two," the Associated Press reported in February 1932. "Dr. Harold d'Urey (sic) and Dr. G. M. Murphy of Columbia University, together with Dr. F. G. Brickwedde of the U.S. Bureau of Standards, have found a new kind of hydrogen. It is twice as heavy as the ordinary gas and is about 14 times as dense as air."