Born July 1857; died August 24, 1917, in California. Married Robina McArthur Brodie (Canadian) born March 1862. Daughter Jean born Sept 1886. Marriage Jan 1885, North Georgetown, Quebec, Canada.
Graduated from UC Berkeley with a PhB. in 1877.
From 1877 until 1880 he was an instructor at the College. In 1880 he became a Chemist and Assistant State Mineralogist in the California State Mining Bureau. Later he was the Assayer and Assistant Superintendent of a reduction works at Auburn, Placer county. He engaged in private practice as a chemist and as an engineer.
He left that position to spend nineteen years as the city editor for the San Francisco "Daily Report".  The paper was owned by his brother-in-law, William M. Bunker.  In 1898 he returned to the University of California as an instructor in chemistry. He became an assistant professor in 1909.
Booth wrote regularly on chemical matters. He published several editions of his textbook Outlines of Qualitative Analysis. Several times he journeyed to Europe to consult with radium specialists, including the famous Mme. Curie and Sir William Ramsey.  He frequently gave public lectures. He was a founder of Mim Kaph Mim, the honor society of the students of the Department of Chemistry, which aided in build the chemical library. He was the organizer of the Pacific Coast Association of Chemistry Teachers.
Booth continued as a assistant professor until his death in 1917. According to the Oakland Tribune obituary, he was financially independent of his university income. 
He was stricken with apoplexy and  died following an illness of a few days. He left behind his wife, Robina M. Booth, daughter Jean Booth, and sister Mrs. William M. Bunker.
He was 60 years old when he died having lived most of his life in California.
Mrs. Robina Booth and the Chemistry Fiends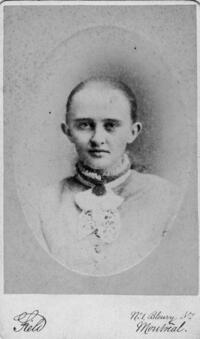 Undated photo of Robina Booth. 
Robina Booth served as the advisor of the  Chemistry Fiends women's social club at the University when it was established in 1900.  When women students in the University of California's College of Chemistry formed a social club in 1900, they called themselves the Chemistry Fiends. At that time, male undergraduate students outnumbered females nearly six to one. In 1902, members of the Chemistry Fiends elected officers and formally adopted a constitution. Little did they know that their group would later contribute to the creation of a long-standing national honor society, Iota Sigma Pi. Fortunately, the records of the Blue and Gold, the Agnes Fay Morgan papers, and the Office of Student Activities offer lasting documentation of their pioneering effort.