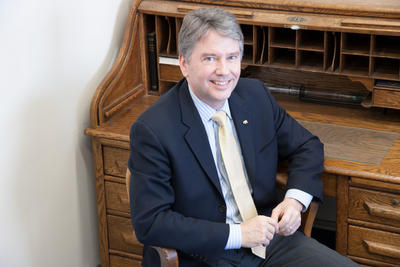 Douglas Clark, Dean of the College of Chemistry, and Gilbert Newton Lewis Professor of Chemical and Biomolecular Engineering at UC Berkeley, has been elected a member of the National Academy of Engineering for advances in biocatalyst and bioreaction engineering for drug discovery, drug screening, and bioprocessing.
Election to the National Academy of Engineering is among the highest professional distinctions accorded to an engineer. Academy membership honors those who have made outstanding contributions to "engineering research, practice, or education, including, where appropriate, significant contributions to the engineering literature" and to "the pioneering of new and developing fields of technology, making major advancements in traditional fields of engineering, or developing/implementing innovative approaches to engineering education."
Clark's research is focused in the field of biochemical engineering, with particular emphasis on enzyme technology, biomaterials, and bioenergy.  Underlying these general topics is a longstanding interest in extremophiles and extremophilic enzymes. His work in biocatalyst engineering has created new opportunities for the application of enzymes in the pharmaceutical, chemical, and agrochemical industries, and his development of protein and cellular arrays has enabled high-throughput biosynthesis and activity/toxicity screening of potential drugs.
Professor Claire Tomlin, in the department of Electrical Engineering and Computer Sciences, was also elected. The newly elected class will be formally inducted during a ceremony at the National Academy of Engineering annual meeting in Washington, D.C., in October.