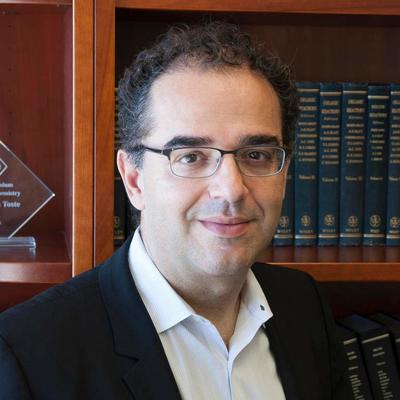 Dean Toste, the Gerald E.K. Branch Distinguished Professor of Chemistry at UC Berkeley, and a faculty scientist in the Chemical Sciences Division at Berkeley Lab has been elected to the prestigious National Academy of Sciences (NAS) in recognition of his distinguished and continuing achievements in original chemical research. He is also a research member in the Novartis-Berkeley Center for Proteomics and Chemistry Technologies; a joint venture between UC Berkeley and the Swiss pharmaceutical company Novartis. The center's research is focused on combining chemistry and biology to explore new drug mechanisms and targets to develop drugs against a wide swath of proteins.
This year, the academy selected 120 new members and 26 international members during the annual meeting on April 27. Membership in the academy is considered one of the highest honors that can be afforded to a U.S. scientist or engineer.
Toste said of his election, "I am thrilled and humbled to join my colleagues in the college, UC Berkeley, and throughout the country, as a fellow of the National Academy of Sciences. Most of all, I want to express my sincere gratitude to my current and former coworkers, with whom I share this honor. Without their contributions, this would certainly not have been possible"  
Toste's current research is principally focused on the development and study of catalysts, catalytic reactions, and methods to address challenges in chemical synthesis and energy. Toste and fellow members of his lab were instrumental in the past decade's advancement of the field of homogeneous catalysis with gold and the introduction of chiral counterions as a paradigm for asymmetric catalysis. In addition, Toste his research group has explored supramolecular catalysts for organic reaction, developed novel methods for merging homogeneous/heterogeneous catalysis and tools for their in situ study, described processes for the conversion of biomass to fuels and chemicals, reported on the application of multivariate analysis for mechanistic studies and, have described a method for selective functionalization of biomolecules
Douglas Clark, Dean of the College of Chemistry said of his election, "Dean is the latest of our colleagues in the College of Chemistry to be elected into one of the national academies. We are all very proud that he has received this well-deserved recognition for the many contributions he has made over his outstanding career. Dean is a great representative of the high standards we all strive to meet throughout our College."
Toste will be formally inducted as a member at next year's NAS annual meeting. His membership brings the total number of active NAS members to 2,403.
The NAS was established by a congressional charter signed by President Abraham Lincoln in 1863.