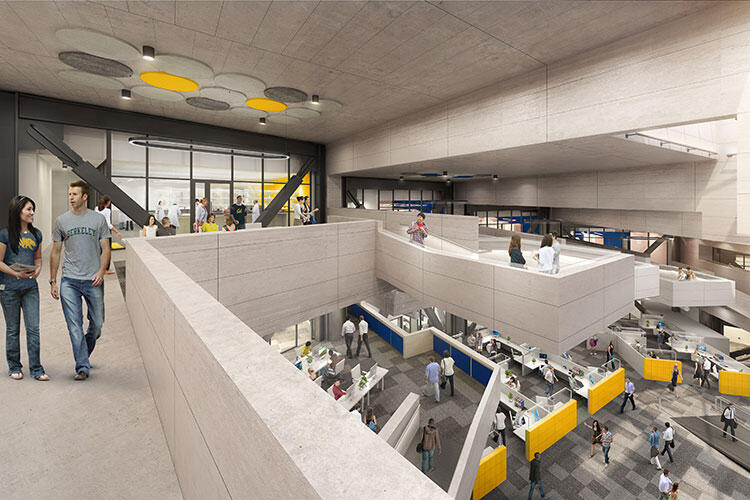 The Bakar BioEnginuity Hub will rent space to science-based startups, and provide campus programs for scholars and researchers. This rendering displays the versatility of the multi-leveled space, housed in the old Berkeley Art Museum building. (Rendering by MBH Architects/Robert Becker)
Professor David Schaffer has been announced as the new Faculty Director of the Bakar BioEnginuity Hub and the Bakar Fellows Program effective March 1, 2022. He will replace the current director, Professor Amy Herr, who is stepping down to take a leave of absence to serve as CTO of the Chan Zuckerberg BioHub Network.
David is Professor of Chemical and Biomolecular Engineering, Bioengineering, and Molecular and Cell Biology at Berkeley, and is currently serving as the Director of QB3-Berkeley. His research applies engineering principles to enhance stem cell and gene therapy approaches for neuroregeneration. A serial entrepreneur – and Bakar Fellow – he is the co-founder of 4D Molecular Therapeutics and other companies. In order to devote his primary focus to his new responsibilities, he will be stepping down as QB3-Berkeley director June 30, 2022.
The Bakar BioEnginuity Hub (the Hub)  was launched in May of 2021. In the face of daunting global challenges, the Hub was conceived as a world-class incubator to allow fledging startups the space they need to develop their ideas and companies. The next generation of emerging scholars and entrepreneurs will be allowed to confront those challenges in the Hub, a new UC Berkeley campus initiative that aims to launch the world-changing startups of today, while cultivating the innovative leaders of tomorrow. For the newest of startups to tackle those hardest of challenges, the Hub is collaborating to create Bakar Labs with QB3 incubators, a University of California-wide institute that supports entrepreneurship and UC research programs.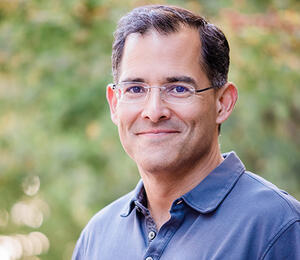 David Schaffer at UC Berkeley. Photo: Mark Joseph Hanson
"I am honored and thrilled to be taking on this role, and to be joining such a terrific team focused on helping translate basic discoveries into technologies that benefit society," David said. "I've greatly enjoyed building several companies that are running clinical trials based on research done by graduate students and postdoctoral fellows in our lab at Berkeley, and as a teacher I look forward to sharing our experiences with others."
Berkeley's 40,000-square-foot incubator is flexibly designed and well-equipped to empower early-stage startups. Fledgling ventures can lease as little as a single lab bench or half of a freezer shelf. This flexibility enables qualified companies to launch with modest funding. As the companies grow, Bakar Labs can provide more benches or dedicated private labs as needed.
Startups will have paid access to advanced campus core facilities during periods of low usage by academic researchers. Bakar Labs' companies will also be connected with potential investors and mentors, giving them everything they need in one location, and just a short walk from Berkeley's own burgeoning community of entrepreneurs and scholars, including at Berkeley Law and the Haas School of Business.
"Berkeley is taking the lead among major universities by establishing an incubator of this size and sophistication," said Regis Kelly, director of Bakar Labs and executive director of QB3. "Our researchers are no strangers to commercialization of groundbreaking technologies. Bakar Labs will enable us to retain early innovation in the Bay Area and contribute to growing California's advanced workforce."