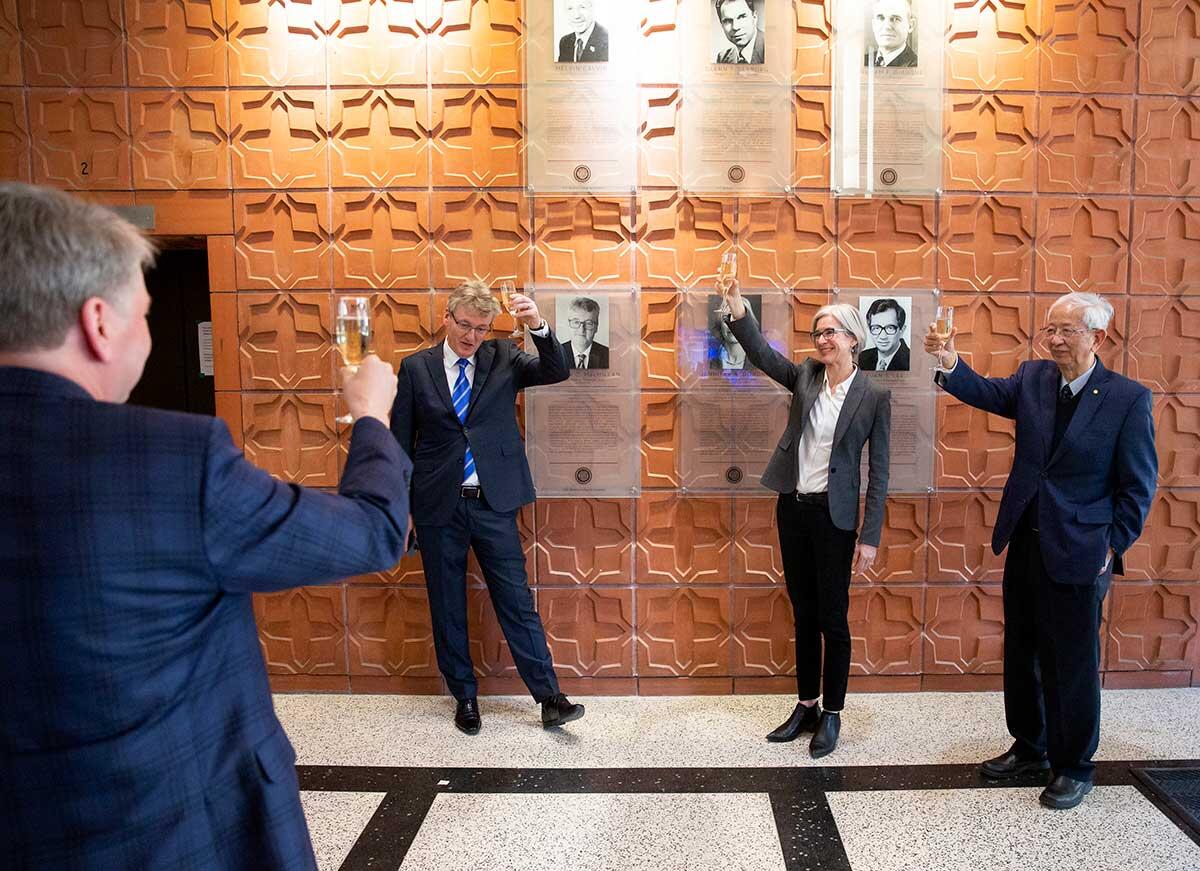 Douglas Clark, dean of the College of Chemistry toasts (l to r) Nobel laureates David MacMillan, Jennifer Doudna, and Yuan T. Lee. (Photo Brittany Hosea-Small)
In a star-studded private event Friday, March 11th, the College of Chemistry ushered in its 150th anniversary. On hand for the celebration were three Nobel laureates in Chemistry: Jennifer Doudna (2020), David MacMillan (2021), and a special guest appearance by Yuan T. Lee (1986). Jennifer and David unveiled their newly installed plaques honoring their Nobel prize in the College's Latimer lobby.
Douglas Clark, dean of the College said in his remarks opening the festivities, "You must forgive me, I'm a little star struck. This is an amazing occasion. In fact, it's a once in a lifetime event. Not only do we have three Nobel laureates here, but we are also on the eve of our 150th anniversary."
Jennifer and David received their prizes in the time of COVID and were unable to attend the regular award ceremonies in Stockholm. Their medals were flown to the U.S. by diplomatic courier for presentation to them. Jennifer is the first woman faculty member to receive the Nobel Prize in Chemistry at UC Berkeley. David is the first faculty member at Princeton to receive the Nobel Prize in Chemistry (he was at Berkeley when he made his Nobel recognized discovery). Yuan was the first chemist born in Taiwan to receive the Nobel Prize in Chemistry.
After the plaque unveiling, we headed outside for cake on the plaza and a rousing chorus of happy birthday to the College. It was a beautiful afternoon and the cake disappeared quickly while music echoed across the courtyard. Historic banners were placed around the plaza to add a festive note. A student at the event commented, "It's really nice to see the College doing this and us being able to all get together. I have missed these kinds of events."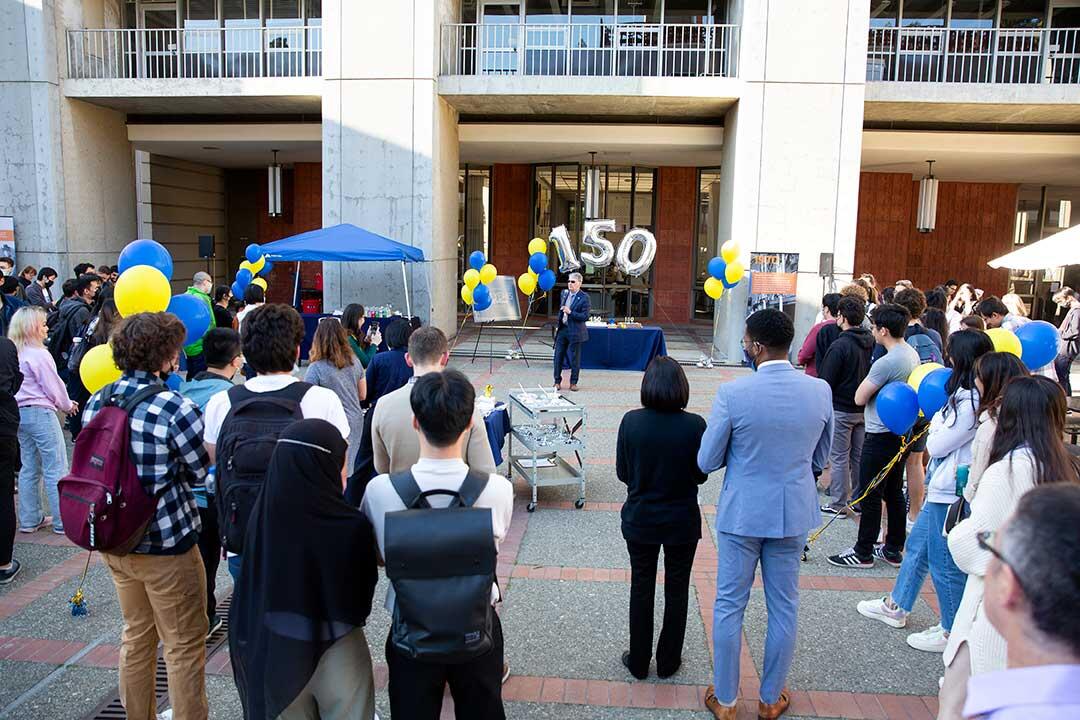 Douglas Clark, dean of the College opens the ceremony on the plaza. (Photo Brittany Hosea-Small)
Established on March 12, 1872 by the State legislature, the College has been host to numerous renowned chemists who have made world changing discoveries. Our current faculty hail from 21 countries and research and teach in one of the three disciplines of chemistry, chemical biology, and chemical and biomolecular engineering. The College prides itself on a balanced approach to science, with research areas ranging from experimental to theoretical. The faculty collaborate with scientists across campus, the nation, and internationally.