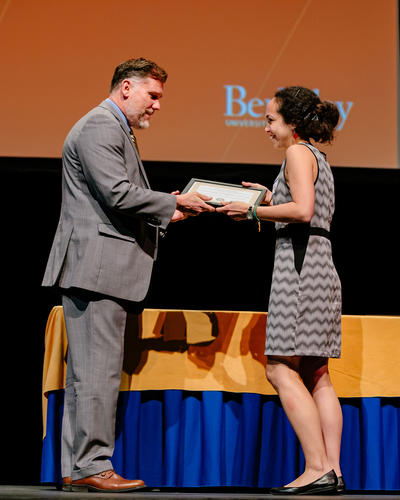 Student leaders, along with their staff and faculty mentors, gathered this week to celebrate and be recognized at the Dean of Students Outstanding Leadership Awards ceremony The awards celebrate students, organizations, faculty, and staff who have contributed to the growth, development, and vitality of the campus and its communities.
Among the remarkable recipients of this year's awards is College of Chemistry graduate student Christiane (Chrissy) Stachl who received the Deans Outstanding Student award for demonstrating remarkable vision, commitment, and success as the President of the Chemistry Graduate Life Committee, and for her contributions to creating opportunities to promote equity and inclusion within the Chemistry Department.
As the committee president, Chrissy facilitated many successful outcomes including the design and implementation of a climate survey to help illuminate graduate students' concerns about a number of important equity and inclusion issues. She then went on to organize the Chemistry Department's first ever graduate climate-oriented town hall to discuss and elaborate on the survey findings.
One of the town hall outcomes was to organize a recurring, monthly series of Diversity & Inclusion Focus Groups (DIFGs) with the goal of fostering a space for sensitive conversations and identifying actionable issues to address as a department. To help support the DIFG meetings, she co-authored and won a grant from the PATH to Care Center for projects that address sexual violence and sexual harassment on campus via social norms interventions.
We are fiercely proud of all of our graduate students. The campus acknowledgement of Chrissy's important work on behalf of the graduate students is well deserved.
Congratulations Chrissy!