Have you ever wanted to show your appreciation to a staff member who has helped you in the past? Or maybe you know someone who consistently goes above and beyond the call of duty. What can you do to pass on the praise?
A simple way to say "thanks" is to nominate a staff member for a Chemistry Achievement Prize (CAP).
The CAP is a peer-oriented program designed to recognize outstanding service of staff members in the College of Chemistry during a particular quarter who have made an exceptional contribution that is above and beyond the normal expectations of their role. Successfully written nominations include specific examples of extraordinary performance and cite examples of how one demonstrates living the Berkeley Operating Principles.
Unlike any other staff recognition program, the CAP is open to all College of Chemistry staff:
Represented or Unrepresented
Full time or Part time
Employed in the Department of Chemistry, Chemical & Biomolecular Engineering, or the College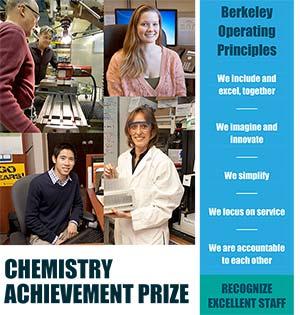 In July 2013, a committee of staff volunteers was formed to create a more formal means for acknowledging great work and to develop a way to express appreciation for their co-workers who make a difference in everyday work life. There have been many outstanding and worthy staff members nominated in the past but only one person is awarded each quarter.
 Past CAP winners are:
Kim Strasburg
Angelique Tolliver
Jessica Chapman
Jason Huynh
Roy Washington
Karen Wong
Kristin Stangl
Watch for the next call for nominations in June. The committee will be awarding two recipients due to the lack of nominations received in March. To submit your nomination, send an email to capaward@berkeley.edu and tell your story. Write a brief description of why you wish to recognize this colleague's good work.