Two faculty scientists in the Department of Chemical and Biomolecular Engineering (CBE) at UC Berkeley including Professor Roya Maboudian and Assistant Professor Markita Landry, have been named to the 2019-20 cohort of Bakar Fellows, an honor that gives the named fellows the money and time to translate their laboratory breakthroughs into technologies ready for the marketplace. The Bakar Fellows Program was launched at UC Berkeley in 2012 and fosters faculty entrepreneurship in fields including engineering, computer science, the biological and physical sciences and architecture.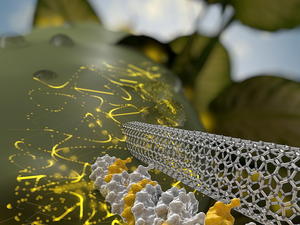 An artist's rendering shows a needle-like carbon nanotube delivering DNA through the wall of a plant cell. Graphic courtesty: Markita Landry Lab. 
According to the program's faculty director, Amy Herr, a UC Berkeley professor of bioengineering, "The goal of the program is to keep entrepreneurial faculty at the university. Taking entrepreneurial leave to get a startup off the ground is wonderful. Having faculty with startup experience on our campus every day — advising, teaching, mentoring — transforms the student experience. We work to make faculty who are experienced inventors and entrepreneurs a visible resource to our community." Several of the previously named Bakar Innovation Fellows are now leading startups stemming from the program.
UC Berkeley ranks in the Top 2 universities for serial founders and for VC-backed start-ups. We rank #3 for women-led, VC-backed start-ups and as the #3 most entrepreneurial university. Over the last decade, UC Berkeley spin-out companies are estimated to have raised more than $14B, positively impacting the California, US, and global economies. (As reported on the Baker Fellows website.)
With the 2019-2020 cohort, the Bakar Fellows Program has benefited 43 Berkeley faculty and their research groups by helping them develop their innovations for the market in areas considered likely to stimulate California's economy. 
Image: mircroscopic views of Cu(OH) nano rods, Cu-STC/Cu(OH) composites and CuO polyhedrons on carbon cloth from "In situ formation of metal–organic framework derived CuO polyhedrons on carbon cloth for highly sensitive non-enzymatic glucose sensing"  J. Mater. Chem. B, 2019,7, 4990-4996 Courtesy: Roya Maboudian Lab.
About this year's program fellows from the College of Chemistry:
ROYA MABOUDIAN
Air Quality Monitoring
Carbon Dioxide Sensing for Indoor Air Quality Monitoring
Inexpensive and efficient carbon dioxide detectors are desirable for many applications, including air quality assessment, food storage, microbial investigation and patient care. The infrared sensors most commonly in current use are expensive and remain difficult to miniaturize.  With her Bakar Fellows Spark Award, Roya Maboudian will produce an inexpensive alternative based on colorimetric sensing.  These sensors will be simple and user-friendly, exhibiting a color change visible to the human eye, yet sensitive enough to detect minor variations useful in air quality monitoring.  They will be fabricated from a porous crystalline class of materials, called metal organic frameworks, composed of metal clusters connected by organic linking molecules. This material system can be tailored to strongly interact with carbon dioxide, and by incorporating a dye that changes color based on the amount of bound gas, a highly sensitive CO2 detector can be realized.
Roya Maboudian is Professor of Chemical and Biomolecular Engineering, and Co-Director of the Berkeley Sensor & Actuator Center.  Her laboratory applies its expertise in materials, surfaces and interfaces to diverse applications including sustainable and renewable energy, and chemical sensing. She was a postdoctoral researcher at Penn State University and a research associate at UC Santa Barbara after receiving her B.S. from the Catholic University of America, and her M.S. and Ph.D. from Caltech. 
MARKITA LANDRY
Agricultural Nanotechnology
Genetic Engineering of Agriculturally Relevant Crops
Plants are vastly underrepresented among the many biological systems in which genetic engineering is routine. Technologies to genetically manipulate plants yield random DNA integration into the plant genome, are inefficient, and require transgene segregation through laborious breeding if labeling as a genetically modified organism (GMO) is to be avoided. As such, with current approaches, it can take months to years to obtain and test a plant genetic variant. One main bottleneck facing efficient plant genetic modification is efficient biomolecule delivery into plant cells through the rigid and multi-layered cell wall.  The Landry lab has developed a nanotechnology that enables high-throughput delivery of biomolecules to plants without requiring expensive equipment or refrigeration of reagents. The method results in transient protein expression without incorporation of foreign DNA into the plant genome, potentially avoiding classification of modified plants as GMO. Her Bakar Fellows Spark Award will enable her group to extend this platform to genome editing in plants of agricultural relevance such as corn, pepper, soy, rice, and tomato.  
Markita Landry is an Assistant Professor in the Department of Chemical and Biomolecular Engineering.  Her research group merges the fields of single-molecule biophysics and nanomaterials research to develop tools to image and genetically edit biological systems in vitro and in vivo. She received her B.S. and B.A. degrees from the University of North Carolina, her Ph.D. and a certificate in Business Administration from the University of Illinois at Urbana- Champaign, and was a postdoctoral fellow at the Massachusetts Institute of Technology.