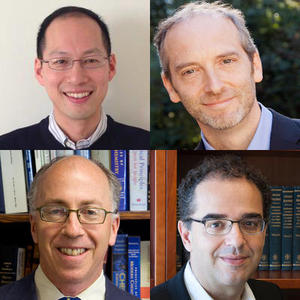 For immediate release
Berkeley, CA
The College of Chemistry is proud to announce that four faculty members have been named winners of the 2018 Royal Society of Chemistry Awards. Chemistry Professors Christopher Chang, John Hartwig, Daniel Neumark, and Dean Toste have been recognized for their important chemistry research.  
The Royal Society of Chemistry chooses award winners for the originality and impact of their research, or for their contributions to the chemical sciences industry or chemistry education. The Awards also acknowledge the importance of teamwork across the chemical sciences, and the abilities of individuals to develop successful collaborations.
Dr Robert Parker, chief executive of the Royal Society of Chemistry stated, "The chemical sciences are vital for the wellbeing of our world and chemical scientists help to change people's lives for the better. That's why we're so proud to celebrate the innovation and expertise of our community through our Prizes and Awards.
"This year's inspiring and influential winners come from a range of specialisms, backgrounds, countries and communities. Each has done their bit to advance excellence in the chemical sciences – to improve the lives of people around the world now and in the future."
With over 50,000 members, the Royal Society of Chemistry is one of the world's leading chemistry communities. The Society is the UK's professional body for chemical scientists; a not-for-profit organisation with 175 years of history and an international vision for the future. They work to shape the future of the chemical sciences – for the benefit of science and humanity -- through promotion, support and celebration of chemistry. 
About the Award winners
Christopher Chang
Professor of Chemistry and Molecular and Cell Biology; Class of 1942 Chair
Royal Society of Chemistry Jeremy Knowles Award winner for 2018
The Jeremy Knowles Award recognises and promotes the importance of inter-disciplinary research between chemistry and the life sciences. It commemorates the work of eminent chemist and biochemist Jeremy Knowles, OBE.
Professor Chang researches the chemical foundations of life, focusing on the contributions of vitamins and mineral nutrients to human health and disease. His laboratory has advanced a new paradigm for metals in biology termed transition metal signaling, discovering new roles of nutrients such as copper and iron as chemical signals in regulating brain and liver activity, how they influence basic functions like eating and sleeping, and how they are misregulated in obesity, cancer, and neurodegenerative disease.
Professor Chang said of the award announcement, "This award is a real honor to be associated with Jeremy Knowles, a giant in our field, and I'm thankful to the group for all their hard work and creative contributions to pushing the science forward."
---
John Hartwig
Professor of Chemistry; The Henry Rapoport Chair in Organic Chemistry
Royal Society of Chemistry Centenary Prize Award winner for 2018
The Centenary Prize is awarded to outstanding chemists, who are also exceptional communicators from overseas, to give lectures in the British Isles.
Professor Hartwig's work focuses on inventing new chemical reactions that are used to make molecules with multiple applications, including the discovery of new pharmaceuticals. These reactions have been used hundreds of thousands of times to prepare molecules that improve human health, as well as molecules that improve agricultural production and enable the creation of new flexible conducting plastics.
Professor Hartwig commented, "The Royal Society of Chemistry has a rich history, particularly in the fields of both inorganic and organic chemistry in which I work, and the Centenary Prize has been granted to some of my idols in chemistry. Thus, is a true honor to be considered in this group by those in the Royal Society of Chemistry, and I was thrilled to learn that I received this prize."
---
Daniel Neumark
Professor of Chemistry
Royal Society of Chemistry Bourke Award winner for 2018.
The Bourke Award enables distinguished scientists from overseas to lecture in the UK in the field of physical chemistry or chemical physics.
Professor Neumark's work focuses on developing novel experiments in chemical reaction dynamics that probe the breaking and making of chemical bonds.  The applications of his work range from combustion and catalysis to the fundamental electron-molecule interactions that lead to DNA damage in the body.
Professor Neumark said, "I am delighted and deeply honored to receive this prestigious award.  Moreover, it provides me with a means of visiting the UK, where I have strong connections with university faculty and deep family roots."
---
Dean Toste
The Gerald E. K. Branch Distinguished Professor Of Chemistry
Royal Society of Chemistry Catalysis in Organic Chemistry Award winner for 2018.
The Catalysis in Organic Chemistry Award is awarded for the development and mechanistic understanding of novel catalytic concepts in organic chemistry.
Professor Toste's research group develops new catalysts and catalytic processes, and studies the principles and mechanisms by which these catalysts operate. The use of catalysts – which speed up catalytic reactions – is key to making industrial chemical processes more efficient and more environmentally friendly.
Professor Toste remarked, "It is a great honour to be recognized with the Royal Society of Chemistry's Catalysis in Organic Synthesis Award.  It is especially meaningful given that catalysis has been at the core of our research program since the beginning.  Most importantly, I am grateful to the talented students and post-doctoral fellows, whose dedication and creativity are truly responsible for this award."