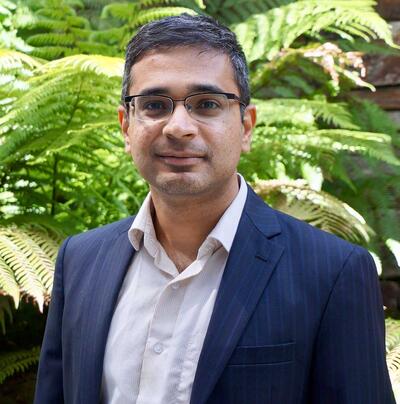 CIFAR, a leading international research organization which funds outstanding early-career researchers and provides opportunities for mentorship and collaboration, has named Assistant Professor of Chemistry Ashok Ajoy a 2022 CIFAR Azrieli Global Scholar in the Quantum Information Science program.  
Prof. Ajoy's research is focused on harnessing the power of quantum technologies in real-world chemical and physical sciences. His research team is developing new modalities of optically enhanced "quantum-sensor" NMR that exploits the high inherent coherence of nuclear spins to create new approaches for high spatial resolution, chemically specific molecular spectroscopy.
The CIFAR program supports early-career researchers with exceptional leadership potential through mentorship, a global network of potential collaborators which includes 20 CIFAR Nobel laureates, professional skills development opportunities and $100,000 CAD in unrestricted research funds. Prof. Ajoy is one of 18 Azrieli Global Scholars selected this year.
Prof. Ajoy stated, "I am delighted to be named into the CIFAR Azrieli Global Scholar Program. Apart from many new collaboration opportunities, the unrestricted nature of the funding will allow my group to pursue impactful yet higher-risk ideas for enhancing chemical spectroscopy with quantum information science." 
CIFAR Azrieli Global Scholars join a CIFAR research program for two years, interacting within a global network of internationally renowned researchers pursuing a fundamental research question. In the setting of twice-yearly program meetings, held in cities across Canada and in other parts of the world, CIFAR's programs bridge disciplines, develop a common language, and regularly spark collaboration and inspiration that lead to new research directions and fields of inquiry.
About CIFAR
Since our founding in 1982, CIFAR has evolved and grown from a small group of Canadian academics to a leader in the global research community. More than 1,000 researchers from over 30 countries have contributed to CIFAR's research programs as fellows, advisors, Canada CIFAR AI Chairs, and CIFAR Azrieli Global Scholars over the years. Our community of researchers is regularly recognized with major research awards including the Breakthrough Prize, the Turing Award, the Körber European Science Prize, and the Nobel Prize.