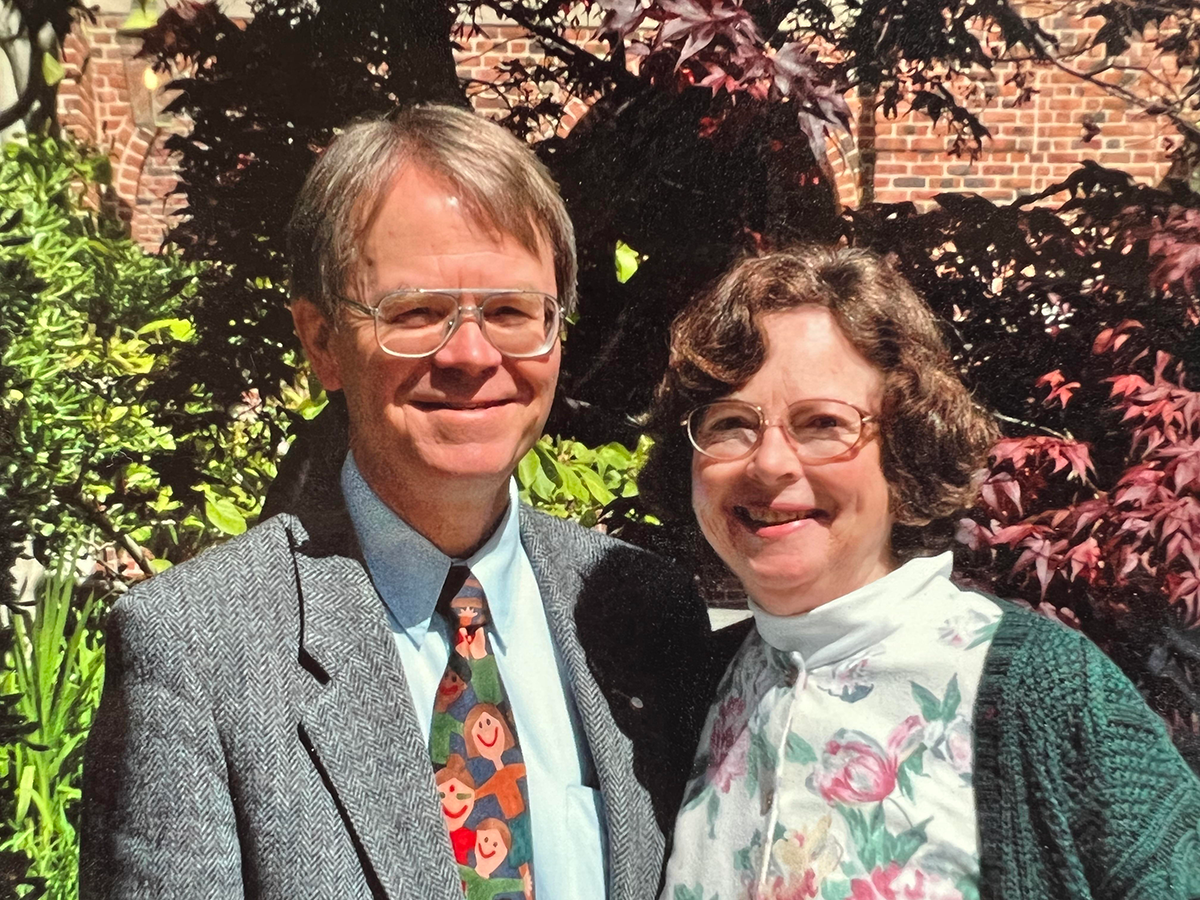 Bruce and Susan Stangeland photographed in front of the First Congregational Church in Berkeley in 2007. Photo courtesy of Bruce Stangeland.
We are celebrating Bruce and Susan Stangeland becoming Builders of Berkeley. Bruce's transformative gift for a new faculty position in the Chemical and Biomolecular Engineering Department was a special way to honor his late wife Susan and establishes his place among the most influential and generous donors to the University. The inaugural Bruce and Susan Stangeland Professorship will be held by a new arrival in the College, Aditi Krishnapriyan, who starts in the Chemical Engineering Department in January 2023.
Bruce explains, "My wife Susan died about two years ago. She had two degrees from Berkeley (B.A. '62, History, M.S.W., '68).  During the free speech movement, her father Richard W. Jennings was the chair of the academic senate. When we both graduated in 1968, he led the academic procession to the Cal Stadium."
He continues, "There's a professorship named after her father in the law school. I thought funding a chair in the College of Chemistry is a good way to commemorate her life and her interest in women's issues, early childhood education, and much more. Previously when I was involved in a College of Chemistry alumni fundraising campaign, I was in a group called the Free Radicals. We put together the funds for the Free Radicals Era Endowed Professorship. This was probably 20 years ago now. So, there was a precedent for me to do this.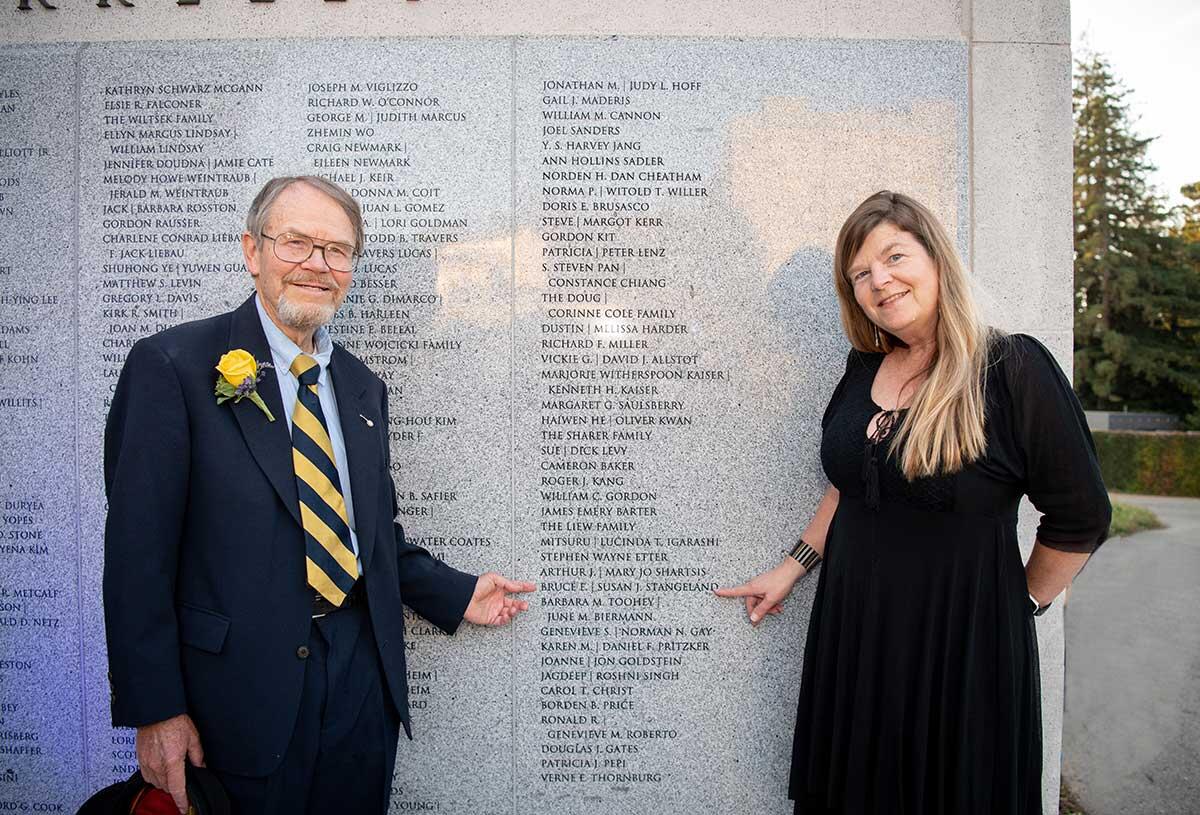 Bruce Stangeland, with his daughter Kirsten Cozzitorti, highlight Bruce and his wife Susan's names carved into the Builders of Berkeley wall at UC Berkeley. (Photo Keegan Houser, 2022.) 
Bruce Stangeland (Ph.D. '67, ChemE) came to UC Berkeley (Berkeley) in September 1962 from an undergraduate degree at the University of Illinois in Champaign-Urbana. His thesis advisor at Berkeley was Alan Foss. He did not originally plan to come to Berkeley. He comments, "About a week after the application deadline, the chairman of my department, Max Peters, stopped me in the hallway and asked if I had considered going to Berkeley? For each senior, the faculty gave specific recommendations for three schools to apply to. I told him, 'I didn't apply to Berkeley. You told me that it was not on my recommended list of schools.' He suggested I go ahead anyway so I did. I was accepted and received the Chevron Fellowship. He also encouraged a fellow classmate Bill Krantz to apply to Berkeley. He was accepted as well. We were roommates at Berkeley for four years, he was best man at our my wedding, and he's still a very good friend.
Bruce describes his first meeting when he arrived with his graduate advisor Prof. Don Hanson, "I grew up on a farm in Illinois, west of Joliet, and first attended a parochial school in Joliet, then a one-room school house and finally a four-room school house. Our farm was in a district where high school students attended school in Minooka, a small farming community. But I wanted to attend the big school in Joliet so my father moved our family to Joliet. When I arrived at Berkeley and met my graduate advisor, Prof. Don Hanson, I told him about how I went to Joliet high school to get a good education. He told me, 'I went to Minooka'".
Bruce started working with Alan Foss after he passed his qualifying exam. He states, "I was interested in control theory and that was what Alan was doing. It felt natural for me to work with him. Also, his background was Norwegian and so is mine. We had some kinship there, although he was, I don't know, eight or 10 inches taller than me. Very quiet fellow. He would have weekly meetings with me in his office. Sometimes they were a little bit scary because he was quite a taskmaster."
Bruce continues, "I was doing computer studies on process control using the big mainframe computer. At that time, you would take your punch cards down in the evening and give them to people in white coats and you hoped that they didn't drop your cards. I don't think that ever happened to me. I did not do any experimental research during my graduate studies."
After he graduated, Bruce was searching for his first job out of Berkeley. He applied at Fairchild Camera, the first workplace of Andy Grove (Ph.D. '63, ChemE).   Bruce was Andy's teaching assistant for his course on semiconductor processing at Berkeley. "I interviewed with him and gave him my presentation. Andy said I was too theoretical, so I didn't get that job."
By now Bruce was engaged to Susan Jennings who was also a graduate of Berkeley. She was working for the Alameda County Welfare Department as a social worker in aid for families with dependent children when they met. After they were married, she took time away from work to have their family. After her children had grown, she volunteered for ten years at Planned Parenthood and worked in early childhood education. She was always strongly interested in women's issues and education.
Bruce says, "I did get job offers outside of California, but Susan let me know that she really wanted to be somewhere where she could see the ocean and be within three hours of skiing. That left out a whole lot of the country. So, I accepted a position at Chevron in Richmond and bought my first (and only) house in Berkeley. For my first position I worked in a research group that was just starting to use an IBM 1800 data acquisition and control computer to collect pilot plant data from high pressure hydrogen reactors; testing various catalysts to try to make better jet fuels and more gasoline."
Bruce went onto a 30-year career at Chevron. He managed multiple teams including directing experimental programs to improve catalytic cracking processes. He also worked with fellow alumni of the College including Gary Masada (B.S. '66, Chem) and Georgieanna Scheuerman (Ph.D. '80, ChemE) who are both current members of the College of Chemistry advisory board, and James Vislocky (Ph.D. '82, ChemE). Bruce comments, "Some of our management team at Chevron was quite involved in fundraising for the Tan Hall project. This included John Thomas and John Scott, both Berkeley graduates."
Bruce Stangeland with Chancellor Carol Christ at the Builders of Berkeley event. (Photo Keegan Houser, 2022.)
Recently Bruce and his daughter Kirsten attended the Berkeley celebration for the newest members of the Builders of Berkeley. "While we were standing listening to Carol Christ's speech, I looked over her shoulder and across the green grass was Chang-lin Tien Hall. He was one of my favorite professors at Berkeley. Chang-Lin Tien was the seventh chancellor at UC Berkeley, but I met him when he was a brand-new professor. He also served on my qualifying exam committee. He was very popular and already winning teaching awards. I met him again many years later, after he came back from UC Riverside. I believe it was at the faculty club. I likely ran into him during a College of Chemistry event. I walked up to him, and said, 'Professor Tien, it's so good to see you. You may remember I took a class in mechanical engineering from you. He said yes. You actually took two classes from me.' It was amazing."