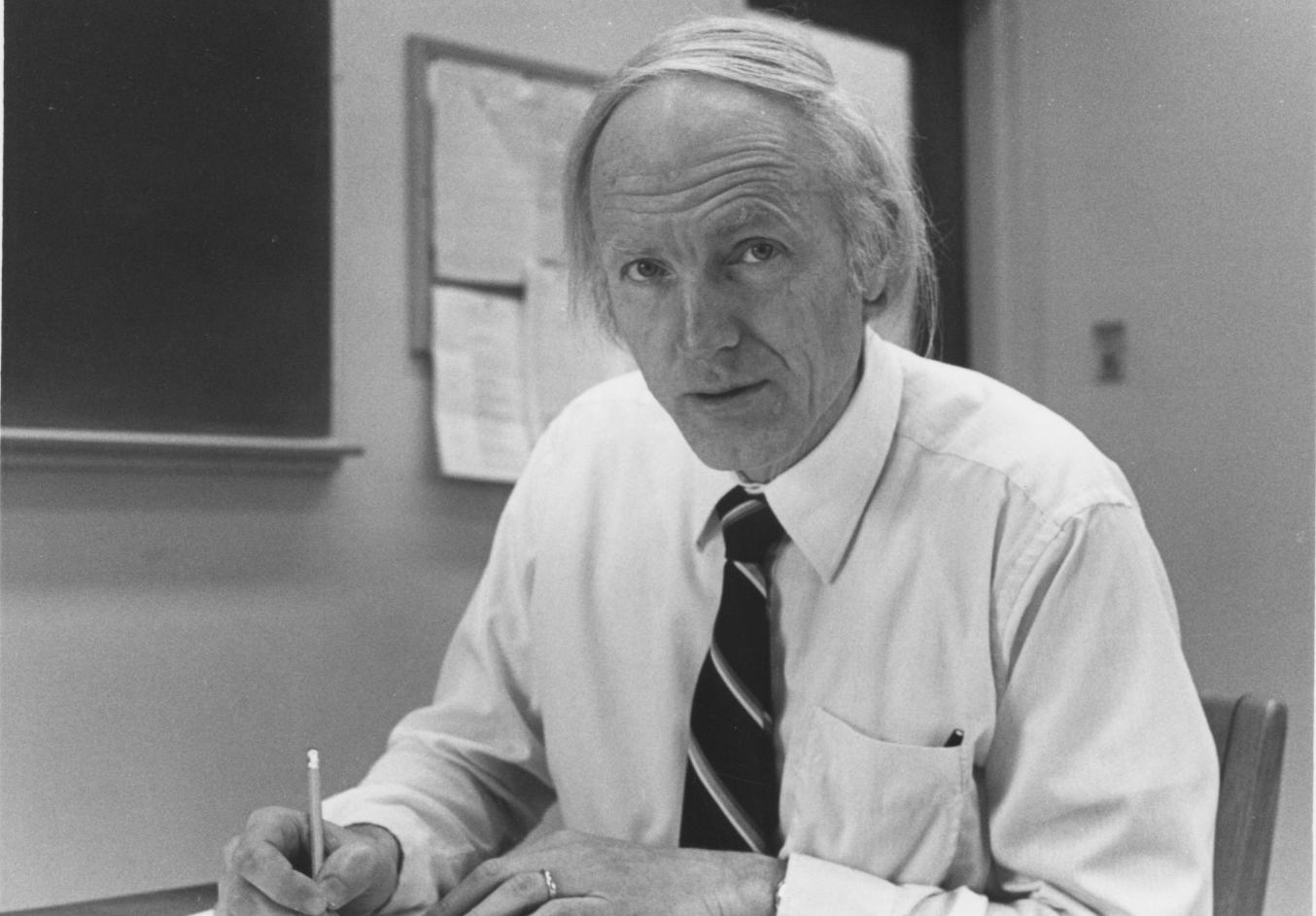 Professor of Chemical Engineering
By  C. Judson King, Simon L. Goren, and P. Henrik Wallman
With the death of Alan S. Foss on February 22, 2006, the University of California, Berkeley Department of Chemical Engineering lost one of its faculty stalwarts as well as a highly regarded expert in the field of chemical process control.
Alan Stuart Foss was born on September 9, 1929 in Stamford, Connecticut. His father, Walter D. Foss, and his mother, Ethelyn Close Foss, were both descended from old New England families, the Fosses having come to America from Norway in 1663 and the Closes from England in 1770. Alan's youth was filled with outdoor activities, resulting in a lifelong love of nature. His parents owned a farm in Connecticut where Alan learned the responsibility of care for the animals and the land. He spent summers at a relative's house on Mirror Lake, New Hampshire, swimming and sailing, and winters hiking and skiing on Mount Washington with his father. Young Alan was also a skilled woodworker, often making family gifts himself in his father's woodshop. Occasionally Alan earned pocket money by selling farm produce at a roadside stand.
Starting at age 11, Alan attended the Mount Hermon boarding school near Greenfield, Massachusetts. At Mount Hermon, Alan played the trumpet, acted in school productions, and was active in sports. He also excelled in academics. Three lasting things that Alan absorbed at Mount Hermon were a passion for clear and correct writing that he always demanded of himself and his students, a love for lacrosse that he brought to Berkeley as a coach of this sport, and strong interest in applied chemistry, resulting in his choice of a career in chemical engineering.
Alan earned his B.S. in chemical engineering from Worcester Polytechnic Institute in 1952. He received his M.S. in 1954 and Ph.D. in 1957 in chemical engineering, both from the University of Delaware. The title of his dissertation was "Mixing on Bubble Trays and Its Effect Upon Plate Efficiencies". In that pre-Sputnik era, even university chemical engineering was a very applied field. Alan then worked for five years at DuPont's Experimental Test Station in Wilmington, Delaware. As a result of this training and industrial experience, Alan always strived to make his research have real-world relevance.
 While a student in Boston Alan first became attracted to Unitarianism. Alan met Anna Màthà at the Unitarian Church in Wilmington and they were married on June 10, 1961. Their honeymoon was driving across the U.S. to Berkeley, where Alan started his teaching career in fall 1961.
Alan was very much a man of principles, standards and fairness. His students saw those qualities in him and learned and appreciated them. The same principles, standards and fairness applied to his teaching and his coaching of students, both of which were passions for him. Alan clearly saw teaching and mentoring as his own professions, and he immersed himself in them. In an autobiographical sketch he noted that in teaching "a rather delicate balance is needed in telling, asking, testing, challenging, encouraging, tutoring, correcting, stretching, leading. I am still searching for the right mix."
Alan's foremost project was the process control instructional laboratory, which he created and then shepherded throughout his career. He generated and continually improved experiments that were chosen and designed for pedagogical effects. The laboratory uses "in-house" software that mimics the larger software packages used in industry. In line with Alan's goal of educating practical chemical engineers, students are even expected to make the actual cable connections between the process sensors and the computer. The extraordinary fidelity to complex processes that Alan was able to build into his descriptions of physical phenomena has been an excellent model for students and faculty alike.
In his research, Alan pursued for several decades with his graduate students (including one of us) a systematic series of projects pertaining to the dynamics and control of catalytic reactors. As computing speed and bandwidth advanced to have real-time capabilities, the Foss group was one of the first to use computing intimately for computer-based process control. Alan and his group also dug deeply into the physical and chemical realities that underlie catalytic reactors. Alan always emphasized industrial applicability over academic finesse in the work of the research team. In 1973 he published a paper, "Critique of Chemical Process Control Theory", in which he made the point that the academic process control world failed to address all the various "little" practical issues that are absolutely necessary for bringing new technology into industrial use in the field.
Alan's graduate students found excellent careers in industry and made important contributions in process control and other areas, some at Chevron and Shell, others at General Electric, Dow, and companies specializing in process control.
With his writing talents, it was no surprise that Alan became the author of the record of the Berkeley chemical engineering department. It was his idea to start the Gilman Hall Newsletter for alumni, which he edited faithfully, creatively and capably for many years.
Continuing from childhood, Alan's recreational love was the outdoors, including activities such as a family driving trip to Alaska. He had become well acquainted with California's Sierra Nevada through trips with graduate-student friends such as Stephen Whitaker and "Skip" Scriven from the University of Delaware, before he and Anna moved to California. He led the two of us on a magnificent and finely-tuned trip in the Sierra over Kearsarge Pass in 1963, and for one of us that experience led to a lifelong love affair with the Sierra.
In addition to his wife, Anna, Alan is survived by two sisters, Barbara Wells of Massachusetts and Marjorie Dente of Hawaii, and four children, a son, Willard, of Thousand Oaks, California, and three daughters, Esther and Emese of Eugene, Oregon and Reka of Berkeley, as well as four grandchildren.