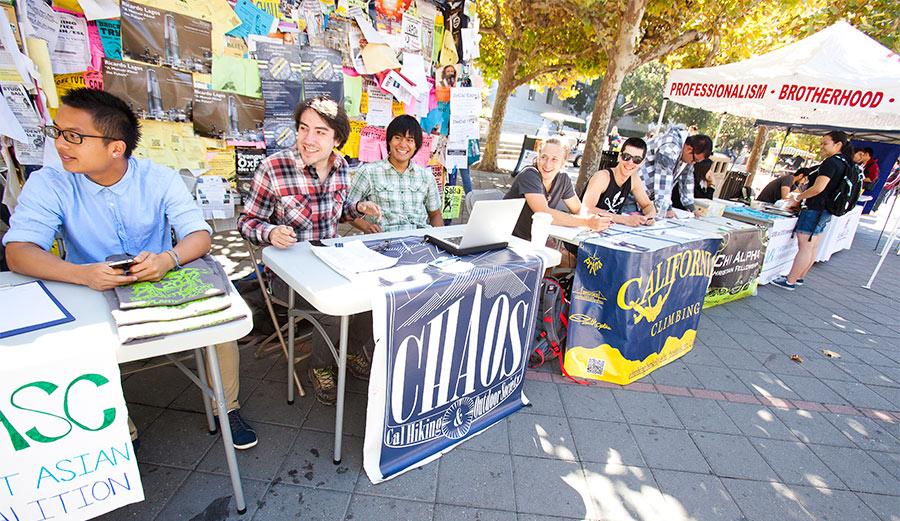 A Berkeley education does not begin and end in the classroom. Through professional societies, campus student organizations, and publications, students are encouraged to discuss chemical engineering and chemistry with fellow students, faculty, and practicing chemical engineers and chemists.
Student groups affiliated with the American Chemical Society and the American Institute of Chemical Engineers conduct active programs throughout the school year. These organizations give students a chance to meet others with similar interests, tour industrial laboratories, and learn more about the college and the professional activities of chemists and chemical engineers.
Chemical engineering students in the honors group are considered for election to Tau Beta Pi, the engineering honorary society. Women students may be elected to Iota Sigma Pi, an honorary society for women in chemistry. The professional fraternity in chemistry, Alpha Chi Sigma, elects its members from among student chemists and chemical engineers.
Other campus groups include BEAM (Berkeley Engineers and Mentors), BESSA (Black Engineering and Science Students Association), PASAE (Pilipino Association of Scientists, Architects, and Engineers), the Society of Women Engineers, and HES (Hispanic Engineers and Scientists). In addition, students interested in technical journalism are encouraged to participate in publication of The California Engineer, the student engineering journal. This participation includes all aspects of magazine production, from typesetting and layout to advertisement sales.
The activities of both the professional and the scholastic engineering societies are coordinated by the Engineering Student Council (ESC), which is made up of representatives from each group. Activities of ESC and its member societies include technical and social meetings, field trips, tutoring services, discussion of academic and professional issues, and the annual campus Engineers' Week.
Links to Student Organizations
For a more complete list of UC Berkeley student organizations, visit the Campus Life and Leadership web site.
ACS@Berkeley —The UC Berkeley Chapter of American Chemical Society provides all College of Chemistry students the opportunity for academic and professional development while fostering a sense of community among its members.
AIChe — A chapter of the American Institute of Chemical Engineers dedicated to enhancing the experience of Chemical Engineering students at the University of California, Berkeley. 
Alpha Chi Sigma — Coed Professional Chemistry Fraternity
BEAM

— 

UC Berkeley students dedicated to furthering science and engineering education among the local community.

BESSA — Black Engineering and Science Students Association

CBE Incubator Lab

— The lab gives student-led projects a formal home in the CBE department.

ChemUnity — An organization that aspires to build a community for underrepresented and nontraditional scholars within UC Berkeley's College of Chemistry.
HES — Hispanic Engineers & Scientists
Iota Sigma Pi — National Honor Society for Women in Chemistry
Leonardo Project — The Leonardo Project provides educational materials on the interface between chemical technology and society.
PASAE — Pilipino Association of Scientists, Architects, and Engineers
SWE — Society of Women Engineers
Tau Beta Pi — Engineering Honor Society