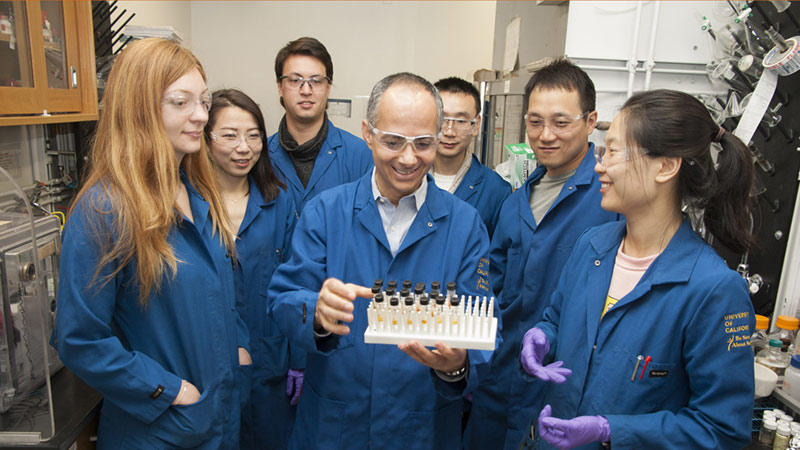 Omar Yaghi, the James and Neeltje Tretter Professor in Chemistry, has been selected as the winner of the 2017 Albert Einstein World Award of Science from the World Cultural Council.
The award ceremony will take place Nov. 8, 2017, at Leiden University, in the Netherlands.
The prize has been awarded for Yaghi's groundbreaking scientific contributions in making materials by stitching organic and inorganic units, using strong bonds, into robust, porous crystalline metal-organic frameworks (MOFs) and covalent organic frameworks (COFs).
These original accomplishments, both theoretical and experimental, have spurred the creation of new materials for application in clean energy, hydrocarbon separation, clean water production, catalysis and electronics.
Yaghi has founded several research centers in Vietnam, Korea, Japan, Jordan and Saudi Arabia, providing opportunities for young local researchers. The World Cultural Council acknowledges Yaghi's leadership in research and in mentoring emerging scholars around the world, along with his commitment to developing innovative solutions to problems that threaten world sustainability.
Yaghi was born in 1965 in Amman, Jordan. He received his B.S. from SUNY Albany in 1985 and his Ph.D. from the University of Illinois Urbana–Champaign in 1990. Before coming to Berkeley, he had been on the faculties of Arizona State University, the University of Michigan and UCLA. He is a Senior Faculty Scientist at Lawrence Berkeley National Laboratory. He is also the founding director of the Berkeley Global Science Institute and co-director of both the Kavli Energy NanoScience Institute and the California Research Alliance by BASF.
The World Cultural Council is a non-profit international organization, based in Mexico, that strives to promote culture, values and goodwill throughout the world. It grants the Albert Einstein World Award of Science, the José Vasconcelos World Award of Education and the Leonardo da Vinci World Award of Arts to outstanding thinkers whose work has made a substantial contribution to the cultural legacy of humanity. The members of the Council include several Nobel laureates.
Related links:
http://www.consejoculturalmundial.org/news/prof-omar-m-yaghi/
http://www.consejoculturalmundial.org
https://www.universiteitleiden.nl/en/dossiers/world-cultural-council