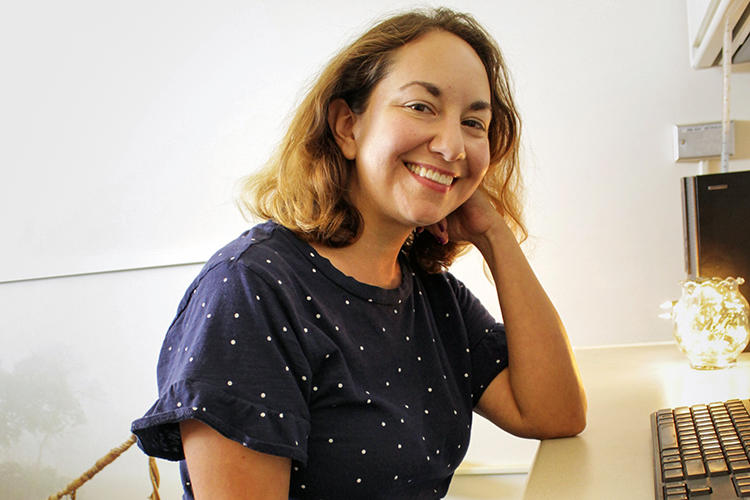 Katherine Welsh, a fundraiser with the college of chemistry donated her left kidney to a perfect stranger. "It wasn't that hard," she said. (UC Berkeley photo by Jeremy Snowden)
Just about every few months since she was 16, Katherine Welsh, a fundraiser in the College of Chemistry, has given blood. The act of service was second nature to her, as regular as getting her car's oil changed or setting the clocks back for daylight savings.
It seemed so obvious: Her blood could save a life, and she didn't need all of it. Why wouldn't she share?
A few years ago, Welsh found herself reading an article in The New Yorker about a real estate magnante who, feeling that giving his entire $45 million fortune to charity wasn't enough, donated his kidney to a woman whose name he'd only just learned.
Welsh didn't have $45 million dollars. But she did have a kidney.
It took a few years to connect the desire with action, and then another year of waiting for a match and setting up the time off from work, but last month – on August 21, her 39th birthday – Welsh donated her left kidney to a perfect stranger. She returned to work, half-time for now, last week.
"It is not as bad as it sounds," said Welsh, who graduated from Berkeley in 2004. "You actually save someone's life, and all you have to do is lay on the couch for a couple weeks. That's literally it."
Some organ donors give to help a friend or family member, but Welsh signed up with a donor network and doesn't know anything about the Washington man who received her kidney, except that his body reacted well to her organ, and that he was one of 100,000 people in the United States waiting for a life-saving kidney.
A tragedy spurs action
The New Yorker article started Welsh thinking about giving away her kidney, but it wasn't until the December 2016 Ghost Ship fire that she got serious. The fire killed 36 people attending a music concert in a crowded, unpermitted artist-collective warehouse in Oakland's Fruitvale neighborhood.
Many of the dead were around Welsh's age and had had time to realize they were trapped and text family and reflect on their lives before succumbing to the smoke and flames.
"If I were in that kind of situation, I don't know what I would be thinking about, but I wouldn't want to be regretting that I didn't donate a kidney," Welsh said. " 'Gosh,' I remember thinking, 'anything could happen at any time. I should just do it.' "
In just a few months, Welsh was undergoing blood tests and exams and researching what to expect. By the middle of 2018, she had a match and a procedure date was set. Her coworkers threw her kidney a going-away party complete with gag gifts of canned kidney beans, and her dad flew up to help out.
And after five years at UC Berkeley, Welsh had built up seven weeks of sick time, and three weeks of unused vacation, just in case something went wrong.
As safe as getting your appendix out
But nothing did. The surgery was simple. Doctors at UCSF made a tiny laparoscopic slit in her abdomen, cut away her kidney, pulled it through the hole and stitched her back together. It is the same basic process doctors would have used if Welsh had to have her appendix taken out. (She still has that.)
After the surgery, Welsh stayed at the hospital for a few days, then came home to rest on her couch.
"It really wasn't very hard," she said in an interview last week. "I recovered very quickly. I walked half a mile a day after the surgery. I can walk about four miles a day now, about 15 days out."