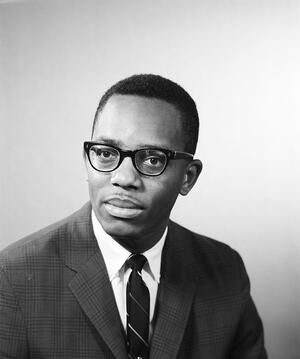 Dr. Wade Kornegay, MIT Lincoln Lab, 1966.  Photo courtesy of MIT Lincoln Laboratory.
Wade Kornegay1 (b. 1934) B.S. 1956 (chemistry and mathematics) North Carolina Central University, Ph.D. 1961 (physical chemistry) University of California at Berkeley; from staff member to project leader, associate group leader (Radar Signature Studies), and group leader (Signature Studies and Analysis), Lincoln Laboratory, MIT, 1962-1986; division head (Radar Measurements), 1986- ; member, Vice President Humphrey's Task Force on Youth Motivation, 1966-1969; National Consortium for Black Professional Development, 19751 to 979; recipient, Scientist of the Year award, National Society of Black Engineers, 1990.
Dr. Kornegay says of his childhood, "I grew up in a small town in North Carolina. I was born into a family of nine children—seven boys, two girls. My mother died when I was six years old and in the first grade. My dad then abandoned the family and my grandmother took all of us children in. I had two aunts who lived with her who were young women at the time. They raised us. My three older brothers dropped out of school after the ninth or tenth grade, but the rest of us all finished high school. I was the first in the family to go to college. The town was about twenty-five percent what we called Negroes in those days; Blacks or African-Americans today. It was segregated. It was in the days of segregation, separate high schools for each."
Dr. Kornegay  graduated from North Carolina Central College with a B.S. degree in chemistry. Throughout his undergraduate college education, he took German and put it to use when he studied as a Fulbright Fellow for a year at Bonn University in Germany from 1957 to 1958. After he returned from Germany, Dr. Kornegay enrolled in the College of Chemistry at Berkeley in 1958. He did his research with advisor Harold Johnston. His Ph.D. dissertation was entitled: "Chemical Kinetics of the Thermal Ionization of Xenon".
He began his research career by studying chemical reactions. He noticed that by heating the noble gases (which typically do not react with other chemicals) he could force them into reacting and then create new molecules. After completing his study, he was awarded his Ph.D. in chemical physics in 1962 and accepted a staff position as a physicist engineer at the Massachusetts Institute of Technology (MIT) Lincoln Laboratory in 1962.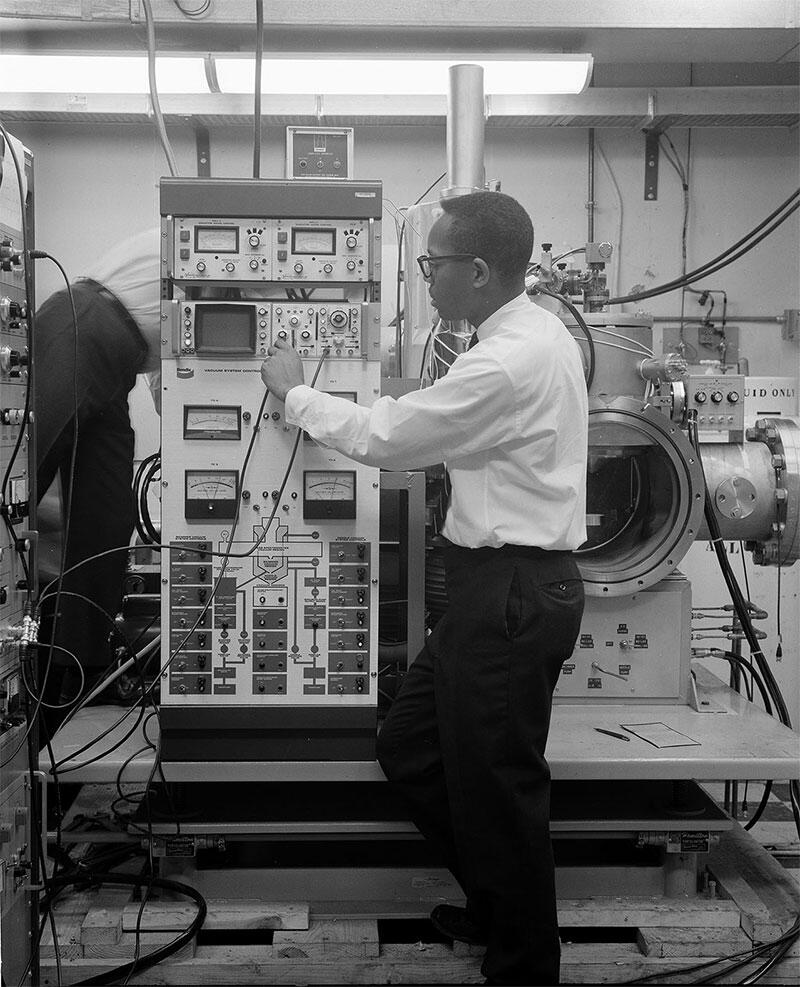 Dr. Wade Kornegay, staff member Group 35, Re-Entry Signature Studies, and an unidentified colleague work with the Mass Spectrometer. (04/10/1969) Photo courtesy of MIT Lincoln Laboratory.
With the Cold War in full swing, he embraced the laboratory's mission and focused his attention on the defense of the country. By using radar technology, it was possible to detect the ballistic missiles while in flight. As technologies advanced, and fake missiles were added to confuse anti-missile defense systems, Dr. Kornegay and his team developed a method to distinguish between the real and fake missiles, adding to the security of the country. In 1986 he became Head of Radar Measurements at the Lincoln Laboratory.
Among his many awards for professional contributions in science are the Outstanding Civilian Service Medal for service over thirty years to the US Army Space and Missile Defense Command and the MIT Achievement Award for Distinguished Service to Education.
During his career, Dr. Kornegay helped students of color in what are now considered STEM fields. Having achieved his success despite the limited resources of his undergraduate institution, North Carolina Central, and similar colleges and universities, he served as an official in the Task Force on Youth Motivation and as a director for the National Consortium for Black Professional Development.
Dr. Kornegay returned to Berkeley frequently in the 1980s and '90s, speaking to students to recruit on behalf of Lincoln Labs and encouraging Black engineers. His nephew is Electrical Engineering alumnus Kevin Kornegay (Ph.D. '92, EECS) Professor of Electrical and Computer Engineering at Morgan State University. 
Wade Kornegay married his high school sweetheart Bettie Hunter in 1957. The couple had three children.
1.  Williams, Clarence G., Technology and the Dream: Reflections on the Black Experience at MIT, 1941–1999, 2001, MIT Press, Cambridge, MA