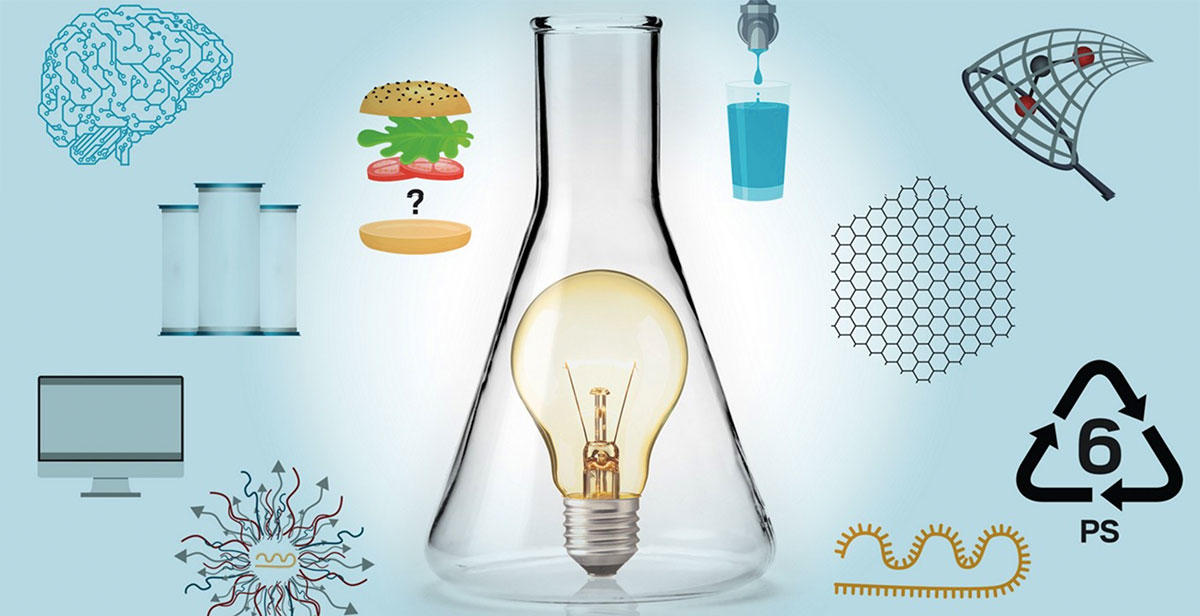 Illustration from C&EN
This article is excerpted from C&EN's 2019 10 Start-Ups to Watch:
Even the hippest chemist doesn't know how many potentially world-changing chemistry start-ups are out there. As we at C&EN present our fifth class of 10 Start-Ups to Watch, we can confirm that there are definitely hundreds, and perhaps thousands.
That makes the job of picking just 10 a challenge—though an inspiring one. This year's choices were selected after vigorous debate by our writers and editors. We made our own lists based on our day-to-day reporting and scoured the hundreds of firms nominated by readers and advisers from around the world. We picked winners for their groundbreaking chemistry as well as the importance of the problems they are tackling.
Two of the companies on the list both have co-founders who are College of Chemistry faculty and should they find further success, will improve your life and that of your family and community. 
Chemists are working on ways to find drug solutions to cancers that are "undruggable" at Frontier Medicines. Enter the exciting world of Dan Nomura and his research in chemoproteomics which is going after new cancer therapies.
And if you live on Earth, you'll be heartened to learn about the progress Mosaic Materials is making with its CO2-capturing metal-organic framework (MOF) materials. The MOF-amine complexes may be the kind of enabling chemistry needed to remove carbon from industrial emissions or directly from the air.
We don't have a crystal ball at C&EN, and we can't guarantee that these creative solutions will change your life for the better, but we sure like their odds. If you know a groundbreaking chemistry start-up out to change the world, nominate it for our 2020 feature at cenm.ag/startupnom.
Frontier Medicines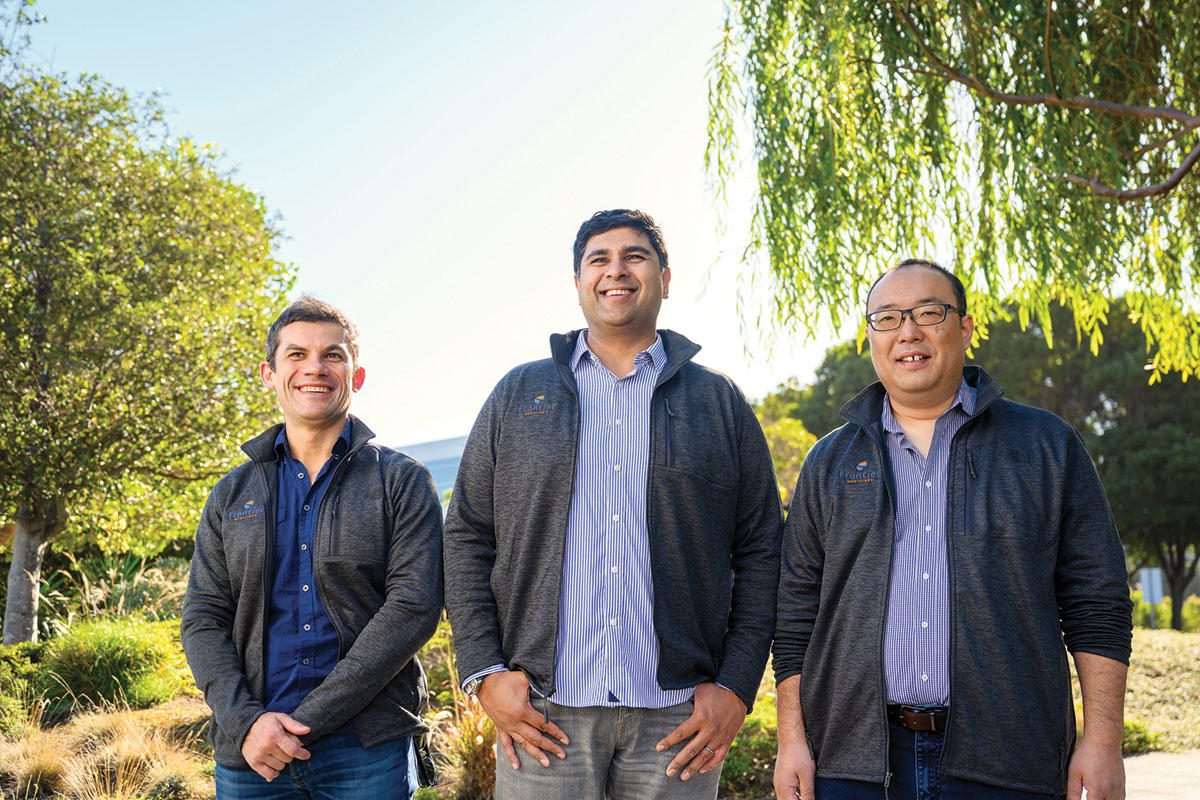 Roberto Zoncu, Chris Varma, and Daniel Nomura, cofounders of Frontier Medicines. Photo: courtesy of Frontier Medicines.
Like any good entrepreneur, Chris Varma was looking for the next big thing. In 2018, the life sciences venture capital veteran came upon the work of University of California, Berkeley, chemical biologist Daniel Nomura (Professor of Chemistry, Molecular and Cell Biology, and Nutritonal Sciences and Toxicolgy) while scanning research papers. Nomura's lab was making intriguing progress in research that was finding new ways to drug the undruggable. 
"Undruggable" proteins do feature nooks that form as they move about a cell and encounter different partners. The issue for drug developers is that the pockets quickly disappear after a protein completes its biochemical work.
Read the full story here:  Frontier Medicines
Mosaic Materials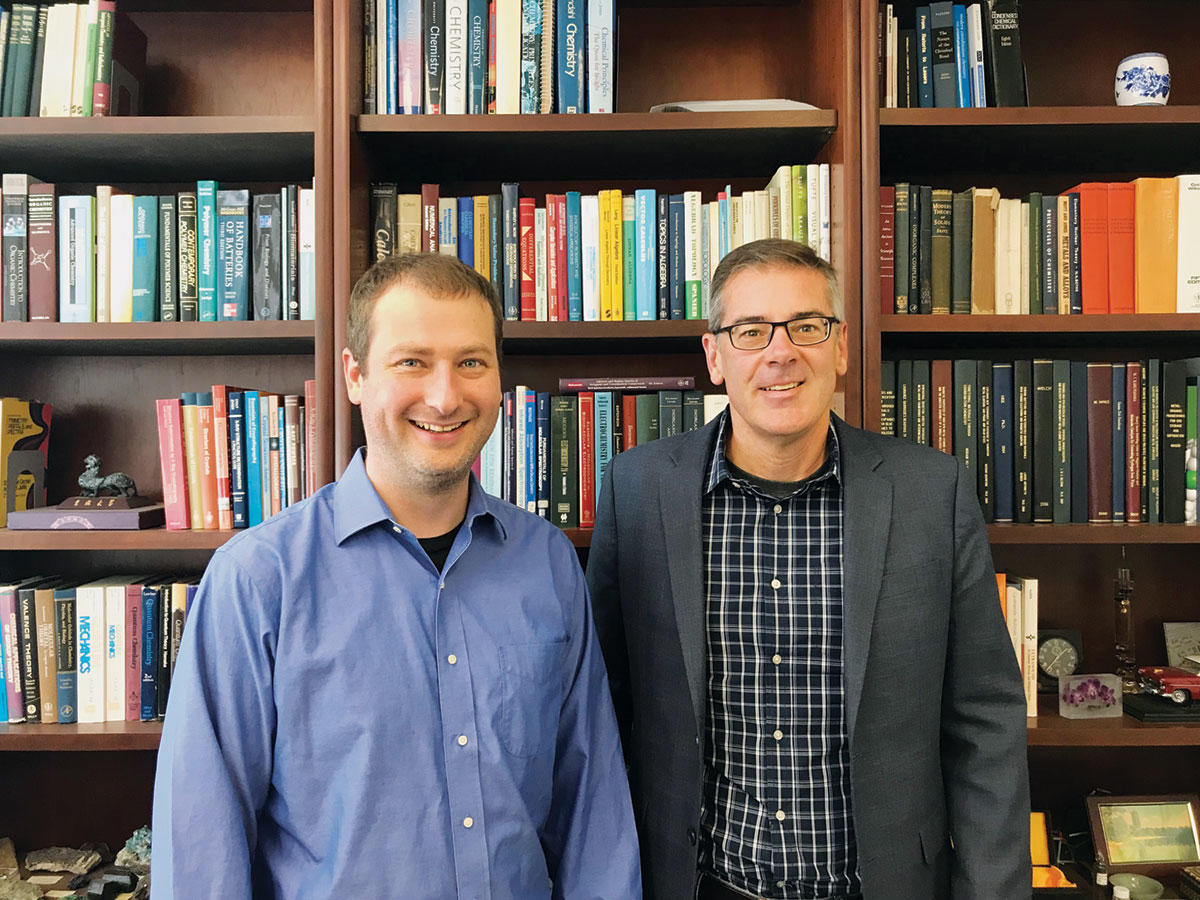 Thomas M. McDonald and Jeffrey R. Long, cofounders of Mosaic Materials. Photo courtsey Mosaic Materials.
Mosaic Materials CEO and cofounder Thomas M. McDonald is taking aim at arguably the biggest challenge of our time: the global climate emergency resulting from greenhouse gas emissions. His company says it can selectively remove carbon dioxide from the atmosphere using a porous material based on a metal-organic framework (MOF).
McDonald first considered using porous materials to adsorb atmospheric CO₂ when he was an undergraduate at Northwestern University and learned about working with zeolites to sequester compounds from nuclear fuel. "This set me on a path to study MOFs as a PhD," he says. McDonald did so at the University of California, Berkeley, under the tutelage of Jeffrey R. Long, a professor of chemistry and chemical and biomolecular engineering and the other cofounder of Mosaic.
McDonald arrived at Long's lab just as funding for the field became available. McDonald's research during those years is now the foundation for Mosaic's technology.
The few carbon-capture facilities in operation around the world today generally absorb CO₂ in an amine solvent and later desorb it with heat. McDonald wanted to try combining an amine with a MOF known as Mg₂(dobpdc).
Read the full story here: Mosaic Materials