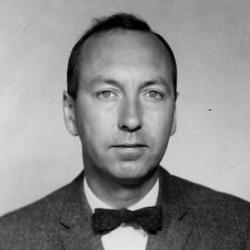 Norman's photo for the  John Simon Guggenheim Foundation award, 1963.
Norman Phillips, Professor of Chemistry, Emeritus, (1928-2019) was born December 20, 1928 in Detroit, Michigan. He received bachelor's and master's degrees in chemistry from the University of British Columbia in 1949 and 1950, followed by the Ph.D., also in chemistry, from the University of Chicago in 1954. His Ph.D. research at the University of Chicago dealt with the thermal conductivities of superconducting alloys.  He came to Berkeley in 1954 as a National Research Council Postdoctoral Fellow, attracted by the facilities and colleagues available in the Low-Temperature Laboratory of 1949 chemistry Nobelist William Giauque. A year later he joined the Berkeley chemistry faculty as an instructor, which was the entry-level faculty position at the time. He remained at Berkeley throughout his career, advancing fully through the faculty ranks and retiring in 2001.
Norman's research career at Berkeley was concerned primarily with cryogenic calorimetry, which is the measurement of heat capacities, or specific heats, at extremely low temperatures near absolute zero. His experimental research included determining the effects of varying temperature and pressure and the presence or absence as well as the intensity of magnetic fields. These measurements were enabled and facilitated by the capable magnets and cascade chilling systems at the Giauque Laboratory. Experimental results were interpreted through comparison with theoretical models and calculations, yielding insights on the nature of the microscopic structure of the materials studied and the relationship of those microstructures to the observed heat-capacity data.  Over his career, Phillips and his colleagues made such measurements and interpretations for a very large range of substances, including magnetic materials, normal metals, superconductors (among them many of the novel high-temperature superconductors), nanoparticles, and carbon nanotubes. This research resulted in 232 scientific papers. Graduate students and associates within the Giauque Low-Temperature Laboratory were often co-authors, in particular Dr. Robert A. Fisher of the Lawrence Berkeley National Laboratory (LBNL). The U. S. Department of Energy and its precursor agencies consistently supported his research at LBNL throughout the years. Norman also had close research ties with the Université Joseph Fourier in Grenoble, France, where he spent two sabbatical leaves and also became Professeur Associé in 1985, an important tie with their program in cryogenic calorimetry and with his colleague and sometimes co-author Jacques Flouquet.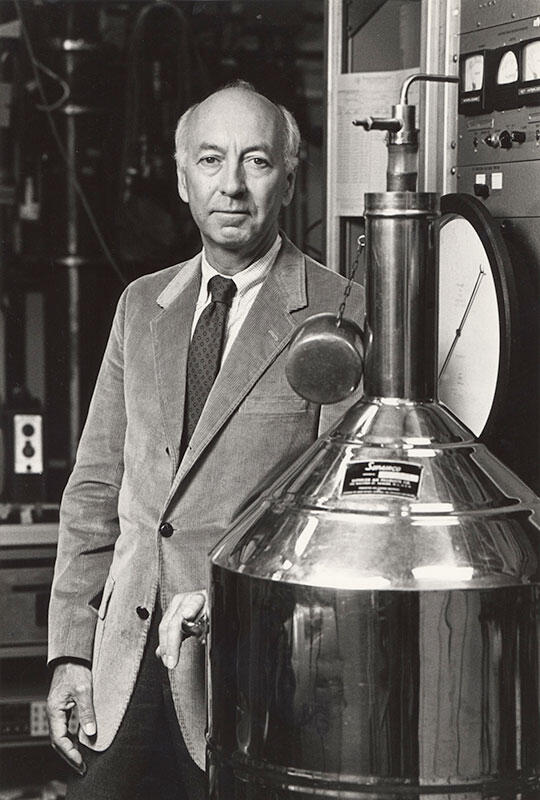 Norman in his lab. Undated photo - Dennis Galloway collection, Bancroft Library.
Norman was also a very capable academic administrator, a talent that was recognized early on and utilized extensively by the university to the benefits of both the Berkeley campus and LBNL. While still in his thirties, he was selected to be an associate dean of the Graduate Division and served in that post from 1966 to 1970. Early in his career, he was also an active member of the Academic Senate, including service on the Committee on Courses of Instruction, the Budget Committee, and Graduate Council; after retirement, he served four years on the Committee on Memorials Resolutions, including two as chair. He was dean of the College of Chemistry from 1975 to 1981, a time of difficult laboratory-space management issues brought about by changing research and faculty additions. His administrative career then moved to the LBNL, where he was associate director from 1984 to 1986 and division head of, successively, the Materials and Molecular Research Division, the Materials and Chemical Sciences Division, and the Chemical Sciences Division, as the organization of the laboratory evolved from 1984 through 1991. His style as an administrator was highly reasoned, understanding, non-threatening, goal-oriented, and consistent. Those attributes were admired, appreciated, and respected by those who worked with him. 
Norman received numerous recognitions of his accomplishments, including a Sloan Fellowship in 1961; a Guggenheim Fellowship spent at Oxford University in 1963; fellow of the American Physical Society in 1965; a Senior Postdoctoral Fellowship from the National Science Foundation spent at the University of Helsinki in 1970; an Alexander von Humboldt Research Award which he utilized at the Technische Hochschule, Darmstadt in 1991; and the Hugh M. Huffman Award of the Calorimetry Conference in 2004. He was awarded the Berkeley Citation upon his retirement in 2001, marking his many contributions to the Berkeley campus community through research, teaching, and service.
For enjoyment beyond the university he loved good food and fine wines, classical music, working on cars, and re-wiring the house. He greatly enjoyed the outdoors, skiing often at Heavenly Valley and the Banff area in Canada. He was also an avid hiker, finding time everywhere he traveled to enjoy mountains, from Yosemite National Park to the many mountains surrounding Zermatt in Switzerland to Mt. Fuji in Japan. He took his whole family with him to every conference he attended, ensuring that his wife and children got to experience the world with him.
Norman married Paula Mae McCreery in 1951, a strong and loving union that lasted all through his life. Norman and Paula had two children, Norman Christopher Phillips and Susan Margaret Phillips, now Kegel.  Chris is professor of mathematics at the University of Oregon, and Susan is a retired executive in the technology industry. Norman and Paula had five grandchildren as well. Norman Phillips passed away on July 25, 2019 in Bellevue, Washington at the age of ninety.