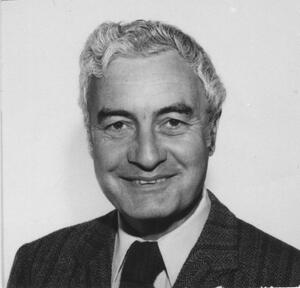 J. Frank Valle-Riestra (1924-2021). Undated photo.
We are sad to report that J. Frank Valle-Riestra passed away in April of this year. Frank was a first generation American born on November 12, 1924 in Oakland, California. He was the son of Carlos and Milena (Pudil) Valle-Riestra. Carlos was originally from Peru. Milena was from the former Czechoslovakia. Carlos immigrated to the United States in 1923.
Frank received his B.S. at UC Berkeley in 1944.  He went on to CalTech and received a second B.S. in Applied Chemistry in 1948 and an M.S. in Chemical Engineering in 1949. He married Edith Olivit Valle-Riestra (1928-2018) on July 14, 1948. They had two children: Christopher Philip and Paul Miguel.
Career
1st lieutenant United States Marine Corps, 1942—1945
Research chemist Los Angeles County Board Air Pollution Control, 1946—1947
Air pollution chemist Truesdail Laboratories, Highland Park, California, 1948—1949
Research scientist Dow Chemical United States of America, Pittsburgh, 1949 —1986
Adjunct Professor Department Chemical Engineering, UC Berkeley, 1975 —1986 
Judson King's history of the Department of Chemical Engineering discusses Franks arrival at the College.
As a result of an early recommendation from the department Advisory Board, J. Frank Valle-Riestra of Dow Chemical in Pittsburg, CA was hired in 1975 as a Lecturer to give what became a graduate-level course in Process Economics and Project Evaluation, which he did until 1986. An outcome of that teaching and his Dow experience was his 1983 book on project evaluation. He was succeeded in that role in 1986 by Arnold Grossberg, former Vice President of Chevron Research, who evolved the subject matter over time to Chemical Engineering Management and continued through 2009, another remarkable run of 23 years, until he was age 86.
George Tyson, Lecturer in the Department of Chemical Engineering said of Frank, "He was an inspiration and a mentor to me, first as my Lecturer, then as a colleague at Dow, until his retirement in 1986.  Frank was a warm, encouraging presence to me as a young engineer, and I helped him with edits on his textbook Project Evaluation in the Chemical Process Industries.  He and his wife Edith were active in the community and also world travelers, and the last time I saw him in person was on an airplane in 1989 - he and Edith were returning from Turkey!"
"I last spoke to Frank in the Fall of 2017 - I called to tell him that he'd inspired me, and I was now following in his footsteps at Cal.  Both he and Edith were so sharp and positive, always a delight to interact with."