Image: Harvey Akio Itano, 21, 1942 graduate from the University of California where he received his Bachelor of Science in Chemistry degree. He was chosen by the faculty as University Medalist for 1942 and was a member of Phi Beta Kappa and Sigma Xi. Mr. Itano went to the Japanese Assembly center prior to the commencement exercises at which President Robert Gordon Sproul said, "He cannot be here with us today. His country has called him elsewhere". Mr. Itano hopes to enter the field of medicine and has taken his books with him to the Center where he is spending the duration. Photo by Dorathea Lange  of Itano before he was sent with his family to Tule Lake, one of ten incarceration facilities for Japanese Americans during WWII. Photographed for the War Relocation authority at Sacramento, CA. (National Archive)
UC San Diego Emeritus Professor of Pathology Harvey Akio Itano ('42 BS, Chem), MD, PhD, a distinguished physician-scientist who was the first Japanese-American to become a member of the National Academy of Sciences, died Saturday, May 8, 2010, in La Jolla, California, of complications from Parkinson's disease.  He was 89.
"Harvey Itano was one of the most illustrious, well-known, and influential faculty on the entire UC San Diego campus," said David N. Bailey, MD, Distinguished Research Professor of Pathology at UC San Diego and former Chair of the Department of Pathology. "Despite this, he was extremely modest and humble.  His dedication to research and teaching was his raison d'etre. He enriched the lives of innumerable faculty, staff, and students."
Widely honored for his pioneering work in establishing the molecular and genetic basis of blood diseases, Itano was born in Sacramento, CA on November 3, 1920, the oldest of four children of Masao and Sumako Itano, originally of Okayama-ken, Japan.  A star student at UC Berkeley, he graduated in 1942 awarded the Berkeley Medal, with highest honors in chemistry.  He was unable to attend his own graduation ceremony, because he and his family were confined to internment camps established after the bombing of Pearl Harbor for the detention of Japanese and Japanese-Americans living in the western US.  In recognition of his outstanding achievements as a student, having earned the highest academic record in his class, then-UC President Robert Gordon Sproul personally awarded him the University Medal during his internment. 
"As a student, he was already being recognized for his extraordinary achievements under extraordinary circumstances," said Henry Powell, MD, Professor of Pathology at UC San Diego and Chair of the University of California Academic Senate.  "It was just one of the ways that he was quite special, as an individual, and as part of UC's history."
He was released from the camp on July 4, 1942, the first of the Nisei (second generation Japanese-Americans) to be released to attend colleges and universities.  He attended the St. Louis School of Medicine, where he earned his MD in 1945 before continuing his studies at California Institute of Technology, earning a PhD in Chemistry and Physics in 1950.
In 1949 he married Rose Sakemi, who he met when they were both students at UC Berkeley.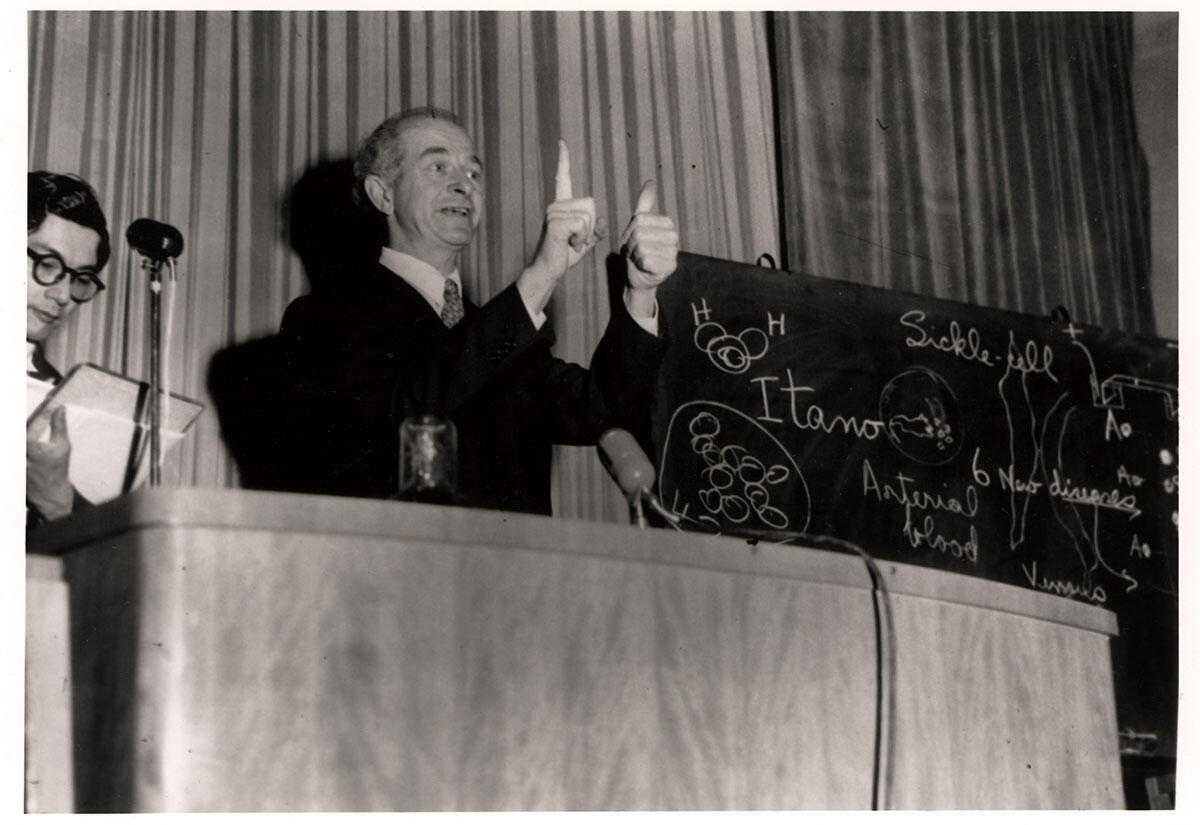 Image: Linus Pauling lecturing on sickle cell anemia, Kyoto, Japan. 1955.
While working on his PhD thesis as a graduate student in the Cal Tech laboratory of Nobel Laureate Linus Pauling, Itano identified distinguishing chemical characteristics in the hemoglobin in the red blood cells of patients with sickle cell anemia using electrophoresis, a technique that was new at that time.   His finding, published in the journal Science in 1949, in collaboration with Pauling, S. Jonathan Singer, and Ibert Wells, was the first demonstration of the specific molecular difference between the hemoglobin in sickle cell and normal blood cells, leading to later discoveries of the molecular and genetic characteristics underpinning the disease. Moreover, this was the first demonstration of a "molecular disease," that is, a disease caused by a single abnormal molecule, the hemoglobin molecule in this case.  He received the Eli Lilly Award in Biological Chemistry in 1954 in recognition of this work.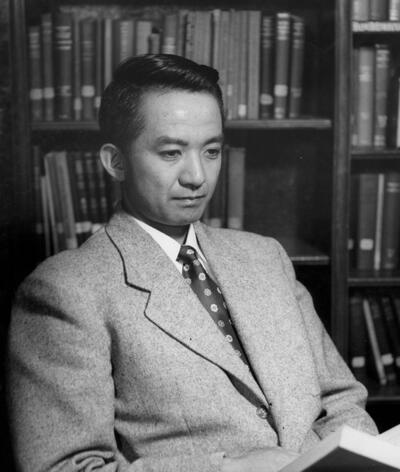 Image: Harvey Itano at Caltech, 1954.
Pauling later wrote that "The discovery by Dr. Itano of the abnormal human hemoglobins has thrown much light on the problem of the nature of the hereditary hemolytic anemias, and has changed these diseases from the status of poorly understood and poorly characterized diseases into that of well understood and well characterized diseases. … Dr. Itano's outstanding work is the result of great natural ability and thoroughly sound training in chemistry and related sciences as well as in medicine."
"Although I did not know Dr. Itano personally, his work on the biochemistry of hemoglobin and hemoglobinopathies helped form the foundation for the practice of modern hematopathology today," said Steven Gonias, MD, PhD, Professor and current Chair of Pathology at UC San Diego.
He joined the US Public Health Service as a senior assistant surgeon, ultimately becoming Chief of the Section on Chemical Genetics, Laboratory of Molecular Biology, of the National Institute of Arthritis and Metabolic Diseases, and Medical Director of USPHS in Bethesda, Maryland, positions he held until 1970 when he was recruited to the faculty of the young UC San Diego School of Medicine.  His strength as a medically trained scientist was exactly the right fit for the new medical school, which had been designed to integrate basic science and clinical medicine within each department in order to give medical students a solid foundation in research.  He continued his work in sickle cell disease and abnormal blood cells until his retirement in 1988.
He was the recipient of many awards and honors. Itano was named Medical Alumnus of the Year by St. Louis University in 1970, and he received the Martin Luther King Jr., Medical Achievement Award from the Southern Christian Leadership Conference in 1972.  In addition to the National Academy of Sciences, he was also elected to the American Academy of Arts and Sciences.  He was named the Japanese American of the Biennium in the Field of Medical Science by the Japanese American Citizen League.  He was also among a group of several hundred individuals of Japanese descent awarded honorary degrees by the University of California in 2009, in recognition of their interrupted studies at a UC campus in the 1940s, due to their forced confinement in detention camps.
He had an avid interest in his family history. The Itanos were "Shoya" (village headmen) of the village of Fukutani, near Okayama City. The first head of the family, Sakon Itano, died in 1613. In 1997, Itano and his siblings erected a stone monument on the Itano ancestral property in Fukutani detailing the history of the family in Japan and America. A former Eagle Scout, he had a lifelong love of the outdoors, especially the Sierra Nevadas, and he enjoyed fishing and golfing throughout his life.
He is survived by his wife Rose of La Jolla, California; his sons Wayne Masao Itano of Boulder, Colorado, Glenn Harvey Itano of Alameda, California, and David George Itano of Honolulu, Hawaii; four grandchildren, Nicole Chaires Itano, Deanna Rose Itano, Michelle Sumako Itano, and Leilani Margaret Itano; his sister Edith Kazue Tanaka of San Francisco, and one brother, Masashi Itano of Rancho Palos Verdes. He was predeceased by one brother, Dean Tsuyoshi Itano, of Sacramento, California.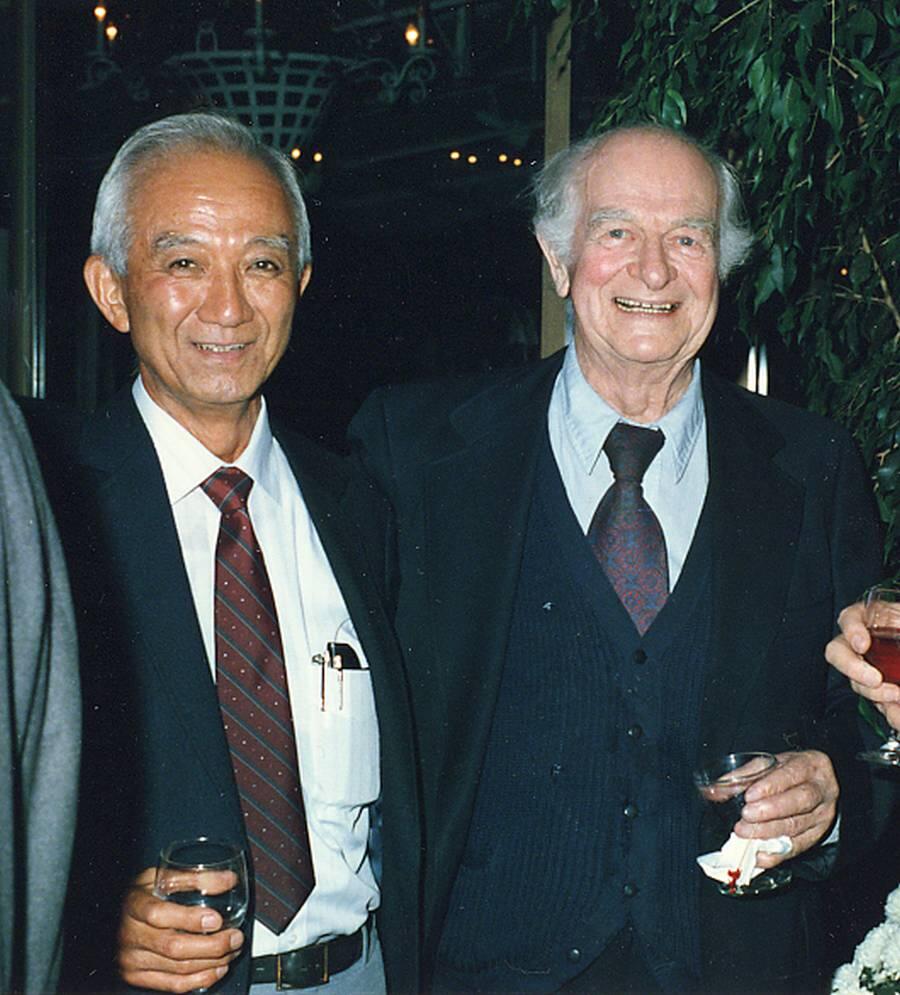 Linus Pauling and Harvey Itano in the 1980s. Collection of the Oregon State University's Special Collections.
Read more about Itano's journey from Berkeley student to renowned scientist here>