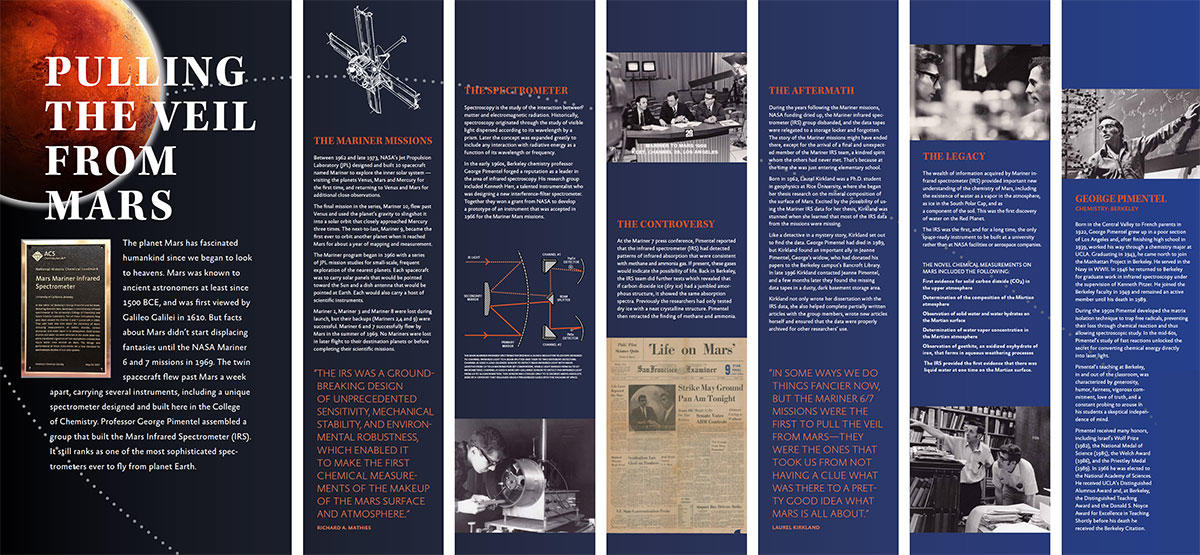 The new mural tells the story about George Pimentel, and his research team at Berkeley, building two infrared spectrometers that were used to survey the surface of Mars. 
For immediate release
Berkeley, CA
A spectacular new mural was installed this week in the lobby of Pimentel Hall at UC Berkeley's College of Chemistry. Celebrating the College's involvement in NASA's Mars 6 and Mars 7 Mariner missions, the mural is part of an exhibit that explains how two infrared spectrometers were built at the College of Chemistry and then traveled to Mars. On May 15, 2017,  the importance of Pimentel's work was recognized as the Mars Infrared Spectrometer was officially designated an American Chemical Society National Historic Chemical Landmark.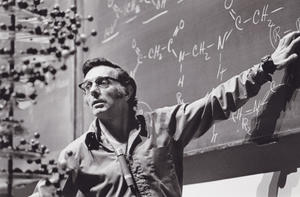 (image: George Pimentel in the classroom.) In the early 1960s, Berkeley Professor of Chemistry George Pimentel forged a reputation as a leader in the area of infrared spectroscopy. His research group included Kenneth Herr, a talented instrumentalist who was at the time designing a new interference-filter spectrometer.  Together they won a grant from NASA to develop a prototype of an instrument that was accepted in 1966 for the Mariner Mars missions.
Mars Mariner 6 and 7 were the second pair of Mars missions in NASA's Mariner series of solar system exploration in the 1960s and early 1970s. As with the other Mariners, each satellite was launched on an Atlas rocket and weighed less than half a ton (without the onboard rocket propellant). In 1969, Mars Mariner 6 and 7 completed the first dual mission to Mars, flying over the equator and south polar regions and analyzing the Martian atmosphere and surface with remote sensors, as well as recording and relaying hundreds of pictures back to earth.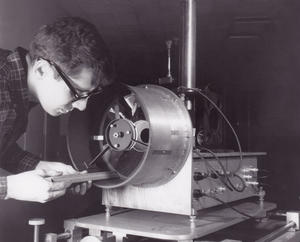 (image: Kenneth Herr in the lab.) In a break with the standards for NASA at the time, the infrared spectrometers used in the Mariners were built in the shops at the College of Chemistry allowing Pimentel and Herr to have complete control over the design of the machines.
The wealth of information acquired by the on board infrared spectrometers provided important new understanding of the chemistry of Mars, including the existence of water as a vapor in the atmosphere, as ice in the South Polar Cap and as a component of the soil. This was the first discovery of water on the Red Planet.
The Mariner spectrometers were the first, and for a long time, the only space-ready instruments built at a university rather than at NASA facilites or aerospace companies.
The mural, and a copy of the infrared spectrometer, can be viewed during the academic year in the lobby of Pimentel Hall at the College of Chemistry, UC Berkeley, Berkeley, CA. 
More information about the data and the project at NASA is available here.  A pamphlet to view along with the exhibit is available here.