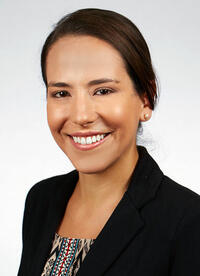 Markita Landry, Asst. Professor of Chemical and Biomolecular Engineering, has been named a 2021 Camille Dreyfus Teacher-Scholar. This award recognizes faculty within the first five years of their academic careers, who have created an outstanding independent body of scholarship, and are deeply committed to education.
Prof. Landry's current research focuses on the development of synthetic infrared molecular sensors. Her group develops synthetic biomimetic nano­composites to impart control over nanomaterial interactions with biological systems for two applications: to exploit the intrinsic nanomaterial infrared fluorescence for molecular imaging, and to exploit the highly tunable chemical and physical properties of nanomaterials for targeted delivery of biological cargoes to plants
The purpose of the Camille and Henry Dreyfus Foundation, Inc., is to advance the science of chemistry, chemical engineering, and related sciences as a means of improving human relations and circumstances throughout the world. Established in 1946 by chemist, inventor, and businessman Camille Dreyfus as a memorial to his brother Henry, the Foundation became a memorial to both men when Camille Dreyfus died in 1956. Throughout its history the Foundation has sought to take the lead in identifying and addressing needs and opportunities in the chemical sciences through a series of programs and awards.