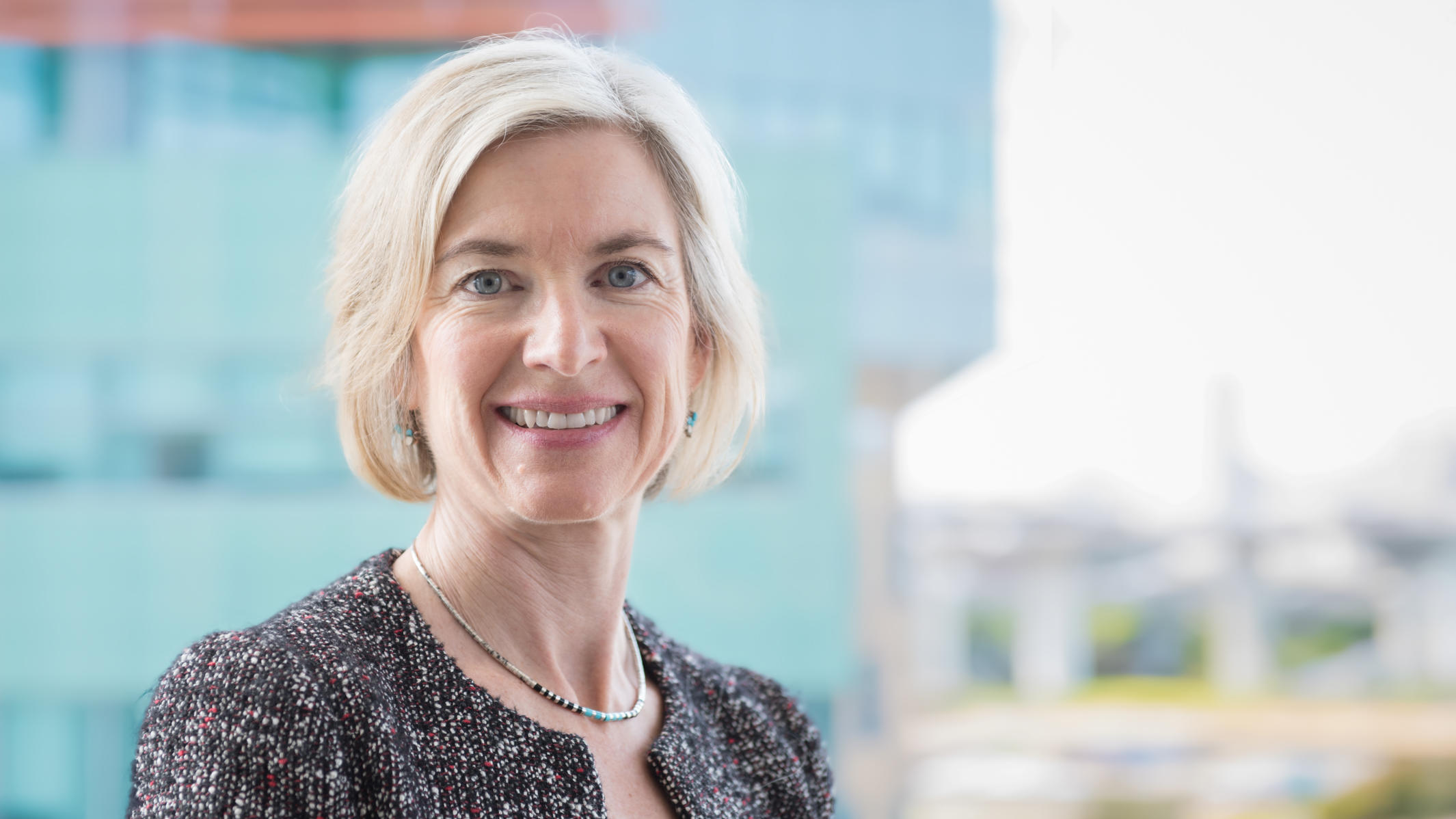 Biochemist Jennifer A. Doudna, PhD, has revolutionized biomedical research—and so many other fields—by first unlocking the CRISPR-Cas9 genome editing technique in 2012. Now, she is moving part of her research efforts to the Gladstone Institutes in San Francisco, where she will launch new collaborations that will help advance this breakthrough technique to solve some of humankind's most intractable diseases.
Doudna, a professor at UC Berkeley and an investigator with the Howard Hughes Medical Institute (HHMI), has been appointed as a senior investigator at Gladstone. She will oversee a laboratory focused on using CRISPR technologies to study molecular mechanisms of disease and establish first-of-their-kind genome surgery approaches to treat disease by cutting out or modifying harmful DNA.
"I'm excited to join this incredible team of researchers and work together across a broad spectrum of science," said Doudna. "Gladstone is a unique, independent institution, located in the epicenter of world-class biomedical innovation. Its agile environment will help provide my lab opportunities to venture into new areas of research."
Working closely with Gladstone Senior Investigator Bruce R. Conklin, MD, Doudna will continue to head the Innovative Genomics Institute, a partnership between UC Berkeley and UCSF that aims to apply genome engineering technology to improve human health. She will maintain her faculty positions at both universities.
"Jennifer has been a leader in RNA biology for many years, and with her development of CRISPR technology, she has now equipped the entire scientific community with an unprecedented research tool," said Deepak Srivastava, MD, president of Gladstone and a professor at UCSF. "We're extremely proud that Jennifer chose to start her second lab at Gladstone and we look forward to working with her to expand our expertise here, and throughout UCSF, in genome editing."
Research Ambition
Doudna's lab will join the Gladstone Institute of Data Science and Biotechnology led by Katherine Pollard, PhD. With her focus on the immune system, Doudna will also help shape the evolution of Gladstone's long-standing effort in virology and immunology.
Doudna will bring with her a small team that will initially work toward generating novel curative treatments for genetic disorders, beginning with neurodegenerative disorders and diseases of the eye. Guided by colleague and junior faculty member, Christof Fellmann, PhD, the team will also use CRISPR technology to better understand the genetics of certain cancers like glioblastoma. Ultimately, they hope to find new therapeutic targets to probe the genes that these cancers become dependent upon.
"I've moved a few times in my career, and in my experience, when you transplant yourself into a new environment with new colleagues and projects, interesting new insights, opportunities, and ideas invariably come up," Doudna said.
Such ideas have already sprouted. Doudna initiated a collaboration with Melanie Ott, MD, PhD, to apply CRISPR technology to the detection—and possible destruction—of viruses. Doudna is also joining forces with Nevan Krogan, PhD, who shares his time between Gladstone and the Quantitative Biosciences Institute at UCSF, where he serves as director.
"Nevan's proteomics facility at Gladstone is one of the best for detecting proteins that associate with RNA molecules, something that is fundamental to everything we're doing in the lab," explained Doudna. "This will be another great opportunity to expand our work."
Doudna is also developing projects with other UCSF colleagues, including neurosurgeon Mitchel S. Berger, MD, professor and chair of the Department of Neurological Surgery. Together, they want to find the best way to deliver genome-editing molecules to the brain in an effort to develop innovative therapies for brain cancer patients.
Outstanding Track Record
Growing up in Hilo, Hawaii, Doudna was keenly interested in math, chemistry, and the natural world. But it was not until high school that she became fascinated by the possibility of applying chemical knowledge to biology.
"That's when I realized that life is really all about chemistry; you have to understand chemistry to answer any biological question," recalled Doudna. "I've been fascinated with this idea my entire life, and I'm still excited about it."
That passion is what led Doudna to pursue a biochemistry track at Pomona College in California. She then moved to Harvard Medical School to obtain her PhD degree in biological chemistry and molecular pharmacology under the guidance of Jack W. Szostak, Harvard professor of genetics who shared a Nobel Prize in 2009 for discovering how chromosomes are protected by caps called telomeres.
Doudna did not stop there. She studied with another Nobel Laureate, Thomas R. Cech, during her postdoctoral fellowship at the University of Colorado. Former HHMI president, Cech was awarded the1989 Nobel Prize in Chemistry for the discovery of catalytic properties of RNA.
With honorary degrees from five universities and more than 55 awards and distinctions, Doudna's illustrious career is quickly matching that of her mentors. Among her many honors, she has received the Breakthrough Prize in Life Sciences, the Japan Prize, and, most recently, the Kavli Prize in Nanoscience.
"Jennifer is an exceptional role model for up-and-coming scientists, particularly female scientists," said Pollard. "We're lucky that she will be imparting her knowledge with biomedical research trainees at Gladstone and helping further the careers of so many bright young minds."
An Incredible Time for Research
In 2012, when Doudna published her research on the CRISPR-Cas9 technology with Emmanuelle Charpentier, she could only imagine the tremendous future impact of this work.
This pioneering approach, in short, allows researchers to precisely cut DNA in order to remove, replace, or add genes to a sequence. Today, it is being used by scientists around the globe in a wide range of fields, from treating human disease to protecting the environment.
"It's been remarkable to see the various ways that science has been enabled, not only through genome editing, but also thanks to whole-genome sequencing data, computational tools, and now, increasingly, machine learning," said Doudna. "That's why I tell my students that it's an incredible time to be in biomedical research. We now have technologies to address extremely challenging but interesting questions that were unthinkable in the past."
Doudna's ultimate goal is that genome surgery will not only treat individual patients, but that it will actually become the norm. She imagines a day when a patient with a genetic condition will visit a doctor, who will have access to a standard of care that involves genome editing as a treatment.
"Getting to that point is a tall order," said Doudna. "In addition to the science, we need to consider ethical, societal, and regulatory factors, as well as all the practical steps involved. It's a big challenge, and I think my partnership with Gladstone will be key in making it a reality." 
###
About Jennifer Doudna
Jennifer Doudna is a professor in the Department of Molecular and Cell Biology and the Department of Chemistry at UC Berkeley, where she holds the Li Ka Shing Chancellor's Chair in Biomedical and Health Sciences. She is also an HHMI investigator and the executive director of the Innovative Genomics Institute.
She recently joined the Gladstone Institutes as a senior investigator. She also holds a faculty appointment in the Department of Cellular and Molecular Pharmacology at UCSF.
She obtained her PhD in biological chemistry and molecular pharmacology from Harvard University. She completed a research fellowship in molecular biology at Massachusetts General Hospital and Harvard Medical School, as well as a postdoctoral scholarship at the University of Colorado.
She is a member of the National Academy of Sciences, the National Academy of Medicine, the American Academy of Arts and Sciences, and the National Academy of Inventors.
About the Gladstone Institutes
The Gladstone Institutes focuses on conditions with profound medical, economic, and social impact—unsolved diseases. Gladstone is an independent, nonprofit life science research organization that uses visionary science and technology to overcome disease. It has an academic affiliation with the University of California, San Francisco.
Original Source
https://gladstone.org/about-us/press-releases/jennifer-doudna-opens-lab-...