Berkeley, Sept 3, 1935
Henry Chalmers Biddle (1869-1935; Ph.D. 1900, University of Chicago)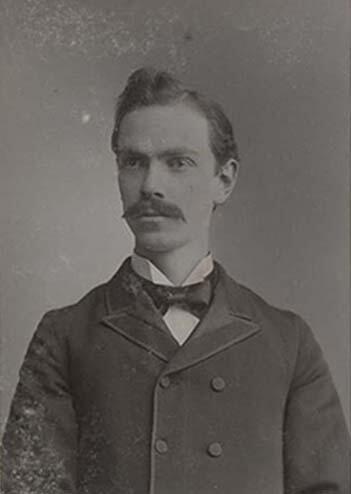 Henry Chalmers Biddle of Kirkwood, Illinois, an 1891 graduate of Monmouth College, sits for a portrait. Photo Gehrig, 1896.
Dr. Henry Chalmers Biddle, 65, former dean of the College of Pharmacy, University of California, died yesterday at his home, 2815 Stuart Street after a long illness.Services will be held today at 4:30 pm in the Niehaus Chapel, 2640 Grove Street, with Dr. Stanley Armstrong Hunter, pastor of St. John's Presbyterian Church officiating.
Biddle, a clergyman, author, and educator was born at Kirkson, Ill. October 4, 1870. His father was a physician. He received his A.B. degree at Monmouth College in 1891, and his doctor of divinity degree at McCormick Theological Seminary, Chicago, in 1896. He received his Ph.D. in chemistry at the University of Chicago in 1900.
A Presbyterian, he was ordained in Oakland in 1901, and for several years was pastor of the Concord Contra Costa County Presbyterian Church.
Appointed to the chemistry department at Berkeley in 1901. He did research in biochemistry and taught organic chemistry. Resigned in 1918 to practice chemical engineering. In 1925 he joined the faculty of the California College of Pharmacy becoming Dean in 1927.
He taught at Monmouth College and the University of Chicago before coming to Berkeley. He was also acting professor of chemistry at Temple University, Philadelpahia from 1901 to 1922. His teaching career included lecturing at San Francisco State Teachers' College from 1922 to 1931.
In 1923, he became a professor in chemistry at the University of California School of Pharmacy (now UCSF School of Pharmacy), taking on the dean position in 1926.He retired in 1934. During his time as dean, he was involved in a curriculum crisis. In 1927 the administration of what was then called the California College of Pharmacy of the Affiliated Colleges of the University of California, in San Francisco, encouraged the legislature to mandate a three-year pharmacy course as a prerequisite to the licensing examination administered by the California State Board of Pharmacy. The trustees of the College also instituted the four-year program recommended by the American Association of Colleges of Pharmacy (AACP). Ironically, Biddle sat on the five-member board, but the trustees insisted on also retaining the popular three-year program.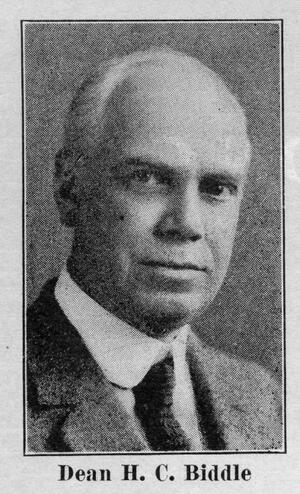 Under the direction of Biddle, the College briefly resigned its membership in the AACP rather than lose accreditation. The situation was resolved under the administration of Dean Carey, when the four-year curriculum became standard.
Biddle spoke and wrote about the ethical component of pharmacy practice, "One of the great responsibilities, indeed, resting upon present-day pharmaceutical education is stressing the vision of professional idealism in the higher fields of service."
He was a member of the American Chemical Society, the German Society of Chemists, Sigma Xi, and the American Pharmaceutical Association.
He authored many books and papers on technical subjects particularly in the field of vegetable alkaloids.
He is survived by his widow, Mrs. Margaret Wishart Biddle; two sons, Charles J. And Professor William Wishart Biddle, and three daughters, Mrs. Florence Biddle Meredith, Miss Mary Biddle, and Mrs. Margaret Biddle Hume.