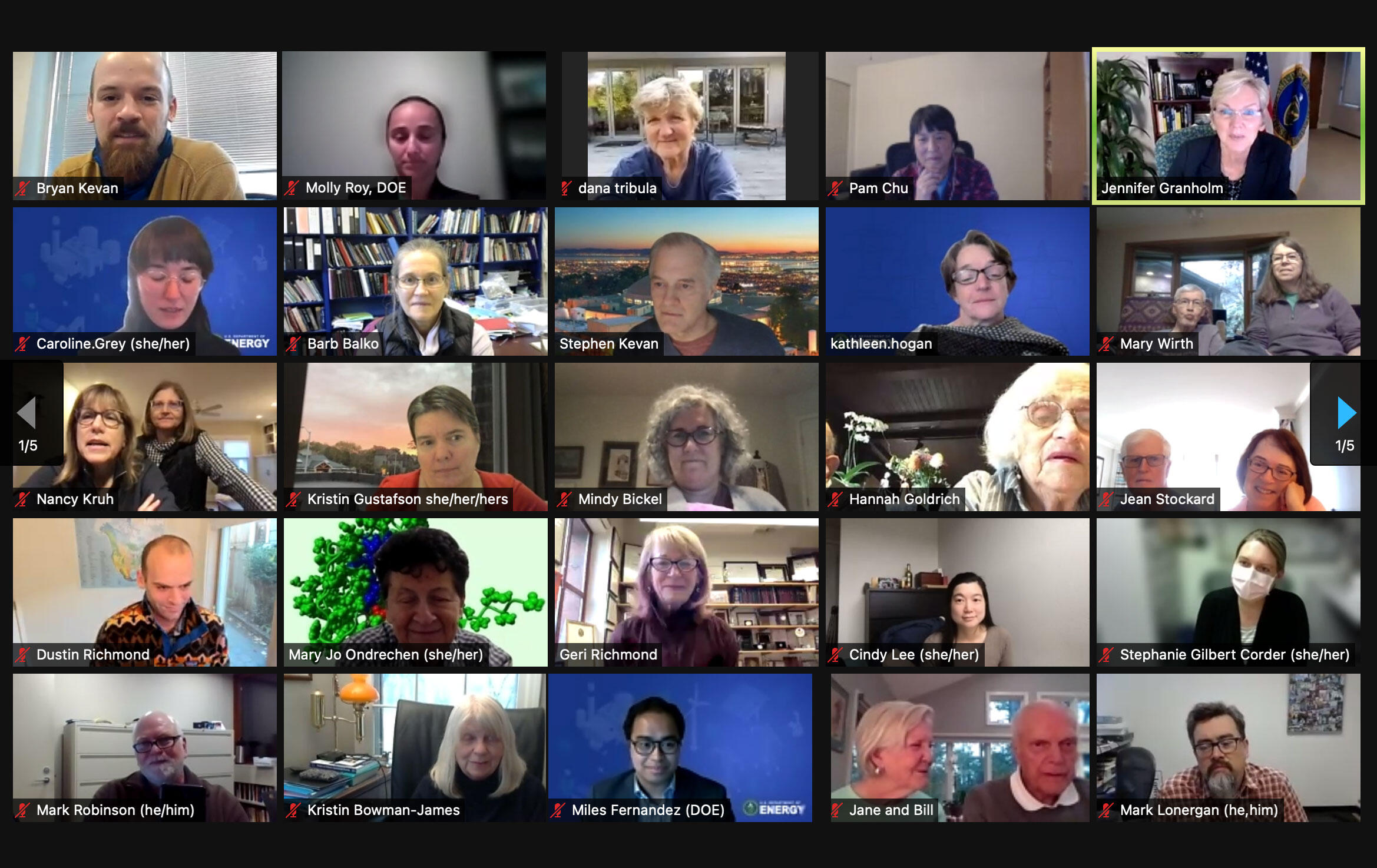 Professor Geraldine Richmond (Ph.D. '80, Chem) during swearing in ceremony with U.S. Department of Energy Secretary Jennifer Granholm on November 9, 2021. (Photo via ZOOM)
In a short but exuberant ceremony today on ZOOM, alumna Geraldine Richmond, Presidential Chair in Science and Professor of Chemistry at the University of Oregon, was sworn in as Under Secretary of Science and Energy at the U.S. Department of Energy. U.S. Secretary of Energy Jennifer Granholm stated that it was "the most people she had seen yet attend a swearing in ceremony on ZOOM." She also confirmed that this was an exciting time for Prof. Richmond to take on the role with President Biden's concern for advancing the United States Energy Initiatives and research.
A native of Kansas, Prof. Richmond received her B.S. in chemistry from Kansas State University in 1975 and her Ph.D. in physical chemistry in the lab of George Pimentel at the University of California, Berkeley in 1980.
Prof. Richmond has been a longtime advocate of public service. She has served in many leadership roles throughout her career including as Chair of the Department of Energy's Basic Energy Sciences Advisory Committee (1998-2003), as U.S. Science Envoy to the Lower Mekong River Countries of Vietnam, Laos, Cambodia, Burma and Thailand (2015-2016), and as President of both the American Association for the Advancement of Science (2015) and Sigma Xi, the Honorary Scientific Research Society (2019-2020).
She was appointed to the National Science Board by President Obama (2012-2018) and reappointed by President Trump (2018-present). Richmond is the Founding Director of COACh (1998-present), a grass-roots organization that has helped over 25,000 women scientists and engineers in career advancement in the U.S. and over two dozen developing countries.