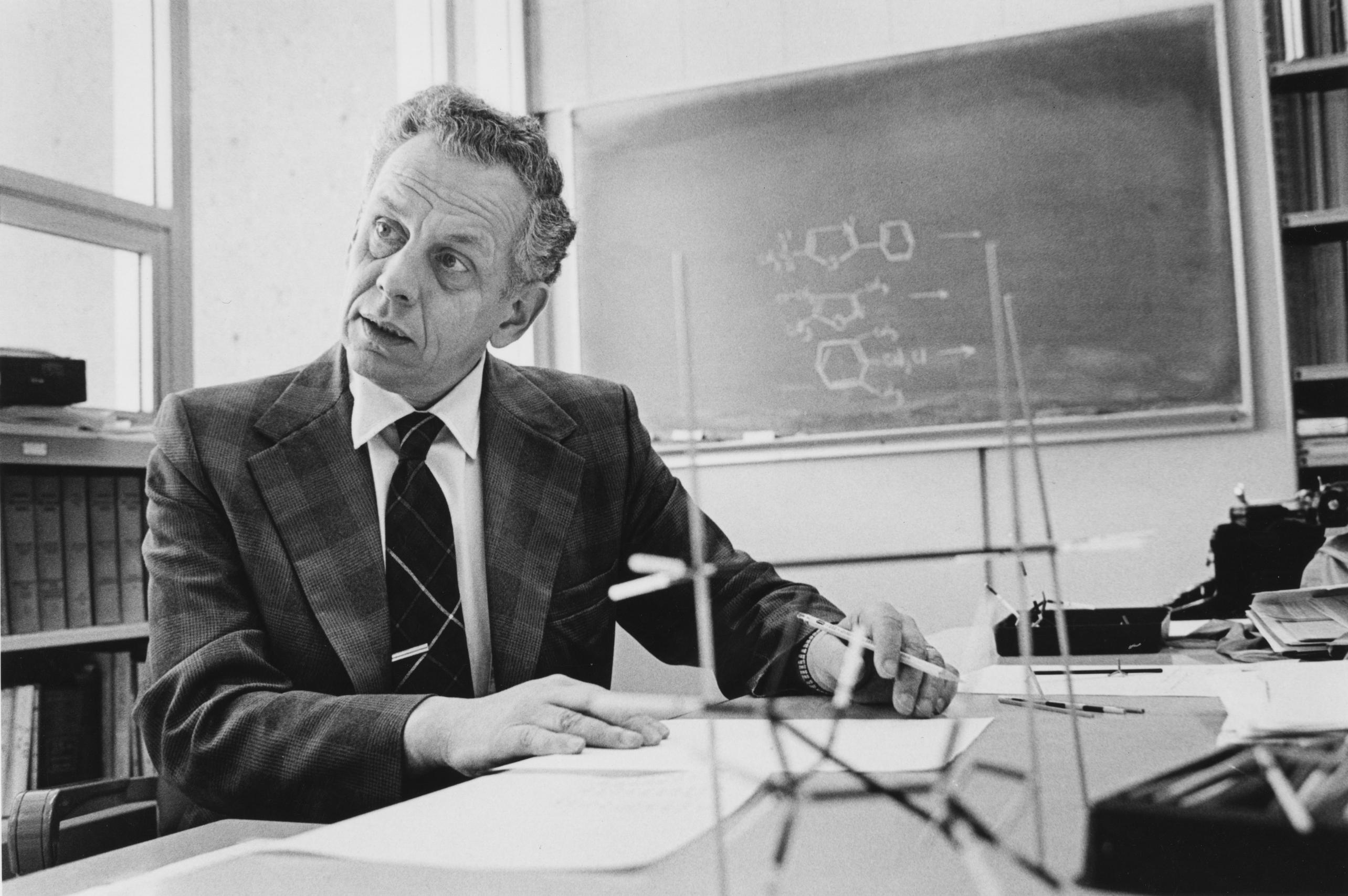 By Yvette Subramanian
Donald S. Noyce, a professor emeritus of chemistry at the University of California, Berkeley, and former associate dean of undergraduate affairs in the College of Chemistry, died at his home on Nov. 3 at the age of 81. He was a highly regarded teacher and an organic chemist who loved to discern the mechanisms of chemical reactions.
Noyce was born in Burlington, Iowa, in 1923 and received his B.A. from Grinnell College in 1944. He pursued his graduate studies at Columbia University and received his Ph.D. in 1947. Noyce joined the faculty at UC Berkeley in 1948 as a chemistry instructor and worked his way up the academic ladder, becoming a full professor in 1960. In 1957, he was the recipient of a Guggenheim Fellowship and spent six months studying in London and Zurich. He retired from UC Berkeley in 1986 and was awarded the Berkeley Citation for his service to the campus.
He was known for his special concern for undergraduate students and, as assistant and then associate dean of undergraduate affairs, positions he held for 22 years, he was responsible for implementing the college's highly regarded system of student advising. In addition, he was responsible for organizing the college's commencement ceremony for 12 years, from 1974-1986, interacting enthusiastically with students
He is survived by his wife of 58 years, Bettie, of Oakland; son, Robert, of Eau Claire, Wis.; son, Donald, of Grand Marais, Minn,; daughter, Nancy, of Ashland, Ore.; and seven grandchildren.
Noyce enjoyed a reputation as one of the college's best teachers, and for many years was principally responsible for the "Organic Chemistry for Biological Students" course, a large, demanding course taken by thousands of pre-medical students. His love of teaching was recognized by the Donald Sterling Noyce Prize, an award established in his name by his brother, Intel co-founder Robert N. Noyce, to reward excellence in undergraduate teaching; Donald Noyce was the first recipient. Noted a former student: "Besides being an excellent teacher and administrator, Professor Noyce is a kind and amiable person who always takes the time to be courteous and to treat his students as fellow human beings."
He published over 100 articles and directed the work of nearly 40 graduate students. Noyce was particularly known for his work on acid-catalyzed reactions, proton addition reactions and the reactivity patterns of heterocyclic systems. Working in the basement of the old Chem building, Noyce made significant contributions to carbocation chemistry. Among his many notable research accomplishments: determining the mechanism of the acid-catalyzed and base-catalyzed aldol condensation; elucidating the mechanism of the acid-catalyzed isomerization of cis-trans bonds in olefins; and pioneering the study of conformational equilibrium by low-temperature proton magnetic resonance measurements.