For Immediate Release
March 1, 2018
Berkeley, CA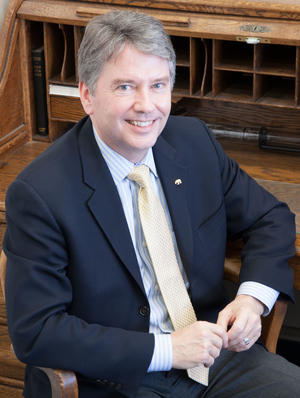 Paul Alivisatos, Executive Vice Chancellor and Provost of UC Berkeley announced today that Douglas S. Clark has been reappointed as dean of the College of Chemistry for a second five-year term.
"It is an honor to serve as dean of such a distinguished college, and humbling to work with such outstanding colleagues. The energy of the students, the dedication of the staff, and the vibrancy of ideas in the College are second to none, and will ensure its success for years to come. I am excited to continue playing a part in that success," Doug stated.
Since he began serving as dean in 2013, Doug has skillfully addressed the College of Chemistry's top priorities as well as thoughtfully navigated new and complex issues. He has overseen the hiring of ten faculty and the retention of six others in the face of fierce competition. Under his leadership, the college has successfully met some of its most pressing infrastructure needs through the construction of the annex for the Pitzer Center for Theoretical Chemistry, renovations to undergraduate instruction labs, the expansion of the classroom and offices for the Professional Master's in Product Development, and has worked in a collaborative effort with the Colleges of Natural Resources and Engineering to plan, and raise funds for, a new joint research building designated the Berkeley Science Hub for Inventing the Future.
Under Doug's leadership, the College of Chemistry has continued to strengthen its undergraduate offerings through the appointment of a director of undergraduate education for chemical and biomolecular engineering, and to expand its graduate offerings through the initiation of two new professional degree programs: a Master's of Bioprocess Engineering and a Master's of Molecular Simulation and Software Engineering. Underlying these achievements are the college's successful efforts to raise funds through traditional fundraising ventures as well as diverse and creative revenue-generation programs. Efforts in this latter sphere include the Berkeley Catalyst fund, a concurrent enrollment collaboration with Berkeley Engineering and Shanghai Tech University, and summer outreach programs such as the Laboratory Research Experience, Summer Youth Intensive Program, and the GOLD Science Fair.
Alivisatos commented, "Beyond such achievements, I would like to commend Doug on his inclusive, approachable, and respectful leadership style, which has encouraged successful partnerships within the College of Chemistry and ultimately enabled the college to maintain and improve its top-ranked programs."
Doug also holds positions as a Professor in the Department of Chemical and Biomolecular Engineering, Co-director of the Synthetic Biology Institute, Faculty Scientist at Lawrence Berkeley Laboratory, and holds the endowed G.N. Lewis Chair. Prior to his appointment as dean, he served as Department Chair of Chemical and Biomolecular Engineering and as Executive Associate Dean in the College of Chemistry. He has been a faculty member at Berkeley since 1986. He received his Ph.D. in Chemical Engineering from the California Institute of Technology in 1983 and a B.S. in Chemistry, Summa Cum Laude, from the University of Vermont in 1979.
Doug's research focuses on the field of biochemical engineering, with particular emphasis on enzyme technology, biomaterials, and bioenergy. Current projects and collaborations in his research lab include enzyme engineering for new reactions and improved synthesis, the use of metabolic biochips for high-throughput catalysis and bioactivity screening, protein design and assembly for advanced biomaterials, and biological engineering for support of a mission to Mars.
###
For more information contact Marge d'Wylde (mdwylde@berkeley.edu), Director of Marketing and Communications, College of Chemistry | UC Berkeley.