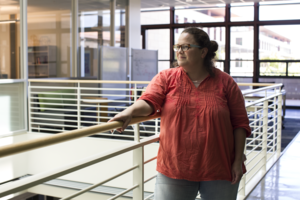 Alumna Annelise Barron (Ph.D. ChemE '95) thinks so. Alzheimer's is the root cause of 60 to 80 percent of dementia cases, according to the Alzheimer's Association, and the complexity of the disease has troubled neurology researchers for decades. But Barron, an associate professor of bioengineering at Stanford, has uncovered a way for our own immune system to fight off a major cause of Alzheimer's. If her research leads to a treatment, it would be the first new therapeutics development in more than a decade.
Over time, Barron and her team have discovered that a peptide known as LL-37, which is part of our immune system, acts like an antidote to the peptide associated with Alzheimer's disease, amyloid beta (Abeta). LL-37 may be able to neutralize Abeta's harmful effects on the brain, and Barron is currently testing an oral combination therapy in mice that activates it in the brain and body.
An aptitude for math and science led Barron to major in chemical engineering at the University of Washington and go on to earn her Ph.D. at the University of California, Berkeley in the same field. She was the only woman in her class to finish the doctoral program. Her research hasn't focused entirely on the end of life: Earlier this year, Barron developed a protein mimic for the creation of a synthetic lung surfactant (the coating that reduces surface tension in our lungs). The technology could help save the lives of some 20,000–30,000 babies born without fully developed lungs in the U.S. each year.