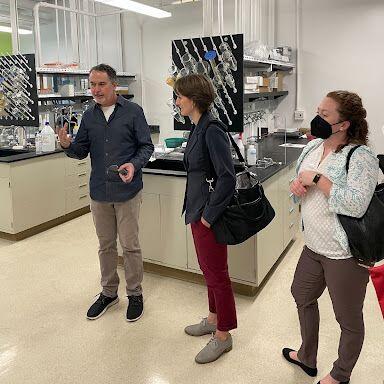 Pictured from L to R, Executive Director of the Masters of Bioprocess Engineering Jason Ryder speaking with Elle Ekman, Legislative Assistant for Defense and Veterans Affairs; and Marley Cassels, Defense Fellow in Congressman Garamendi's Washington, DC office.
Two staffers from Congressman Garamendi's (D-CA) staff visited the College of Chemistry to learn about the Masters in Bioprocess Engineering Program. This program started because of the large gap between the number of jobs available and workers who have the expertise to work in the field. Bioprocess engineering serves a critical function in our economy. The bio-based production of pharmaceuticals, sustainable chemicals and fuels, and foodstuffs are just a few examples of industrial processes that require biochemical engineering design and development approaches. 
Dr. Ryder was interviewed this spring for an article in Catalyst magazine about the program and it's aims.